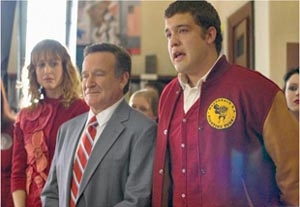 Robin Williams does not look or sound like a man who had heart surgery less than six months ago. Though he admits to slowing down following an aortic valve replacement in March, the 58-year-old appears fit and healthy.

He moves quickly, seemingly full of energy. And the mind—the savvy, droll, rapid-fire wit for which he is infamous—is still razor-sharp, racing all over the place to offer observations on any number of topics. On Joey and Mary Jo Buttafuoco: "They put the 'fun' in dysfunctional!" On performing standup in clubs: "I had a friend get shot at once. That's a weird heckle." On the best advice he received while attending Juilliard: "John Houseman spoke to me and Christopher Reeve quite a bit. He'd say, 'Mr. Williams, Mr. Reeve, the theater needs you. Be soldiers in the army of the theater. Unless, of course, you can make shitloads of cash making movies.' "

During his four decades in the entertainment business, Williams has been a standup comedian, a TV phenomenon, a box-office sensation, a "serious" performer, an Oscar-winning actor, and a critical pariah. His career trajectory has been as unpredictable as the stream-of-consciousness comedy that has become his trademark. For a business that likes to pigeonhole its performers, it's remarkable that shortly after playing wacky alien Mork from Ork, Williams was appearing in an adaptation of a John Irving novel ("The World According to Garp") and playing a Russian immigrant in a thoughtful dramedy ("Moscow on the Hudson").

For most of the late 1980s through the '90s, Williams could do no wrong: Movies like "Good Morning Vietnam" and "Dead Poet's Society" were more than just critical and box-office hits; they were films that deeply affected audiences. Blockbusters like "Mrs. Doubtfire" and "Jumanji" made the actor appear invincible. Then there was his sublime, Oscar-winning portrayal of a widowed therapist in 1997's "Good Will Hunting" he opened his exuberant acceptance speech by quipping, "This might be the one time I'm speechless!" Of course, there were some who targeted him for his choices: The 1998 tearjerker "Patch Adams," in which Williams' doctor donned a red clown nose to cheer up ailing children, is still an easy punch line for some critics. "I think a clown hurt her as a child," Williams says of one journalist who, to this day, writes about her hatred for the movie. "She was stepped on by a big shoe or something." But Williams had the last laugh: The film grossed more than $100 million domestically.

Admirably, Williams has never stopped exploring new territory. At the height of his career, he took on villainous roles in films like "One Hour Photo" and "Insomnia." And if there were failures along the way, they were at least ambitious: The war-themed "Jakob the Liar," the sci-fi thriller "The Final Cut," and the coming-of-age drama "House of D" were small films in which Williams ventured into unfamiliar terrain.

So it says a lot that Williams can still surprise us. He does precisely that with "World's Greatest Dad," the daring new film from writer-director Bobcat Goldthwait (see sidebar), Williams' friend of more than 20 years. In the film, now in theaters, Williams plays Lance Clayton, a failed novelist and poetry teacher—but before you get visions of "Dead Poet's Society," know that Lance is probably the most unpopular instructor at his school. His class is virtually empty. His girlfriend (Alexie Gilmore) doesn't want anyone to know they're dating. Worst of all is his 15-year-old son, Kyle (Daryl Sabara, the sweet boy from "Spy Kids" all grown up), a foulmouthed, porn-loving peeping Tom prone to spouting hate speech. A typical exchange: After Kyle calls Bruce Hornsby a "fag," Lance points out he has kids, and Kyle counters, "You have a kid, and you're a fag!" The film starts off as a raucous comedy but takes a dark turn when a personal tragedy strikes Lance. He soon takes advantage of his tragedy and concocts an elaborate deception that earns him everything he's ever wanted: respect, admiration, the girl, and massive success. The question is whether he can live with the lie. It is, as Williams says, "some tricky, dark-ass material," and it results in Williams' best onscreen performance in years.

Tears of a Clown

Williams met Goldthwait, best known for his screeching standup persona and '80s films like "Police Academy 2," more than 20 years ago at a comedy club in San Francisco. "He was so amazing as that character, people thought he was really like that," Williams recalls. "But you meet him and he's so sweet and funny, you realize just how brilliant that persona is." At one point, Williams attended Boston comedy clubs where Goldthwait got his start and gained a better understanding of his friend. "These were tough fucking clubs," Williams notes. "And you realize why he developed this persona: He had to be crazier than they were. And it worked."

Williams had a cameo in Goldthwait's directorial debut, the cult favorite "Shakes the Clown," but the director's second film, "Sleeping Dogs Lie," made a strong impression on Williams. Made with actors Goldthwait found through an open call and crew members he located on Craigslist, the movie tells the story of a woman who admits to her fiancé the craziest thing she ever did sexually: fellate her pet. Or, as Williams calls it, "the girl-blows-a-dog movie." But from that grotesque premise, Williams saw a sweet film with true heart emerge. "If you get past that moment, you find yourself dealing with the big questions like, 'What is honesty? What is love?' "

He had a similar reaction when he read the script for "World's Greatest Dad," even though Goldthwait never expected Williams to appear in the film. "I asked what he was working on, and he asked for my feedback on this script," Williams recalls. "I read it, thinking maybe I would help him out and do a cameo. But it was so excellent and so unique; I called him and said, 'I'd be really interested in playing Lance, if you wouldn't mind.' " Goldthwait was thrilled. "Aside from being my friend, Robin is one of the best actors in the world," Goldthwait raves. "And him coming on board legitimized me, in a way."

Even though they were shooting on a budget that Goldthwait says "was probably the equivalent of a half-day on 'Night at the Museum 2,' " Williams says he loved the experience. He refers to the low-budget atmosphere as "shooting without a net because a net's too expensive." And he compares his director to John Cassavetes, not only because Goldthwait enjoys working with friends and family but also because of his film savvy and skill with actors. "He's confident but not cocky," Williams notes. "Because of his live TV training and making no-budget movies, he makes quick calls. He's willing to admit if something isn't working. And he trusts people. You feel so safe, and as a result, you feel free to try anything."

A perfect example is a scene in which Lance goes on a TV talk show to capitalize on his tragedy, is forced to lie, and finds himself laughing uncontrollably as he tears up. The scene wasn't scripted for Williams to laugh, but it occurred on set organically. "Bob told me, 'Go for the big lie,' " Williams reveals. "And in the process of going for the big lie, the whole absurdity hits Lance, along with the loss he's suffered. It's the closest thing to a nervous breakdown you can do on film." A fan of documentary films, Williams says he has studied how real people react to extreme situations. "The gamut of how people respond is amazing," he says. "And that's the object in acting, to find those moments that are so personal that people go, 'Fuck, I've been there.' " When the take was finished, Goldthwait was stunned. "Bob said, 'I've never seen that before.' I said, 'Me either.' He paused and said, 'Can you do it again?' " Williams pauses. "And I knew I could, because I trusted him to pick the best take."

Williams was also spontaneous when it came time to shoot a pivotal scene in which Lance dives into the school's swimming pool, stark naked. Not only did Williams not hesitate at the scene, he suggested it. "It was originally written where he jumps in wearing a suit," Williams recalls. "But I saw this as him freeing himself, so I thought he should go the distance." Goldthwait loved the idea, and to show his support, got naked himself and jumped in the pool before Williams. "The two of us naked was not a pretty sight," says Williams. "We looked like a pair of baby seals."

Funny Business

It's difficult to believe that Williams, a man whose name has become synonymous with comedy, found standup late in life. He was on his way to being a "serious" stage actor, in his third year at Juilliard, when he left school to return to San Francisco to be with his girlfriend. They broke up a week later. "I couldn't find acting work, but I started going to these improv workshops at this little Unitarian church," he recalls. "Then they offered a standup course, and I thought, 'That's improvising alone. I'll try it.' "

Williams soon found himself performing regularly at clubs and coffeehouses and even discos. A guest spot on "Happy Days" as a childlike extraterrestrial led to his own spinoff, "Mork and Mindy," a show Williams enjoyed doing—at least for the first two years. "Then the network people got a hold of it," Williams says with a sigh. "They got greedy and moved us to a different night and had these ideas, like having Raquel Welch and the Playboy bunnies on. And as the ratings started to fall, they got more and more desperate."

He was on location playing The Frog Prince in Shelley Duvall's "Fairy Tale Theatre" when he found out "Mork" had been canceled—by reading about it in the trades. "I have this memory of me sort of snapping and going off and just doing this horrible, nasty riff…all while dressed as a 5-foot frog," he recalls. His "salvation," says Williams, was standup. He credits his comedy with keeping him from being typecast in the early years. "I could go onstage and be nasty and funny, and it was a release," he says. "And people could see me in a different light."

About a year and a half ago, Williams decided to return to the stage. "Nothing was happening," he admits. "So I went, 'Fuck it, I'll go do standup.' " His "Weapons of Self-Destruction" tour kicks off in September, and he will tape the final shows in November, when the tour hits Washington, D.C., to air on HBO. Williams was in the midst of a 40-city tour when his heart surgery slowed him down, but he's eager to get back in front of an audience. When he speaks of those he admires—Goldthwait, Stephen Colbert performing at the White House press dinner—the word that frequently comes up is "fearless." But Williams balks when the word is used to describe him re-entering the cutthroat world of standup comedy when he could be relaxing and collecting residuals from "The Birdcage." He's looking forward to the traveling and the late nights and even welcomes the hecklers. "When people are drunk, you almost want to thank them for the nutty things they say," he says. "The worst are the ones who are stone-cold sober. I once had a guy shout, 'I don't care!' during my act. I'd say, 'Hey, do you ever notice—' 'No, I don't!' "

In closing, Williams recalls his favorite heckler story, which happened to a friend of his in London. "There was a blind man in the audience," Williams says. "And he shouted, 'Get off!' A few seconds went by, and then he said, 'Is he gone?' "