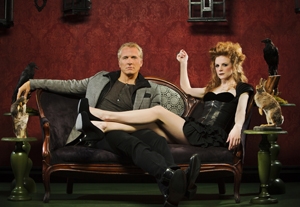 Ashley Bell has been a working actor since her teen years, appearing in plays in Los Angeles and in guest spots on TV shows, most notably the Showtime series "United States of Tara." Last year Bell signed on to play a girl seemingly possessed, in the low-budget horror film "The Last Exorcism." The weekend it opened, Bell flew into Los Angeles International Airport and was promptly swamped by paparazzi. "I didn't understand why there were all these photographers," Bell recalls with a laugh. "I actually asked somebody who they were there for, before I realized they were taking pictures of me."
Horror has always been a tough genre for actors. Though the films traditionally do well at the box office, the actors' performances are not often singled out for praise. In the past, particularly in the 1970s, some actors saw their careers launched by scary movies: Think Amy Irving in "Carrie" and "The Fury," Linda Blair in "The Exorcist," or Jamie Lee Curtis in "Halloween." But most recent frightfests are stocked with good-looking and instantly forgettable faces, or once-famous actors looking to cash a quick paycheck. 
Things seem to be shifting, however. Rooney Mara recently landed the coveted title role in the American adaptation of "The Girl With the Dragon Tattoo"; prior to that, her largest onscreen part was in this year's remake of "A Nightmare on Elm Street." Although we don't know whether her performance in that film helped her land the "Tattoo" role, it certainly didn't hurt to play high-stakes emotional scenes opposite Jackie Earle Haley as Freddy Krueger.  
THE INNOCENTS
Sarah Butler landed the biggest role of her career so far in a remake of a famous thriller. The original "I Spit on Your Grave" (also known as "Day of the Woman") was a wildly controversial 1978 film about a young girl named Jenny who is savagely raped and left for dead. She then exacts grisly vengeance on her four attackers. It starred Camille Keaton (granddaughter of Buster Keaton), an unknown at the time who appeared to be in the midst of a promising career after earning positive notices for her work in the 1972 film "What Have You Done to Solange?" But after "I Spit on Your Grave," Keaton's career stalled. Films with titles like "Raw Force" and "Savage Vengeance" rounded out her résumé.
Butler admits to having trepidation at taking on the role. Her first audition consisted of just two scenes, neither of which indicated how brutal the story would be. "Then I got a callback a day or two later and was given a full script, and then everything became clear," she says with a laugh. Her first instinct was to turn the part down: "When you read something like this, it's hard to see past all the violence and nudity. I had my manager take a look at it and was sure he would come back apologizing, because he's normally very protective of nudity and such. Instead he came back and said, 'You have to do this; you're going to be so badass.' " Ultimately Butler realized that this was a great opportunity to show her range as an actor. "My friends were so envious that I was getting this shot at a role with such an amazing arc," she says. "And I realized they were right; just the character's journey made it worth doing. It was almost like playing two separate people." 
Horror and suspense seem to be among the few genres that can get away with casting complete unknowns in lead roles. Last year's hit "Paranormal Activity" sold itself on the strength of its premise, not lead actors Micah Sloat and Katie Featherston. Indeed, at times the story works better if you're not distracted by the sight of your favorite movie star in jeopardy. Though several name actors were interested in playing Jenny, the filmmakers behind "I Spit on Your Grave" were intent on casting an unknown—great news for Butler, whose only previous film credit was Syfy's TV movie "Flu Bird Horror." "I don't know if you could give yourself over to believing this scenario if you were so aware you were watching a star," Butler says. "I love that they wanted to offer someone new this chance." 
THE EXORCISTS
Eli Roth, the actor-filmmaker who made his name with such indie horror hits as "Cabin Fever" and the "Hostel" movies, believes that female actors in particular get to shine in such films. "I know some people think of horror films as a last resort, but I never saw it that way," Roth says. "I think in horror you get to show a wide range of emotions you can't in other movies. Horror can make a career. Linda Blair earned an Oscar nomination for 'The Exorcist.' " He cites Jennifer Carpenter in "The Exorcism of Emily Rose" as a more recent example. 
Roth, a producer on "The Last Exorcism," says casting was vital to the success of the film. Shot in a documentary style, it tells of longtime preacher Cotton Marcus, who performed his first exorcism as a child. Having staged countless ceremonies since, he decides to expose the industry as a fraud by inviting a camera crew along to film what is to be his final exorcism. His subject is a sweet, naïve farm girl named Nell, who is being raised by an alcoholic father and overprotective brother. Slowly, Marcus and his crew begin to realize that they may have stumbled onto an actual supernatural event. Shot for an estimated $2 million, the film grossed more than $20 million in its first weekend. 
  Director Daniel Stamm selected Bell to play the lead role of Nell, a part that required the actor to exert herself physically and mentally more than any other she has done. In the beginning, Bell nails Nell's sweet innocence without making her simple or cartoonish. Before long, she is running around in a bloodied nightgown, contorting her body like a Cirque du Soleil performer—no special effects were used in the scenes in which Nell literally bends over backward. Bell jokes that she was willing to go even further: "I would have broken my own fingers like the character does. I was willing to go there." 
As the jaded Rev. Marcus, Stamm cast Patrick Fabian, an actor with a lengthy list of stage and screen credits, who, in his words, is now an "overnight success 20-some years in the making." Though the film initially presents Marcus as a fast-talking con man of sorts, he becomes much more complex as he begins to realize the depth of his situation. In addition to developing an almost paternal caring for Nell, Marcus finds himself questioning his own lack of faith—meaty stuff for any genre. "I knew I could do the early stuff; I've tended to play a lot of different guys in suits, or what I call 'CEO prick types,' " Fabian reveals. "But this gave me a chance to show a whole different side. It was a full-bodied character with so many great moments to dig into." Bell echoes the sentiment, saying, "You get to do so much in horror films, especially women. One second I'm clueless, then I'm terrified, then I'm flailing around and talking in a demonic voice. Where else am I going to get an opportunity like that?" 
And for a change, critics have noticed, praising the performances of both actors, some even calling the pair worthy of Oscar attention. "I can't even believe that," says Bell, laughing. "It's so flattering and so unexpected. And something that never even crossed our minds while filming." Fabian adds, "The first time I heard that, I thought it was beautiful and wonderful, but also knew that horror wasn't going to get that kind of respect. Where it does get respect, though, is with the people, because it makes good box office and shows people will go see a smart, creepy, scary film no matter the budget."    
THE SHINING
While the genre might provide an actor with a great opportunity, the question then becomes how to build on that. "I'd love to say that CAA came stampeding towards me and my door can't open because of all the offers out there," Fabian says with a laugh. "But what I can say is that the film absolutely changed things in terms of the doors that have opened." After years of guest-starring on TV shows, Fabian recently booked his first series-regular gig, on CMT's upcoming "Working Class," a job he says was "a direct result of the movie." Bell has also seen results from starring in a hit film. "Things have definitely changed, just in terms of the people I've met and the roles I'm being offered," she says. "I guess it's to be expected when any film does well." 
Sometimes the film doesn't even have to have opened. While Butler was shooting "I Spit on Your Grave," she discovered that her longtime agent had left his agency. "Rather than panic, I was excited, because I knew I was doing this project and thought it was a chance to get some meetings," Butler says. She met with several places, eventually signing with Don Buchwald & Associates, which helped her land management at Untitled. "My agent started calling around, and luckily they had this movie I'd done that gave them some leverage," she says. "No one had seen the film yet, but they were able to say that I had just played the lead in a film and it was a crazy, intense role, and that got me in the door." 
In an interview with Back Stage last year, Sloat and Featherston revealed they had also gotten new representation after the success of "Paranormal Activity." Said Sloat of the new opportunities, "Basically, the doors have opened like floodgates." Asked if they were concerned about typecasting, Featherston said she was just concentrating on the work: "I think between our manager and the representation we'll have soon and all the auditions we're having, we're just going to keep plugging along and keep working." But first up for both is a return to the roles that launched their careers, with "Paranormal Activity 2," now in theaters. 
When asked if they were cautious about going back to the horror genre, all the actors interviewed say it would depend on the role. "I've been approached to do some horror things," Fabian notes. "But I'm not interested in repeating the same kind of part. But if it were a good project with an interesting role, I would definitely be up for it." Bell says she's grateful that in her next film, "The Day," she gets to play "a role totally unlike Nell." But she is not opposed to revisiting horror, a genre she's always loved as a viewer. 
Butler, however, admits to turning down offers that were too similar to "I Spit on Your Grave"—which is difficult after having struggled for so long to break in. "I look at the offer and I think, 'Well, there's health insurance,' " she says. "But I want to create a broad foundation for my career, not get into one genre I might not be able to get out of." Still, never say never, Butler adds: "It all depends on the script and the people involved. If it's good, I don't really care what genre it is." 
And if nothing else, the actors are proud of their work and the benefits that have already resulted from it. Fabian and Bell received high praise from no less than Quentin Tarantino at their film's premiere—a moment Bell describes as "wonderful and surreal." Equally surreal: Bell has been told by several young women that they will be dressing up as her character on Halloween this year. "I guess all you need is a bloody nightgown and boots," Bell says. Another highlight for Fabian was getting good press in his hometown paper. "My mom got to see me in the Harrisburg Patriot-News. I can die a happy man," he says. "Career complete."