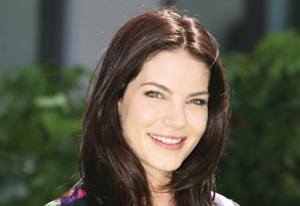 Michelle Monaghan is one of those rare personalities who crosses genres and genders. She has kicked ass in action flicks like "Mission: Impossible III" and "Eagle Eye" and scored laughs in rom-coms like "The Heartbreak Kid" and "Made of Honor." Men love her for her girl-next-door sexiness and her uninhibited humor; women adore her for her down-to-earth accessibility and for being the kind of girl who can get on screen and hold her own against heavyweights like Ben Stiller and Robert Downey Jr.
In Hollywood, beauty can be a curse for young female actors looking for a role of substance. But Monaghan has already proven she's the real deal with stellar dramatic turns in films like "North Country," playing a coal miner harassed by her male co-workers, and "Gone Baby Gone," in which she was the headstrong partner to Casey Affleck's detective. Still, little could have prepared even her biggest fans for her fearless turn in "Trucker," the film debut of writer-director James Mottern. As Diane, a carefree truck driver who finds her world turned inside out when her 11-year-old son re-enters her life, Monaghan presents a complex, three-dimensional female character rarely seen on film. The gutsy turn has already earned the actor awards buzz for the little indie that was shot in 19 days with a budget that probably equals one day of craft service on "Eagle Eye."
Mottern offered Monaghan the part without an audition; he says he knew she was the only actor for the role. Oddly enough, he knew it from one dialogue-free moment in the film "North Country." Explains Mottern, "There's a scene where Charlize Theron's character goes to the home of Michelle's character and asks her to help her in the impending lawsuit. Michelle's character, Sherry, won't help, and as Charlize drives away in her truck, there is one shot of Sherry—of Michelle—watching the truck drive away. There was something in Michelle's presence and her face and what was generating from inside—a sort of heat of the soul, I guess—that really, truly made me say out loud, 'That's her!' And it was."
Upon reading the script, Monaghan says, the actor knew she had found "the role of a lifetime." She was completely drawn in by the character of Diane. "I never get to read real women in film," Monaghan says bluntly. "A lot of the women that I read are sort of one-dimensional or not fully explored. I mean, we're pretty interesting creatures, you know, and so often I feel that doesn't show up on film." The next day, she sat down with Mottern and attached herself to the film. It took a year to get the money and go into production; she notes that pretty much all the actors gave up their salaries to work on a breakneck schedule. And Monaghan wouldn't have it any other way: "When you're working that fast, it's down and dirty, and the feelings and emotions are so palpable. I wish I could shoot every film at that pace."
To prepare for the role, she enrolled at the Dootson School of Trucking, where her "very patient and brave instructor" Philip Molloy taught her to drive trucks. Molloy says he was "instantly impressed" with Monaghan's commitment and how down-to-earth she was. Monaghan, who says she can't even drive a five-speed, was so determined to understand life behind the wheel that she told Mottern she wouldn't do the film if she couldn't get her trucker's license. "This way of life, this culture, informs her life so much as a person that I knew this was going to bring so much to the role and the character," the actor says. "It was such an honest character, and I had to play it as honest as it deserved to be. So if it was someone else driving the truck, I wasn't honoring that character." The day Monaghan got her license; she admits she shed a few tears. "I remember leaving the DMV and thinking it was one challenge down. I called James and shouted, 'I can do it, I can do it!' "
Molloy, for one, says she was a natural. "Michelle's got a lot of talent behind the wheel, believe me," he notes. "Because they went into production so quickly, she really only had a handful of lessons. If she'd had a little more time, she would have no problem with a 53-foot trailer and a big three-axle tractor and a 10-speed transmission, because she got the gist of everything pretty quick." On Monaghan's recommendation, Molloy was on set for guidance anytime she was shooting driving scenes. "Anytime you see her driving that truck onscreen, that's really her," he says.
She also went on day trips, called "short hauls," with female truck drivers. "I think a lot of people have misconceptions about truckers—that there's a lack of intellect or people are just drivers for lack of anything else to do. And it couldn't be further from the truth," Monaghan reveals. "People choose this as their livelihood because they absolutely love the freedom it affords them and being on the open road." Another stereotype Monaghan was pleased to quash was about the femininity of these female drivers. "A lot of people assume they're butch, but let me tell you, every gal that I spent time with had their nails done, their hair done, their cabs were clean and beautiful and had a feminine touch," Monaghan says. "At the same time, these women possess a fierceness that I admired so much."
The Unkindest Cut
Monaghan's performance is the all the more impressive when you consider she never intended to be an actor. She was studying journalism at Columbia College in Chicago when she began modeling on the side to earn money. A semester shy of graduating, she decided to move to New York. "I'd grown up in Iowa and realized I was going to have to return to Iowa or a place just like it, and I wasn't ready to do that," she says with a laugh. She continued modeling in New York and began booking roles—first in commercials, then on TV—eventually landing a recurring part on the "Dawson's Creek" spinoff "The Young Americans." Interestingly, it was her modeling agency that sent her on acting auditions. "I only got an agent after I got the series," she says. "And I'm still with the same agent, Bonnie Bernstein [now at] ICM."
Two of Monaghan's early, promising roles ended up on the cutting-room floor. In the Keanu Reeves–starrer "Constantine," her scenes were cut. In the Oscar-winning "Syriana," all traces of her story line were removed. "The directors called me up personally and were very kind," she recalls. "They assured me it wasn't because of my performance and were very gracious." Monaghan says she had only one real concern: "Honestly, I was dirt broke at the time, and I called my agent and said, 'So does that mean I have to give back the check?' Once he said, 'No, of course not,' I was like, 'Oh, it's fine then! It's totally fine!' "
Monaghan admits she was paranoid about her next couple of roles—she would comb the script to see if there was any way her character could be removed—but soon got over the initial disappointment of her work not making it to the screen. And George Clooney, who starred in and also produced "Syriana," even sent Monaghan a letter, apologizing for the editing. "It really meant a lot to me," she says. "It was sort of almost worth being cut from the film to have that letter."
And it wasn't all for naught: Her "Constantine" audition tape was making the rounds in Hollywood and somehow landed in the hands of J.J. Abrams, who was looking to cast the role of Tom Cruise's fiancée in the new installment of "Mission: Impossible." Abrams worked with Monaghan for an afternoon, then had her audition opposite Cruise. Shortly thereafter, Abrams called her in Santa Fe, N.M., where she was working on "North Country." Monaghan recalls, "I remember I was out shopping with my husband, and I saw a pair of beautiful cowboy boots, but they were so expensive, and so I didn't get them. Then I was walking through the park and J.J. called and told me I had the part. I couldn't believe it. I turned on my heels and walked right back to the shop and bought the boots." Monaghan pauses before breaking out into a laugh. "That was a really great day."