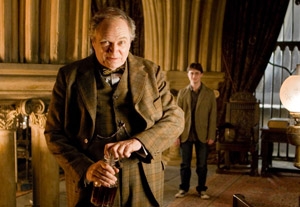 In roles large and small, in theater and onscreen, Jim Broadbent is a masterful actor. Thanks to impeccable credentials—training at the London Academy of Music and Dramatic Art, rising up through Britain's National Theatre and the Royal Shakespeare Company, and continuing to ply his craft from his days in Britain's repertory system through today—he is superb in every role he takes on.
Imprinting his work with his characteristic mix of truthfulness and colorful details, whether appearing in period comedies or wrenching dramas, he can play an astonishing variety of characters. The kinetic manager in "Moulin Rouge!" and the devastated husband in "Iris" reflect only two of the many extremes of his work. The straight-and-narrow judge in "Vera Drake" gives smooth way to Bridget Jones' placidly patient dad. And Broadbent deftly leaps from portraying a star in Woody Allen's "Bullets Over Broadway" to playing the Duke of Buckingham to Ian McKellen's Richard III.
Speaking of leaping, those lucky enough to have seen Broadbent on stage might be surprised to note how immensely physical his performance is there. But Broadbent says he doesn't do as much theater these days as he did in his past. "I was very at ease on the stage," says the actor, "but I had to make a conscious decision to do more work in front of the camera, because I knew I wasn't as relaxed on camera as I was onstage." For a while he took only onscreen opportunities—"whatever film or television work came my way," he says, until he could "relax when there was this third eye up your nostril, which could be quite intimidating." He says he is currently not self-conscious in front of the camera, "any more than I am onstage."
He overcame his discomfort with the camera by "just doing it." Ultimately, he explains, he reached a point where "I'd forgotten that that was the sort of discipline I'd given myself. And I suddenly thought, 'Oh, I've done that TV or film,' or whatever it was, 'and I didn't think about it once.' I wasn't self-conscious about the camera being there once."
Finding the Light
Nowadays, Broadbent seems to care most about creating his characters fully and truthfully. "It's all about character," he insists. "That's all we're there for, really. It's very simple, our job. We don't have to think about the film, the tone of the film, the mood, the message. We just have to build our characters and then be consistent and true to those characters."
As a drama student, says Broadbent, he was looked after well at LAMDA, getting cast in good roles and meeting teachers and directors who gave him confidence during school and good roles thereafter. Tina Packer, for example, of Shakespeare & Company, recommended the young Broadbent work with director Ken Campbell. "I worked with him in 1976, and that opened up my whole career," says Broadbent of being cast in the approximately 12-hour "The Illuminatus! Trilogy." The experience gave him not only an approach to work and the feeling of enjoying work, but also recognition that he hadn't been getting thus far. "I was quite a slow starter," he recalls. "I left college in '72 and didn't have an agent for four years. But I wasn't worried about that, really, because I was just building up." He worked in repertory companies around Britain before "Illuminatus" led him to an agent and years of fringe festival work, where writer-director Mike Leigh and others first saw him.
Not Just 'Another' Role
Currently, Broadbent plays Tom in Leigh's latest film, "Another Year." Tom is contentedly married to Gerri (Ruth Sheen), and over the course of a year they watch their friends and relatives face life's joys, inconveniences, and tragedies. Leigh's process allows his actors to build their characters with the filmmaker, from scratch. In the case of Tom, says Broadbent, they decided he was from Derbyshire, that he had an elder brother (played by David Bradley) and a childhood friend (Peter White), and that he went to university in Manchester where he studied geology and met Gerri.
"David, Peter, and I went up to Derby and researched where they would have lived, where they went to school, what they'd experienced," says Broadbent of the 18-week creative process Leigh built into "Another Year." "I traveled to South Wales and to Kent, meeting geologists and seeing how they worked. I went to Manchester, to university. So there's a lot of research that goes into all that; you get a very strong picture of where the characters have been and what they've done." Filming proceeds only after the characters and their backstories are brought into the present.
Improvising with Leigh, he says, bears no relation to improvising on other film sets. Improvisations with Leigh can last hours and are based on months of building the characters. On other sets, Broadbent notes, directors may ask actors to improvise even though the actors haven't finished their character work. Unstructured improvisation is fairly useless, says Broadbent. "Improvisation without rules goes anywhere, and you get people showing off and putting other actors in impossible positions, and that doesn't really help anyone."
Broadbent seems contented to work for so many months to prep the film, and he sounds grateful for the opportunities this and his six previous collaborations with Leigh have given him. "After I'd done 'Life Is Sweet,' Woody Allen saw it and 'Enchanted April' and cast me in 'Bullets Over Broadway' from that," notes the actor. "So it's all part of the whole game. And then after I'd done 'Life Is Sweet,' I did a short film which Mike directed, which I wrote, 'A Sense of History,' which was in the New York Film Festival, which is where Baz Luhrmann and Martin Scorsese became aware of my work, seeing the short film. And [playing W.S. Gilbert in] 'Topsy-Turvy' was 10 months' work, which got me a lot of recognition."
That recognition has only increased. His young fans have their favorites among his films; his elder fans have theirs. Awards have been bestowed by the armful, including the supporting-actor Oscar for "Iris," a Golden Globe for "Longford," and a BAFTA for "Moulin Rouge!"
But it's his commitment to creating indelible characters that continues to win him the adoration of his fellow actors the world over.
OUT TAKES
His soon-to-be-filmed real-life characters include Richard Nixon ("Dirty Tricks") and Denis Thatcher ("The Iron Lady"). Also played William IV ("The Young Victoria") and John Bayley ("Iris").
-Joined the legion British actors in the "Harry Potter" franchise, playing the celebrity-seeking Horace Slughorn
-Has appeared in films by Terry Gilliam, Stephen Frears, Neil Jordan, and Mike Newell