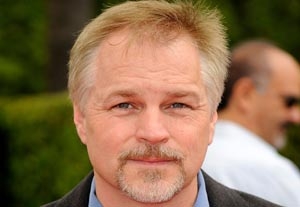 Karey Kirkpatrick has been writing screenplays for about 22 years, and, he jokes, "about 18 of those have been spent putting voices in furry creatures' mouths." As the co-writer of such animated films as
The Rescuers Down Under, Chicken Run
, and
Over the Hedge
(which he also co-directed), Kirkpatrick has given voice to virtually every being in the animal kingdom. For his new film, Kirkpatrick took on a beast of another kind: directing Eddie Murphy and 9-year-old newcomer Yara Shahidi in the family comedy
Imagine That
, opening this week. In it, Murphy plays a workaholic father who begins to rely on his daughter's imaginary friends for advice. Despite ignoring W.C. Fields' advice to never work with children or animals, Kirkpatrick has managed to build a career crafting warm-hearted family adventures full of winning performances.
Kirkpatrick started out as an actor, performing Cole Porter tunes in dinner theater before landing at the SAK Comedy Lab at age 19. Located in Orlando, Fla., within Disney's Epcot Center, SAK has proven to be a training ground for several notable improvisation artists. Performing five shows a day, Kirkpatrick soon became an expert at improv and sketch comedy. "The way my writing came about was I would write parts for myself," he notes. "Also, I was the only one who could type. So we would do these improvs, and I would be the one to take these disparate ideas and put them all together."
After two years in Florida, Kirkpatrick decided to pursue screenwriting professionally and moved to Los Angeles to attend the University of Southern California—but this did not end his Disney connection. One weekend in 1988, he and his writing partner, Byron Simpson, drove to La Jolla, Calif., to catch an out-of-town tryout of the musical
Into the Woods
. On the drive home, the pair began discussing how much they would love to write a musical and realized the only place to get paid to write one was Disney. A SAK contact got them a meeting at the Mouse House, where they pitched the idea for their musical film, called
Once Upon a Bayou
. "They were very honest," Kirkpatrick recalls. "They said, 'This is not the kind of story we want to do, but it's rare that someone walks in our door who writes screenplays and music and lyrics. So we'd like to have you around." The pair was offered a summer internship writing Mickey Mouse featurettes; at the end of the summer, they were hired to write the animated film
The Rescuers Down Under
. Kirkpatrick didn't return for his final year at USC, much to the chagrin of the department head. "He said, 'I don't think this is a good idea; you should finish and get your degree,' " Kirkpatrick says with a laugh. "I said, 'I'm here to learn to be a screenwriter, and I've been offered a screenwriting job!' I figured I would return when the job ended, but I've never been unemployed since then. And nobody's asked to see my degree."
A Direct Route
Kirkpatrick soon found offers for other animated projects coming his way. "Once you're written in animation, it's such a unique process, you become kind of valuable in that world," he explains. He adapted the classic Roald Dahl novel
James and the Giant Peach
as a stop-motion animated film for director Henry Selick and learned about working with voiceover performers. "Henry was trying to give actors direction, and he said, 'I'm not used to these puppets that talk back,' " Kirkpatrick recalls, noting a similar experience on
Chicken Run
, directed by
Wallace and Gromit
creator Nick Park. "Nick is the sweetest, nicest guy, who would just as soon be sitting in his bathroom with clay and a camera than talking to anybody. He'd only ever worked with one actor, really. So during one session, Nick asked Miranda Richardson, 'Can you do that a little flatter?' And she said, 'What about that last one wasn't flat enough?' He turned to me and said, 'You deal with her.' " But as a former actor, Kirkpatrick also understood Richardson's frustration and came to realize he was good at giving direction.
On
Over the Hedge
, his first film as co-director (with Tim Johnson), Kirkpatrick came to realize just how dependent actors were on directors, because they had no idea what was truly happening in most scenes. "Bruce Willis came in for two sessions and just said, 'I am totally in your hands,' " he notes. "I was trying to direct him, saying, 'You're in a tree; you're 50 yards away—no, sound further back.' He finally said, 'Just give me a line reading.' It was for efficiency's sake; he didn't do the line like me." Willis later revealed Kirkpatrick was one of only two directors he ever allowed to give him a line reading; the other was Rob Reiner.
Kirkpatrick found that working with actors on animated films required more attention than live-action movies—precisely because, like Willis, actors were so in the dark about what was going on. So when Kirkpatrick's name was put forward as a potential director by his friend Ed Solomon, who co-wrote
Imagine That
with Chris Matheson, Kirkpatrick received a strong recommendation from DreamWorks Animation CEO Jeffrey Katzenberg. "Jeffrey actually called the heads of Paramount on my behalf to say, 'If you're thinking of him as a first-time director, you're crazy. Because the amount of working with actors that goes on for animation directors is more than most of your live-action directors.' " Katzenberg also called Murphy, saying simply, "This is your guy."
Kirkpatrick, for one, didn't think he had a shot at the job. He also wasn't sure he wanted his first live-action film to be with a huge comedy star. "I've heard horror stories about comic actors who essentially say to first-time directors, 'You sit over there; I'll drive,' " he reveals. "But I went and read the script and really connected with it and decided, 'What the hell.' I figured, 'I won't get this gig, but it will be good practice for me to pitch as a director.' " Though there was a "laundry list" of more-experienced directors, Kirkpatrick made it down to the final two. "Then they put us both in front of Eddie, and Eddie picked me."
Above all, Kirkpatrick believes that directing is about establishing trust—particularly in comedy. "What you want as a film director are choices in the cutting room. Every take the same doesn't help me. You want degrees of everything," he notes. "That's the leap of faith an actor has to take: that you will make the right choices." Kirkpatrick reveals that per Directors Guild of America rules, a studio has to let you direct for two weeks before it can fire you. As a result, a first-time director has to choose the first scenes to shoot carefully. "It has to do with your survival," he says. "You want to open with a day where you can make your day and show the range of comedy and drama." As his two weeks came to a close, he received a call from Murphy's assistant, asking to see footage. "On Monday morning I gave the DVD to Eddie," Kirkpatrick recalls. "I went to my chair to prep for the day, and we were waiting, and it was kind of gut-wrenching. I was flipping through the script, and the DVD slid into my view, and I looked up, and he said, 'If the rest of the movie is this good, we're in good shape.' "
Off Stage
Though Kirkpatrick says he doesn't miss acting, he notes, "I'm grateful for my performing experience because it allowed me to be able to communicate with actors and understand that process." He also believes his past gives him empathy when it comes to auditioning actors for his projects. "At one point, the casting director said to me, 'You don't have to spend this much time with each person.' But they're here, and I don't want to dismiss them."
He also understands the frustrations of typecasting. A "big TV star" he wanted for
Imagine That
couldn't get approval from the studio, which felt that the actor was too associated with television. "When I came to L.A. in my 20s, I had kind of a young ingénue look," Kirkpatrick says. "I had a final callback for
Guiding Light
. I would stand up in a room, and they would point at some of us to stay and the rest to leave. It was all based on the way you looked." A self-proclaimed goofball, Kirkpatrick adds that the roles he wanted to play—second bananas and comic parts—were not the ones he went out for. "I wanted character roles, but I looked like I belonged on
One Tree Hill
," he remarks. "One of the reasons I got out of acting is I couldn't control why they didn't want me. Apart from major surgery, I couldn't do anything about my look. But as a writer, if I turned in a script and they said, 'Page 30 to 60 doesn't work for me,' I could change that. I can use my skills to do something about it."
Kirkpatrick also believes that everything happens for a reason; he points to actor Chris Pine, who came in to audition for a part as an associate at Murphy's character's office. "He was great, but you're looking for a certain thing; it has nothing to do with talent. It's an approach to a part or sometimes just not quite the right fit," Kirkpatrick says. "But four weeks later, he lands
Star Trek
. There's a reason this didn't happen. He wouldn't be Kirk if he were in my movie. We were shooting at the same time. So I don't get everything I go up for either, and every time it doesn't happen, I tell myself there's something else. If I had gotten
Guiding Light
, I'd be an insufferable human being."
Up next, Kirkpatrick is producing the film
Captain Abdul's Pirate School
, which he describes as "a
Goonies
-style family film," and working on an adaptation of the novel
The Best a Man Can Get
by British author John O'Farrell, whom he worked with on
Chicken Run
. But Kirkpatrick is most interested in returning to his roots in musical theater. Both of his brothers are in the music business, and Kirkpatrick, who was heavily involved with the
Imagine That
soundtrack, plays guitar and piano. "That's really my first love. I want to write musical theater. But my film career keeps getting in the way."