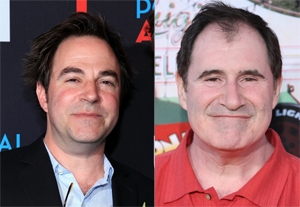 More than 10 years after it won a record-breaking 12 Tony Awards, Mel Brooks' musical "The Producers" continues to enchant audiences. And several veterans of the show will be reuniting for a three-night engagement at the Hollywood Bowl, which opens July 27. Richard Kind returns to the role of Max Bialystock, which he played on Broadway, alongside Roger Bart, who originated the role of Carmen Ghia in the Broadway production before taking over the part of Leo Bloom opposite Kind. Also coming back are Gary Beach, who won a Tony Award for his turn as director Roger DeBris, and Susan Stroman as director/choreographer. For this production, "Modern Family" star Jesse Tyler Ferguson will play Bloom, with Bart returning to the role of Carmen, which earned him a Tony nomination.

Kind and Bart recently spoke to Back Stage about the upcoming production.

How does it feel to be working together again on "The Producers"?
Roger Bart: I did the show with Richard probably 100 times at least. We had a great, great time. I was so excited to hear he was doing this because—and I don't want to say this at the expense of anyone else who has done the part—but I had a fantastic time doing the show with him.

Richard Kind: Now, I will say something nice about Roger. The first scene with Max and Leo is the book scene. It's almost a 20-page scene with no music until the end. He used to say every night, that we would get that right. We really worked hard. We were true actors, not just clowns. Once you get that scene down, the audience is in a good place, and you can do anything else. Nobody was so good in that role as Roger. And together, I will say with all humility, we were so good together. I'm so excited; I can't believe I get to see Roger and Gary in their original roles and I'm going to be up there with them.
Bart: Gary Beach and I would say how usually you play a part and you enjoy it at the time, knowing you can never do it again. We can do this thing until we're in our 60s and 70s.

You have a new Leo for this show, Jesse Tyler Ferguson.
Kind: Jesse was born to play this role. He came over to my house and we just sat down and did a read through and he was amazing. I can't wait to see him do it standing up.
Bart: I have a feeling he's going to be fantastic. Maybe even humiliatingly so.

When you found out you'd be doing the show, did you have to go back and look at your scripts?
Bart: Oh God, no. Did you, Richard?
Kind: I had to. I only did the show for about six months, or as I say, six months and 30 pounds. I call it "The Producers" Diet. I lost 30 pounds. But I'm astounded at how the lyrics came back to me; it was like muscle memory.
Bart: It will come back so fast, why deny yourself a day or two where you can seem a little cloudy? The great thing is you sort of know the lines, and when they are coming out of you before you've even looked at them, you may even learn a thing or two. Don't deny yourself that rare opportunity to hear it a different way for the first time and being able to respond in a way that's organic.
Kind: That's very true. There's a definite rhythm to what Mel's written, and it can be nice to go against that rhythm every once in awhile.

What do you think is the secret to the enduring appeal of the show?
Kind: This musical is a machine. I believe it can be done with mediocre talent and still be successful. It's written that well. I did it with eight or nine different Leos, and the show went brilliantly every time. Mel wrote a wonderful screenplay and Thomas Meehan and Mel gave it a lot of heart. It's clever, and it also happens to be hysterical. It's really endearing. Endearing and enduring.
Bart: And obviously the staging at the Bowl will be different than before. But with Susan Stroman at the helm, I have no doubt the show will fly by with alacrity and grace.

What's the most difficult part about doing the show?
Bart: You know, I played Carmen about a year and three months before I missed a performance, and the reason I never did was because I never wanted anyone to know how easy my gig was. Because then everyone would want it. The cat was out of the bag once they saw someone do it, and it still got huge laughs. My mystique was gone. Leo was hard to do sometimes because of the lyrics, especially the song "That Face." I probably lost about 15 pounds myself doing that part.
Kind: Doing theater, I call it concentrated shampoo. You put a dime in the palm of your hand and you get a headful of lather. When you do a play, you're there for two and a half hours, and you live a lifetime. What's difficult with doing "The Producers" is your appetite is enormous. You want money; you want boards; you have huge desires. You've got to want more than anything for two and a half hours. Everything is heightened. All my choices are usually enormous, but Max really gives you an enormous buffet to act big and keep it juggling. So the toughest part is when the show is over and you've got to come down.
Bart: That's what alcohol is made for.

"The Producers" plays at the Hollywood Bowl July 27-29. For tickets and more information, visit www.hollywoodbowl.com.