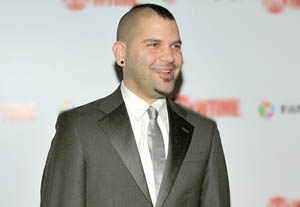 Though he shares a name with his character on Showtime's hit "Weeds," actor Guillermo Diaz is nothing like a shady, menacing drug dealer. In real life, he's closer to his other current television character: the sweet and funny Angel on NBC's drama "Mercy." Diaz has a long résumé, respect from indie-film fans as well as comedy lovers (including this writer, who often quotes his character's lines from "Half Baked"), and a villain role in Kevin Smith's upcoming film "Cop Out" with Bruce Willis and Tracy Morgan. For Diaz, it all began by picking up a copy of Back Stage.
Growing up in Washington Heights, N.Y., Diaz didn't know he wanted to be an actor until he was 17. During a high school talent show, he lip-synched to a medley of Beastie Boys songs as rapper Mike D. The performing bug bit and never went away. He started buying Back Stage every week and submitting himself for jobs. "I was a huge Back Stage buyer!" Diaz says. "I used to get excited every Thursday when it came out. That was the most exciting part of my life when I started acting. I would have my hard copy of my headshot, and I would buy envelopes and send it out to the addresses. I got a whole bunch of jobs from Back Stage."
Feeling like he might need a steadier career to fall back on, Diaz enrolled in business school at Baruch College. "I took all the acting classes that they had—which was maybe four classes—and I did all their productions," he recalls. Then, at 19, Diaz submitted to an ad in Back Stage and got his first paying role: playing the Wolf in "The Three Little Pigs" at the Little Courtyard Playhouse, a children's theater. Soon after that, he saw an ad in Back Stage for a new up-and-coming theater company called the LAB. He auditioned with a monologue from "Our Town" and was accepted into the company as one of the original 13 members along with co-founder John Ortiz, Sam Rockwell, Lauren Velez, David Zayas, Liza Colon, and Yul Vazquez. Today, that ensemble is known as the LAByrinth Theater Company, and Philip Seymour Hoffman sits on the board of directors.
Diaz looks back on the time at LAB as his "real" acting training, "We were all just starting out. We would meet every Wednesday and spend four hours in this theater and just do scenes and bring in stuff we wrote and work on it. We would do improv and theater exercises and just work. It was an amazing experience. We did our first production, which was called 'Rough House,' and an agent came to the show and saw me. That was when I was first signed to an agency."
Diaz also credits John Leguizamo with helping him grow as an actor: "John had just started doing all his one-man shows, like 'Mambo Mouth' and 'Spic-O-Rama.' He was getting really popular with that, so he was, like, a hero of mine because he was Latin and around my age. I had done a reading of a play, and John Leguizamo's mother saw me in the reading, and she liked me. She said that John was doing these workshops and readings of this script that he had written. She put me in contact with him, and we would do a bunch of improvs and readings, and that was one of the things that really helped me out. Especially with the comedy stuff."
Film Versus TV
In 1993, Diaz was Taft-Hartleyed into SAG after booking his first film, "Fresh." The film and TV roles kept coming, and he's been working steadily ever since. Though currently part of two television shows, film is his first love. "I like having a beginning, middle, and end. You have that in film," he explains. "But in television, you will get your script, and there will be information in it like 'You grew up without a mother' or 'Your brother died when you were 14,' and you're like, 'Oh, man, I had no idea! If I knew, I would have played that in the scene we shot three episodes ago.' With film, you get your script and you know exactly the arc of your character," says Diaz, quickly adding, "But there is the excitement of all that in television as well, so it's all good. I'm very grateful to be working—and working on successful shows."
Like many actors, Diaz loves the rehearsal process in all mediums. "In television, everything moves so fast. We sometimes do a table read of the episode a few days before, and then we rehearse maybe once or twice with the director on set. They bring in the crew, the crew watches you rehearse, and then you shoot. So there's not a lot of rehearsal, but you start getting used to that. You know going into it that's what it's going to be," he notes. "For film, I've been on some films where we have rehearsed a lot. I did a film called 'Tony n' Tina's Wedding,' which is based on the play. We rehearsed that for, like, three weeks before we started shooting, which was great. I did a film called 'I'm Not Rappaport' with Walter Matthau, which was based on a play as well, and we rehearsed that like a play. The more rehearsal, the better, for me. I love rehearsing. But you know, I'll make it work if we don't have a lot of rehearsal. Gotta make it work. Gotta be ready."
Unlike many actors, Diaz also loves to audition. "I'm all for auditioning, even though it's still sometimes nerve-racking," he comments. "I have had a couple of films where they offered me roles, and I always feel like I show up and have to prove myself to the directors and producers that they made the right choice. I prefer auditioning for the director and getting notes rather than them just offering it to me. I want them to know that they really want me for the role from my audition."
For his most recent film role in "Cop Out," Diaz had to audition for Smith. "It was just another audition," he says. "I was in the middle of doing 'Mercy,' and my manager called and sent me the script. I went in and auditioned for the casting director, and she liked me and brought me in to meet Kevin Smith. It was a really quick process. I auditioned for him once, and then a week later we got the call that he wanted me for the role, and we started shooting right away. It was a really fast process. But it was great, an amazing experience, working with Kevin Smith, who is such a brilliant director. He is so smart, so witty, and so excited about his movies. Just working with him—wow, I feel really lucky that I got to work with Kevin Smith."
Diaz admits that even after all these years in the business, he was still starstruck by Willis. "Bruce Willis is such an icon, such 'that guy,' that it was a bit surreal to be working with him," Diaz reveals. "But you know, once you start the work, it's just another actor."
Aspiring actors often approach the very approachable Diaz. "When young people say to me, 'I want to be in movies,' or 'I want to act,' I always tell them, 'Start buying Back Stage!' That's the first thing I tell them," says Diaz. "I remember always wanting to just work. I did a ton of extra work, as well, and all these student films that I found through Back Stage. I think [young actors] now, they think it's just going to happen miraculously without doing any work. You have got to pay your dues. You have to start from the bottom and just work, even if it is extra work or student films. Just keep using your instrument. If you want it bad enough, it will happen."