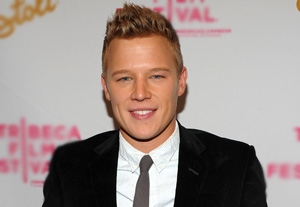 Christopher Egan has a tough job in his new film "Letters to Juliet": convincing audiences that Amanda Seyfried's Sophie would dump her fiancé, played by international heartthrob Gael García Bernal, for Egan's character, the uptight Brit Charlie. "That was a little intimidating," Egan admits with a laugh. "I was wondering how they would make it convincing." In the film, Sophie is visiting Italy and comes across a wall where women leave letters to the teenage heroine of Shakespeare's tragedy. When she discovers a letter from 50 years ago, she is prompted to write the author, who shows up in the form of Claire, played by Vanessa Redgrave. Claire is accompanied by her stuffy but loving grandson Charlie (Egan), and the trio begins a road trip to find Claire's lost love.
Egan began acting at a young age in his native Australia; he and his three brothers appeared in several commercials. "I was the only one who was really passionate about it," he notes. "My brothers all fell out of it. My mom tells the story that one day my brother came home from school and had been teased by some kids who saw him in a commercial. She says he came home, threw his bag down, and said, 'Mum, I'm never doing another commercial again!' " Egan is quick to add that his mother and father weren't stage parents and had no problem with his brothers quitting. "But they could see how much I was loving it and were very encouraging."
From Aussie soap to L.A.
At 14, he landed a role in the Australian soap "Home and Away," where he grew up in front of the camera. His contract expired when he was 18, and although the show wanted him to sign up for another five years, Egan was interested in exploring options in America. "I knew if I didn't get out, I would probably become so cooked," he reveals. "And I knew L.A. was where most of the opportunity was. The industry in Australia is so small; it's like 2 percent of actors are actually working. It just felt like the natural progression."
After roles in the short-lived drama series "Vanished" and "Kings," Egan was looking for more lighthearted fare. "I'd just finished doing 'Kings' in New York for a year, and I was so beat up and exhausted from it," he recalls. "I wanted to do something crazy and fun and completely different. At the last minute, the 'Juliet' script landed in my lap. I read it and straightaway knew exactly how I wanted to play the character." After his audition, he went for a screen test with Seyfried, where he noticed he was the only blonde in the waiting room. "The four other guys testing were all dark-haired; I sort of felt like the odd man out," he notes of the audition in London. He was asked back the next day to work with Seyfried in front of the camera. "I sort of got the feeling they had some doubts about me, and I know I was competing against some really solid actors," he says. "But I guess that makes you work harder in auditions." Egan then hopped a flight back to America, and by the time he landed, his agent had the offer. 
Shooting the film in Italy was a dream, as was working with a legend like Redgrave. "There was a part of me that questioned, 'Do I have the chops to go head to head with her?' Especially playing a family member, her grandson," Egan admits. "But she was so welcoming and warm and friendly and giving. Someone asked her about working with us, and I loved the way she put it; she said she liked working with people in harmony." He also has nothing but praise for Seyfried: "It was very easy to pretend to be in love with her."
Egan can't reveal what his next project will be, but he's happy to report he has several things to choose from. "They're all going at the same time, so we're sort of just narrowing it down," he notes. "And they're all completely different from 'Letters to Juliet,' which is nice."