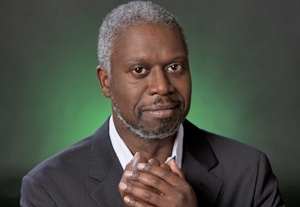 "Most of my career has been spent doing things I haven't done before," says the affable, but slightly reserved André Braugher.
"I've done horror, sci-fi, spy, thriller, a lot of history, and now finally a comedy. I've got some cop shows and doctor shows. The only thing I don't have is a 'Star Trek,' series and I don't have a lawyer show."
Best known as the tough detective Frank Pembleton on the gritty crime drama "Homicide: Life on the Street" and currently the somewhat beleaguered Owen Thoreau Jr. on TNT's dryly amusing "Men of a Certain Age," Braugher also has extensive theater credits—including "Henry V," "Hamlet," "Measure for Measure," and "Coriolanus." He can now be seen Off-Broadway, at the Manhattan Theatre Club, in Matthew Lopez's "The Whipping Man," directed by Doug Hughes. Set in Richmond in 1865, "The Whipping Man" is a three-character play, recounting the evolving relationships among former slaves Simon and John (Braugher and André Holland, respectively) and their former master Caleb (Jay Wilkison). All the characters are, to varying degrees, practicing Jews. Braugher, the oldest of the three, is the play's moral centerpiece and the most committed Jew. He is determined to have a Passover Seder despite their devastated surroundings and bleak prospects in the immediate aftermath of the Civil War.
"I'm always interested in projects I haven't seen elsewhere," says Braugher. "When I read the play, I found the situation so new, so unique, and the playwright was skilled enough to write characters who sound like people having actual conversations. They were very present, real, and compelling. I wanted to be part of it. My criterion for wanting to do a project is simple: Do I want to be a part of it?" He emphasizes that although Simon is an intriguing character who poses many challenges—not least grasping the man's time, place, spiritual-religious views, and the particular dynamics among the three men—the script as a whole takes precedence over the role. "A magnificent character who doesn't have a context isn't that interesting," says Braugher.
He does not have any specific acting "method," short of embodying the character's memories, he says. These are vivid visual, auditory, and tactile recollections that inform his character's understanding of himself, his world, and his feelings about the other characters on stage. These memories are a presence, at some moments more intense than others, but always there to shape perceptions and interpersonal relations.
"I have a memory for everything I mention," Braugher says. "In 'The Whipping Man,' I have a memory of coming to the house, the fact that the house was burned down and the streets filled with looted material and burning embers. When I enter what remains of the house, I know the looters have been through it. I pull together what best I can and wait. Since the house is empty, I speculate where everyone has gone." Braugher's many-layered performance subtly evokes a remembered past.
In the Grip of Angels
Braugher says his development as an actor is an ongoing process with few epiphanies. Still, he cites his experience in "Henry V" as an artistic turning point. He credits director Hughes for helping him put an emotional handle on characters he may not like and, more important, appreciate their journeys. "I've always been good at analyzing scripts, but I tended to take a cynical view of my characters," Braugher recalls. "I was especially cynical about Henry V. I saw him as manipulative, and I was just not feeling this guy. A part of me wanted to admire him, and I didn't know where to go. Doug and I talked for 40 minutes about the character's spiritual evolution, which made it more fun and more interesting to play. It comes together in the last scene. Henry comes in to snatch up Kate and to quote unquote unify the kingdoms. But after Doug and I finished talking, I began to see the evolution of a man. He once was a king, and now he is a man among men. His marriage is an attempt at healing and unity as opposed to barbarism and oppression. This made me realize that every character is on a journey and evolving in some way. Most characters are in the grip of a lesser or better angel, and I think about that. If it's not apparent in the piece, I try to make it apparent to me. Doug Hughes is a brilliant man." He adds that Hughes helming "The Whipping Man" was another reason to be drawn to the project.
The admiration is mutual. "André and I seem to be on a 14-year cycle of sharing great experiences," says Hughes. "We last worked together in the wilds of Central Park. André won a richly deserved Obie for a thrilling performance as Henry V that was utterly defiant of every cliché associated with that Plantagenet king. We've somehow both slipped into middle age, and I again find him an actor of brilliance. He uses language in a way that conveys living thought. He calibrates his work with surgical discipline and then lets it rip with exceptional power. He seems incapable of a false move. And no one I know works with as much fierce and inspiring dedication. I look forward to 2025 when the gods permit me to work with him again."
Braugher's co-stars on "Men of a Certain Age" are admirers too. "We knew what André brought to the table as a dramatic actor," says Ray Romano. "Every moment is real, with depth and intensity. What we didn't know, and I'm not sure he even knew, was that his finding the truth in every moment also made the comedic moments just as brilliant. He really covers both the dramatic and funny with amazing finesse. That's what André brings to the table. And an occasional sandwich."
Scott Bakula adds: "André is an irrepressible ball of passion, commitment, curiosity, joy, and above all, he is an uncensored lover of his craft. He 'brings it' every day, and it's infectious. He tolerates my lame approach to the work, but just barely. We have entirely too much fun working together!"
Save Your Money
Brought up in Chicago, Braugher graduated from a Jesuit high school before heading off to Stanford University, where he majored in engineering. He switched gears when he appeared in a college production and discovered his true calling. "I found I was most alive on stage and no longer wanted to be in a library with my slide rule," he recalls. "My mom was supportive. My father was bent out of shape. Now they both agree that acting was the right thing for me to do. You only have one life to live, and this is my adventure."
Unlike other actors who say they get their parents' stamp of approval once they're successful, Braugher insists his father and mother—respectively, a retired heavy equipment operator for the state of Illinois and a postal worker who became an electrician—are indifferent to the zeroes in his paycheck. Those are not their values, he says. "It's whether I'm an honorable man and love my wife and am raising my kids right. That's what's important to them."
Braugher earned his graduate degree in acting from Juilliard and has worked steadily ever since. He is among the lucky few who have never had to take a day job. He has no must-do projects, says he likes being surprised, and has never had a career strategy. Indeed, strategy is an alien concept to him. He does not see himself as fodder for gossip columns or as a product endorser. Landing on the cover of magazines will not bring him wonderful projects or enhance his personal life, he asserts. "I'm a simple guy. I like to go home and have dinner with my family." Braugher's wife is actor Ami Brabson, who played Braugher's wife on "Homicide: Life on the Street."
Still, he offers career advice for aspiring actors: "Master your craft and learn by doing and watching. Learn from those you admire. Not everyone will be able to come to New York or Los Angeles. Seek out opportunities where you are." He pauses to emphasize the pragmatic. "Save your money."
Braugher says the most challenging role he has tackled is Nick Atwater in the miniseries "Thief," mostly because there were so many crosscurrents in the character's psyche—including planning a heist, grieving over a recently deceased wife, and reconciling with his estranged daughter.
But then, Braugher is attracted to characters in conflict. Indeed, he ferrets out those warring forces in his characters and analyzes them in those terms. Consider his interpretation of Owen Thoreau Jr. on "Men of a Certain Age." "Owen is on a journey towards maturation," the actor says. "This is a man who is coming into his own. He has said 'yes' when he means 'no' almost his entire life. He has been trying to please others so much so he has become disconnected from who he is. It's a constant tug of war, especially for a father, son, husband, and co-worker. It's a push-pull between my ambitions to please everyone and what is going on inside of me. A lot of people can relate to that. But he's evolving. By the time we're done—assuming the series is picked up for a few more seasons—Owen might be a man who can acknowledge what's true inside of himself, and in being true to himself he can be true to all the people around him."
Still, "Men of a Certain Age" is a comedy, and that's a departure for Braugher, who admits it requires a special touch. He says he has learned from just observing Romano work—noting that when the stakes are highest, so is the comedy. Yet striking the right note in a comedy, especially one as wry as "Men of a Certain Age," is delicate, he says. "The tone is elusive."
In recalling his 15 years in the industry, Braugher acknowledges forward movement for African-American actors and their image in the media. Ugly stereotypes persist, and the percentage of African-Americans on screen does not reflect the percentage of blacks in the population, he points out. Nonetheless, "There are more roles and more opportunities. People are looking for different stories, and the character of storytelling is changing. So we will continue to see more interesting, more complex truth-telling on television and film. I believe we are moving in the right direction. I believe there is progress."   
"The Whipping Man" will run through March 20 at the Manhattan Theatre Club New York City Center Stage 1, 131 W. 55th St., NYC. Tickets: (212) 581-1212 or www.nycitycenter.org.   
OUT TAKES
-Received Emmy Awards for "Homicide: Life on the Street" and "Thief" (also a Golden Globe nomination) and Emmy nominations for "Gideon's Crossing" (also a Golden Globe nomination) and "The Tuskeegee Airmen"
-Guest starred or had recurring roles on such TV shows as "House, M.D," "The Andromeda Strain," "Hack," "The Practice," "City of Angels," and "Law & Order"
-Film credits include "Salt," "Thick as Thieves," "City of Angels," "Primal Fear," "Get on the Bus," and "Glory"