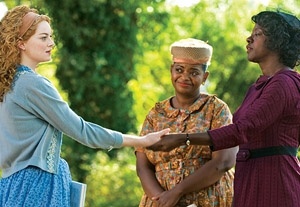 Time and again, the lack of good movie roles for women has been bemoaned. Or a female-centric film does well at the box office, spawning articles on how there really is an audience for such stories. This year, two films with primarily female casts became critical and box office hits. First came "Bridesmaids," in which Kristen Wiig and company proved they could tackle gross-out comedy as well as the boys. Then there was "
The Help
," in which a group of fine actors assembled to bring Kathryn Stockett's bestseller to life.
The film, directed by Tate Taylor, centers on African-American maids in 1960s Mississippi who decide to tell their stories to an ambitious young journalist. Heading the cast are Viola Davis, in her first lead film role, as quiet domestic Aibileen Clark, and Emma Stone as Skeeter, the writer who tells the women's stories. The supporting cast is full of outstanding actors, from Bryce Dallas Howard as a spoiled socialite to Sissy Spacek as her adorable mother, as well as two of the biggest breakouts of the year: Jessica Chastain, who is also earning raves for her work in "Take Shelter" and "The Tree of Life," charms as social outcast Celia Foote, and Octavia Spencer shines as her maid Minny, a role that Spencer inspired Stockett to write.
On how they got involved with "The Help"Viola Davis:
I was a fan of the book. I just thought [Kathryn] really humanized these women who in history have never been given a voice. As soon as I read it, I said, "Oh, this has got to be a movie, and I've got to option it, and I've got to play Aibileen. Then I found out that Tate Taylor had it. And from there it just went from us having mutual friends and me finding out that he actually did have me in mind for the movie.
Jessica Chastain:
Celia was the role I was asked to audition for, and it was the role I truly wanted. I think sometimes people get in the trap of saying, "Oh, I want the lead," or "Oh, I want a hit." But I read the script and immediately I wanted Celia because she is so different from anything I've done. I'm not kidding when I say I cried while reading the screenplay. And I said, "This is a woman I want to know for a while."
Octavia Spencer:
I met Kathryn about eight or nine years ago in New Orleans. Tate had talked about us meeting. We were there doing the sound mix on his short film "Chicken Party." Kathryn came down for the day, and Tate decided we should take a walking tour of the city. It was hot, I was on a diet, starving and grumpy, and we start on this tour. And then the complaints began from me. And from there, I think, Minny was born. But she's not based on me. I say it jokingly, but it's true: Minny is short and round; I am short and round. Minny speaks her mind all the time; I don't have a problem speaking my mind. But here's the thing: I did have to audition for it, and why not? When you think about it, it's an unknown director with a hot property who wants to cast an unknown in one of the leads. Mo'Nique has just won an Oscar, Jennifer Hudson has just won an Oscar, and you have amazing actresses out there like Queen Latifah—why would they cast me? [The studio was] very gracious to allow me to come in and audition, and I was never made to feel like it wasn't an easy decision for them.
On preparing for the roleDavis:
A teacher once told me you can never have too much information about a character. You just have to arm yourself with information. So of course, I found every type of information about that period. I felt I had to saturate myself with that because I am a 21st-century girl. A lot of what existed in that time period is so foreign to me. Of course, intellectually I know, but I felt I had to arm myself with more information. So I watched documentaries. Some I had already seen, like "Eyes on the Prize," and documentaries on domestics—how they feel. Everything about Freedom Summer in Mississippi. And also I started with what I feel as an actor is the bible, which is the text itself, which is the book and the script. And then after that I always feel like I need a person to focus on, because I feel like a lot of actors create in a vacuum, that performance is really dynamic but only in the confines of a classroom, but you can never look at a character and go, "I know someone like that" or "Those characteristics are palpable to me." So I always have to have a vision of a person in my head. And that person was my mother and my grandmother, who when they walk into a room nobody would ever notice them—just, in the most beautiful way, ordinary. I felt like I had to start with that. I had their experiences very much in my head, stories my mother had told me about my grandmother being a maid and herself being a maid. And everything else I just had to make up, use my imagination in terms of filling her out.
On the most challenging scene to shootDavis:
Definitely the last scene. Probably not for any of the reasons that people think, and for all the reasons people think. Because even reading the book, it was very challenging for me to read that part. That story really touched me the most. When Aibileen and Mae Mobley were separated in the end, it totally devastated me as a reader. So the actual shooting of it was very difficult. Emotionally, it was difficult because for me I felt like it was Aibileen making peace with letting Treelore, her son, go. I felt that was that whole connection. And certainly when you go to that place as a person, it's very difficult. I understand how it feels that someone is gone. That is how I was able to get through that scene, number one. But number two, it was challenging because it was cut up. The first part of the separation scene was an interior scene, and the other part of the scene is exterior. They were shot two different days, and yet when you ultimately see it, it is one long scene. That is very challenging as an actor. And it's also very challenging working with a 3-year-old who doesn't understand that concept. So you're trying to really get it out of them at the same time you have your own work to do. So the constant kind of stepping out of my body to be kind of a facilitator for her just to hit her mark and to say her lines and to look at me, and then stepping back into myself to play Aibileen.
Spencer:
Actually, there were three. One didn't make the final cut. It's a scene where I finally leave Leroy, and I'm beaten up and the kids are with me and I'm at a phone booth. That was hard. But equally difficult is being in the scene where Celia loses the baby, because I've fallen in love with Jessica Chastain and it's hard to see your friend like that. Same thing with Aibileen, when she tells the story about losing Treelore and why it's important that the book be published. Seeing her go through that pain was hard, because I love Viola. Those were things where I had one or two words to say, but they were just very difficult to shoot.
On working with the other actorsDavis:
It's one of those dream situations where you're with other actresses who are not competitive. That's the best way to put it. Usually people don't want to encourage you to do your best, because they feel it's a reflection of what they're not doing or their failure. But [on "The Help"], my excellence was their excellence. It's my same experience working with Meryl Streep [on "Doubt"]. It felt like her giving 150 percent during my close-up was just as important as her giving 150 percent during her close-up. And those are the kind of people you want to be creating with—total lack of ego. And so many people have asked this too: "What's it like working with so many women?" It was fabulous! It was exactly how it should be. You know, comrades. It certainly was a whole lot of fun being in Mississippi, in a small community, just us, because we weren't going back to our apartment or homes. We were going to each other's homes. Eating, having just the best time.
Chastain:
I loved this cast. With Octavia, it was love at first sight for me. She was my reader at my audition. And at my very first audition, I said, "I need to do this movie just because I want to be in scenes with Octavia, because our chemistry's so good." I loved Celia and was excited about it, but when I went in, that's when I was like, "I have to do this." You don't always have that chemistry between people, and usually it's between men and women when they talk about it, and they mean it in an intimate way. But I thought our chemistry was so good. For comedy, for the more touching, emotional scenes. I love working with actors so much—that's my favorite part of being an actor, the relationships you develop. I became obsessed with the project, and I knew I had to do it.
On awards buzz for their performancesChastain:
It's funny. I'm in other films this year, and someone told me I needed to strategize or I'll cancel myself out. But I don't know if that's something I can do. To even have people talking about the films I'm in, I'm just overwhelmed. I think more about my co-stars. Like, I think Michael Shannon should be recognized. I think Octavia Spencer should be recognized. This year has been so good, I don't know if I can take anymore!
Spencer:
You know what? It's every actor's dream to win accolades, but it's not something that we can control. And I'm a control freak. So I'm learning to be healthy and recognize I can't control it and just live in this moment. And in this moment, I got to work on a great film that I'm getting to promote, and I've made great friends. That is a great reward. If anything else happens, I'll be over the moon, but I can't even allow myself to think about it. I will say this: Oscar is my type of guy. He's bald and full of bling.