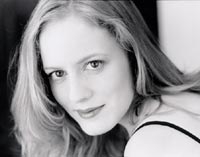 Our first Headshot/Resume Competition was a grand success, (look below for a link to the interview with our winner, Celia Montgomery) but now here's your chance! BackStage.com will select one lucky performer from our Headshot/Resume Database to feature as our day's top story. The winner will be interviewed by one of our editors, and then spotlighted--headshot, resume and all--as a top story on our homepage. This contest is available to members only. If you are a member of our web site and are registered in our Headshot/Resume Database, you could be contestant.
Send an email to backstage@backstage.com describing your performance background and why you think you should headline our site for a day. Include your full name, address, and email and telephone number. Write no more than four hundred words. Submissions exceeding the word limit will be disqualified. No pictures or links to web pages. If you submitted yourself for our last contest and were not selected, feel free to resubmit. The deadline for this contest is Friday, April 5th.
We are looking for all kinds of BackStage.com readers-- from seasoned working actors, to actors who have just entered the business. This is your chance to get high profile press coverage. You never know who might be logging on.
If you are already a member and would like to update or create your site on the Headshot/Resume Database, please CLICK HERE
All submissions will be subject to the terms and conditions posted at
www.vnuemedia.com/terms.html
------------------------------------------------------------
And The Winner is...CELIA MONTGOMERY
By Piper Weiss
November, 16 2001
To view the full interview as it appeared on the home page in November, please Click Here