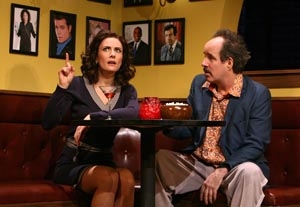 Besides laughing out loud when she read Christopher Durang's
Why Torture Is Wrong, and the People Who Love Them
, Laura Benanti was turned on by the prospect of doing a straight play. She has spent a decade performing in Broadway musicals, including
Gypsy
, for which she won a 2008 Tony Award for best featured actress.
"The thing I loved about
Gypsy
is that it felt so much like a play with music," she says. "Unfortunately, there's a stigma about musical theatre actors: that they're not good actors, that they're cheesy and shticky. I've seen some of the most dynamic performances in musicals and some of the most horrendous ones in plays.
Gypsy
showcased that I'm not just a singer; I'm an actress. I wanted the next project to reinforce that, to myself as well." Benanti also liked the idea of tackling a comedy—admittedly,
Torture
is a dark comedy but a very funny piece nonetheless. Benanti says casting directors, especially those in film and TV, are constantly surprised at her sense of humor and comic flair.
Another draw was the opportunity to perform Off-Broadway at the Public Theater. "Broadway has been my home and it's given me a wonderful life, but on Broadway you need a financial success, which places more parameters around you," she explains. "It places you in a box. Off-Broadway, there are fewer people to answer to; there's more creative room because you don't have to be commercially successful. And that's just fantastic."
Combining madcap farce with political and cultural commentary,
Torture
recounts the misadventures of Felicity (Benanti), who finds herself married to Zamir (Amir Arison), a deranged individual given to threatening behavior. She takes him home to meet her parents: a dotty mom (Kristine Nielsen) and a dementedly paranoid and violent dad (Richard Poe).
The ambiguous tone of the play is difficult for the cast, but the specific acting challenges vary, Benanti points out. "I play a kind of Alice in Wonderland who has gone through the looking glass. She is a clear-eyed, brave young woman in a crazy situation whose job is to make sense out of nonsense. There are parts of Felicity that remind me of me and that got in the way. I felt I couldn't play myself. I also kept looking for an arc, which wasn't there. Everyone else changes, but Felicity is the same at the end as she is in the beginning." Benanti says she approached the character on a scene-by-scene basis, figuring out "what I need, from whom, and then how I'm going to get it."
The actor concedes she does not have any one method. The role dictates her method. For example, when she played young Louise who grows up to become the stripper Gypsy Rose Lee, Benanti recalls finding the character through body language. "Louise was round-shouldered and slumped, while Gypsy Rose Lee had her shoulders back and her head up. She was ramrod straight."
Though Benanti works with a coach she adores (Elizabeth Browning), she never studied acting formally and that has given her a certain freedom. "I'm constantly learning, and maybe that's the benefit of not having gone to acting school," she says. "I've been floating through life doing, 'Let me try this,' and 'Let me try this,' and 'Let me try this.' "
An Early Launch
Benanti always knew she wanted to act, even as a child growing up in Kinnelon, N.J. She studied singing with her mother, a voice teacher, who is "totally supportive and no Mama Rose." Benanti performed in high school productions, playing the title role in
Hello, Dolly
! at age 16 and winning the first Rising Star Award for outstanding actress in a high school production given by the Paper Mill Playhouse in Millburn, N.J.
Benanti proceeded to sing in a number of Paper Mill concerts. Later, when the theatre was casting Liesl in the Broadway-bound production of
The Sound of Music
, Benanti was tapped. But, instead of Liesl, the producers cast her as the understudy for the lead Maria, played by Rebecca Luker. Benanti took over that role—making her Broadway debut in the process—while Luker was on vacation. Benanti has not been unemployed since, moving from one major production to another, including
Swing, Into the Woods, Nine
, and
Gypsy
.
Asked if the Tony Award changed her life, she replies, "My career is not my life. It didn't change who I am. Of course, winning a Tony was a totally wonderful thing. I've been blessed, but people think of you a little differently if you get a Tony. If anything, there is more pressure and the feeling of being watched. But I'm learning to be more comfortable with that."
Benanti adds that she likes being anonymous and has no interest in fame. "I'm too private, too sensitive to be famous," she says. "That's not the career path that I set out to acquire. It never was. My dream was to be on Broadway, and by the time I was 18 I was." Benanti also was a series regular on the short-lived FX program
Starved
. As much as she might like to try her hand on a television series again, she has no desire to live in Los Angeles.
"I hate L.A.," she says bluntly. "It doesn't suit me. My family is here; my husband is here [actor Steven Pasquale, a regular on
Rescue Me
and now starring on Broadway in Neil LaBute's
Reasons to Be Pretty
]. And I love the hustle and bustle of New York. I love walking everywhere. There's something about getting into a car in a perfect little outfit and going to a generic audition that makes me cringe. It feels so homogenous."
Benanti knows her career is the envy of many actors, and she modestly maintains, "I have friends who are so much more talented than me and yet they've not had the opportunities I've had. Some of that is luck and being at the right place and the right time. I'd certainly like to think I've worked very hard, but I'm not one of those girls who is going to push you down the stairs to get a part. I know too many of them, and it's an ugly way to live."
Her five-year plan includes trying her hand at Eliza in
My Fair Lady
, starring in a flashy musical co-starring her husband—
Brigadoon
heads the list—and producing a CD featuring American standards. She'd like to add movies, television, and straight-play credits to her résumé. In short, she wants to have the opportunities she's enjoying now, only more of them. "I hope I'll be able to step up to the plate," she says. "I'd also like to have a baby, maybe two."
Why Torture Is Wrong, and the People Who Love Them
runs through May 10 at the Public Theater, 425 Lafayette St., NYC. (212)-967-7555. www.publictheater.org.
Bio Brief
> Won Drama Desk and Outer Critics Circle awards for her performance in
Gypsy
> Earned Tony, Drama Desk, and Outer Critics Circle nominations for her performance in
Into the Woods
and a Tony nomination for her work in
Swing
> Film and TV credits include
Take the Lead, Eli Stone
, and
Life on Mars