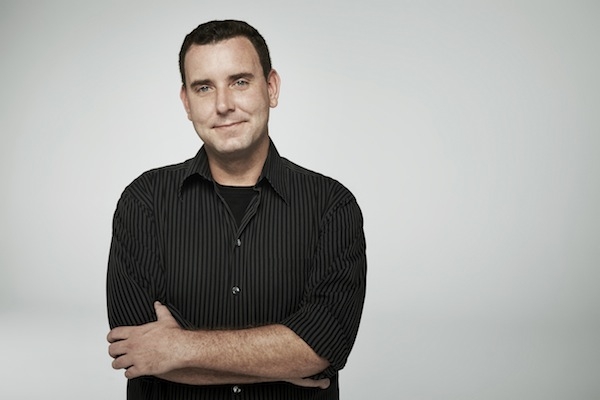 When Mike Page, the current manager of casting at TNT and TBS, first moved out to Los Angeles from Colorado 10 years ago, he was "one of those spontaneous youths who came out here with no job, no connections, and no place to live; just kind of in pursuit of the dream like everyone else."
After time spent at an entertainment law firm, as an assistant to the president of Evolution Media, and working with casting directors including April Webster—a career path he says he's "so lucky and so blessed" to have experienced—Page settled into his job at TNT and TBS this past January. Working under SVP Lisa Freiberger, Page works on the networks' pilots and first season shows.
In the past, Page jumped from comedy to drama, with credits including "My Name Is Earl," "Brothers and Sisters," and "Weeds," among others, but at TBS and TNT, he's found the blend. "This is kind of the perfect job for me from the standpoint of getting to play with two networks— one that's comedy and one that's drama," he says.
And it's a good thing Page loves his job, working to bring us new series coming in 2015 including TBS' "Angie Tribeca" starring Rashida Jones, "Buzzy's," and "Your Family or Mine"; and the TNT series "Public Morals" and "Proof."
Page takes some time to step out of TV land and chat with Backstage about casting for cable networks and what he wants actors to know.
On what his day-to-day schedule is like.
Page says that one of his favorite things about his job is that every day is almost completely different. "Working under Lisa, we spend most of our days kind of connecting and collaborating with our casting directors; working with other departments, with studios, agents, managers, etc., regarding roles that our shows may currently be casting; creating lists of available talent….a lot of meeting with and seeking out upcoming talent viewing demo reels, web content, various film and TV shows, to seek out both fresh and established actors for our networks," he explains.
On how network and cable TV casting differ.
Page says that he thinks cable is generating a lot of buzz right now, and with hit shows attracting some big names—"True Detective" for example—we don't disagree. "We're really trying to do some of the biggest names," he says. "Traditionally we have smaller episodic orders than the broadcast networks, and that can tend to appeal to most actors..they can be more available for film or theater work, personal lives, so that they don't use as much of their year.
"We're probably closer to a film shooting schedule would be like as opposed to as the six or nine months you'd need to be available for regular network television."
On why actors need to consistently be watching television.
"[Actors] need to watch TV if they want to book," says Page, decidedly. "Series actors need to know the marketplace and the current trends. Each network has a very specific brand, specific tone, and actors need to be familiar with the differences between multi-cam and single-cam, season dramas versus serial dramas.
"As networks start announcing what scripts are going to pilot, actors should already be researching the writers, the directors so that they're familiar with the writers' voice and point of view."
On how to tank your television audition.
Wan't to make sure you don't get the part? Easy! Just fail to research what it is you're auditioning for. "Even if [actors] work on the side and they develop the character, if they fail to research the show, they're not going to know the tone of the series, they're going to have the wrong performance level for the genre, and they're gonna have no clue who the series regulars are or who the other characters in the scene are," Page says. "To me even if they're off-book, I find it's such a shame if it becomes obvious that they didn't even take the time to briefly Google the show. I've had actors come in an ask me if it was a TV show or a film…it's so disappointing and it shows in their read."
On the three ways Page wants actors to take care of themselves.
Chock-full of good advice, Page pushes it even further, explaining the three ways he wants actors to take care of themselves.
1. "Actors need to remember that they are the CFO, the CEO, the receptionist, the janitor of their own corporation," he says. "They need to make sure that they are handling their resources in the best possible way—whether it's the time, the money, etc, whether they're taking classes, doing workshops, whatever they may be investing in—that it is the best use of their time and money at the moment."
2. "They need to be taking care of themselves as an artist—making sure they're watching television, film, and opera…you know everything that's out there. Being consistently inspired and remembering the passion and the love of the craft that there is."
3. And the last? Page wants you to take care of yourself as a person. "Any of us in the industry are guilty of it, but we can get wrapped up and lost to our jobs. Whether you're an actor, a casting director…whatever it is, you can lose focus and you can lose yourself completely.
"So whether it's getting out of town, having friends and family that have nothing to do with the industry, [who] if you even so much as mention your IMDb STARmeter, their eyes will glance over and they'll walk away from you," he says, laughing. "Finding something that you're passionate about—whether it's sports or ceramics, or poetry, horseback riding…whatever it is that fills you up."
Inspired by this post? Check out our television audition listings!