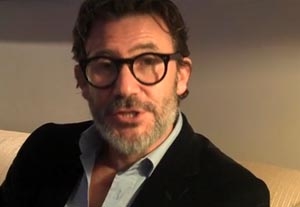 One of the biggest hits on the festival circuit is "The Artist," which earned standing ovations at Cannes, Telluride, and Toronto. It's an actual silent movie, shot in black and white, with two French actors in the lead roles--and is pretty much a lock for a Best Picture nomination come Oscar time. People are falling in love with the movie, which tells the story of silent movie star George Valentin (played by Jean Djuardin), who finds his career threatened with the innovation of talking pictures. But mostly, it's a love story, as Valentin falls for an upcoming starlet named Peppy Miller (Bérénice Bejo.)
The movie is clever and fun and a good old-fashioned romance, wonderfully directed by French filmmaker Michel Hazanavicius--who, in the above video, explains his vision of the film. I also just learned Hazanavicius is actually married to Bejo,  and Bejo couldn't be in Toronto because she's a couple weeks away from giving birth to their child. I completely fell in love with Bejo in this film.
But I did get to speak with the very charming Djuardin, through a translator, who told me this is actually his fourth film with Hazanavicius. "But our previous films were comedies," he said. "So I wasn't so much worried about making a silent film as I was about making a melodrama." Another interesting thing Djuardin said was that in France, they don't call what an actor does acting. "The word we use in French is 'play.' As in, actors play. It's a difference, I think, between American and French actors."
READ MORE ON BEHIND THE SCENES