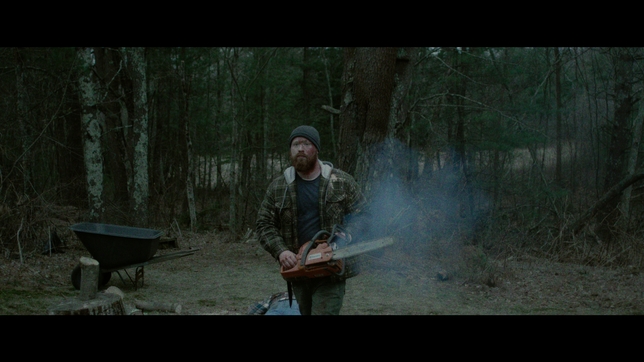 One of the Toronto International Film Festival's proudest traditions is their Midnight Madness program, which honors genre films in all their guts and glory. Now in its 25th years, Midnight Madness has premiered films from the likes of Eli Roth (back this year with "The Green Inferno"), James Wan ("Insidious"), and even Oscar winner Peter Jackson ("Meet the Feebles"). This year, writer-director Joe Begos' feature debut "Amost Human" joins that illustrious list, premiering Tuesday night at midnight (technically 11:59 p.m.) at the Ryerson Theatre.
"Almost Human" is set in a small town in Maine where Mark (Josh Ethier, who also produced and edited the film) disappears in a flash of blue light, causing locals to grow suspcious of his friend Seth (Graham Skipper), who witnessed the event. Murder and mayhem follows when it looks like Mark may have returned—and brought something with him. We spoke to Begos about his film.
Where did the idea for "Almost Human" come from? Any inspiration from true stories, like Travis Walton?
Travis Walton and the film "Fire in the Sky" were huge inspirations. As a kid, I was always frightened by the possibility of being abducted, and loved alien abduction films. The problem is there are so few of them, and not many are very good. I wanted to take the whole idea of coming back with things done to you that you have no control over, and really go crazy with it. What would make me scream in excitement as a 15-year-old horror fan watching this?
Where did you find your lead actors?
I actually wrote the script with Graham Skipper in mind as Seth and Josh Ethier in mind as Mark. Knowing who would—most likely—play these two roles really helped. Six days before production, the entire movie was cast except for the female lead of [Mark's ex-girlfriend] Jen. I read so many people, and I just could not find the right fit. The part is super demanding; lots of physical work, and they needed to be a great actress, too. I thought we were going to have to push production, and then Vanessa [Leigh] came in, killed it, and agreed to all of my completely ridiculous ideas that were necessary for the film. The rest of the cast was all from New England as well, which was also one of the most tense parts of pre-production. I was having nightmares about having to use tons of local actors, but every single one of them knocked it out of the park. So happy.
I'm guessing you're a horror/sci-fi fan? Who are some of your idols, or what films inspired you most?
Since I started following film festivals and directorial careers and whatnot, Midnight Madness has been the one that I've always wanted to get into. To be here with my first feature is insane. I still can't believe it. The festival's programmer, Colin Geddes, is one of the truest genre fans I've ever met, and a film hero. He's found some of the coolest, most insane, and best genre movies of the past 10 years, so the fact he selected mine pretty much leaves me speechless. My idols range far and wide. I love John Carpenter—who doesn't?—David Cronenberg, John Woo, Brian De Palma, to name a few. More recently, I've loved what Alexandre Aja has been doing; "High Tension" was a huge inspiration for this film. And James Wan is really knocking it out of the park, too. Crazy that those last two guys had their debut feature at Midnight Madness. Unreal.
I don't know if you can reveal your budget, but was it a difficult shoot? What proved to be the most challenging part?
The most difficult part was definitely the actual production. There's so many moving parts, and me and my producing partner Josh Ethier were wearing so many hats, it was a constant stress. Factor in the 10 degree temperatures, equipment failure, tight schedule, and question over if we would run out of money, and I had chest pains and an additional 40 pounds on me when we went back to L.A. to edit. Once the film was completely done, then the stressful part of getting it in front of eyeballs took over. Luckily, I found a great manager, Dallas Sonnier, who really believed in the film and pushed and pushed and got it in front of the eyeballs it needed to, and here we are!
What can people expect from "Almost Human"?
I just want people to go in and have fun. This is the type of movie you need to watch in a room full of people, beer bottles galore, and just let loose. That's how I'd want to see it for the first time.
"Almost Human" premieres Tue., Sept. 10 at 11:59 p.m. at the Ryerson Theatre. Additional screenings follow on Wednesday and Friday. For more information, click here.