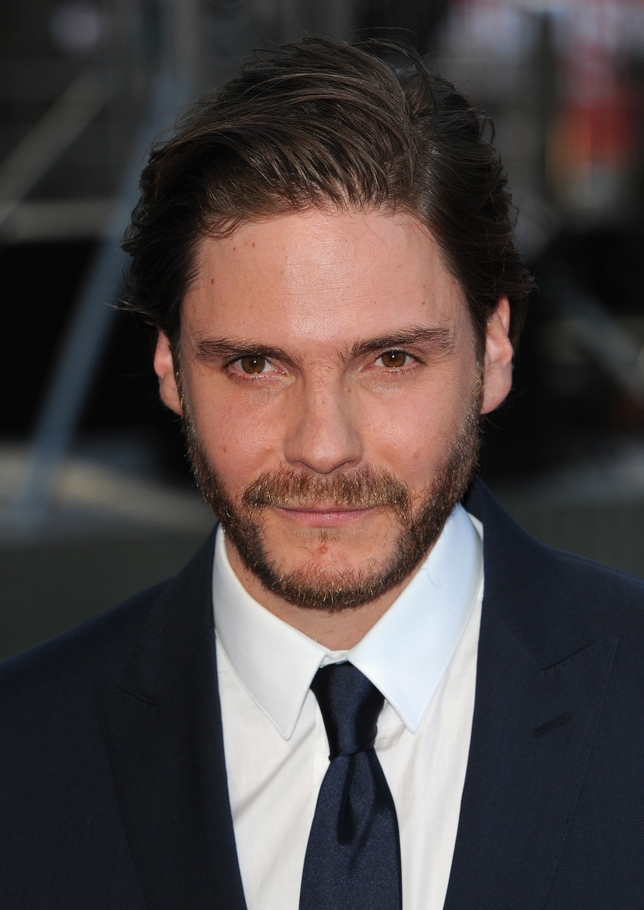 Daniel Bruhl is already a star in his native Germany (he was born in Spain but raised in Cologne), thanks largely to his award-winning turn in "Good Bye Lenin!" American audiences likely recognize him as the lovelorn sniper in "Inglourious Basterds" or his turn in "The Bourne Ultimatum" as the brother to Franka Potente's character. But by the end of the year, it's likely Bruhl will be household name thanks to two star turns in high-profile projects from Oscar winners. Hitting theaters in September is "Rush," which reunites director Ron Howard with his "Frost/Nixon" scripter Peter Morgan to tell the true story of the rivalry between Formula One race drivers Niki Lauda (Bruhl) and James Hunt (Chris Hemsworth.) Bruhl is already inspiring Oscar buzz for his turn as the anti-social, caustic Lauda. And "Rush" will be followed by the October release of Bill Condon's "The Fifth Estate," which premiered Thursday at the festival, in which Bruhl plays Daniel Domscheit-Berg, the trusted ally of WikiLeaks founder Julian Assange (Benedict Cumberbatch.) With "Rush" premiering Sunday night at the festival, we spoke to Bruhl about his prolific year.
How did you land the sought-after role of Niki Lauda in "Rush"?
Daniel Bruhl: I'm still not sure. Peter Morgan had me in mind, or at least I was on his list, and producer Andrew Eaton liked me. I flew to the audition and I was pretty relaxed because I thought, "I'm so different from Niki, they're never going to choose me." I'm used to that. They let you wait two or three weeks then they call you and say, "That was awesome. But…we're going with somebody else." So I went on the audition and surprisingly, three days later I was on vacation driving on a motorway in Spain overtaking trucks with my girlfriend screaming at me that I'm a terrible driver, and I got the call that I was offered the part. It was a huge excitement, then of course panicking, because I thought, "Shit, now I have to play this guy."
You not only capture Lauda's personality, you actually look like him. Did you have prosthetics?
Bruhl: Yes, fortunately I don't have to run around with those rabbit teeth anymore. It really helped me because it's such a distinctive thing about Niki. He was really called "The Rat" and, eventually, "SuperRat." Ron and I wanted these teeth, we found it right for the character and the image of the rat. I always like it if you have the opportunity to make such a transformation. It's an interesting process for any actor. I know it doesn't look too good, but it helped me a lot. It's strange to say that I enjoyed it, but I really did. You rarely get offered characters who have such a dramatic journey.
How does it feel to play someone who is constantly being teased about his looks?
Bruhl: [Laughs] It's not good for the ego. It's hard enough to compete with Chris Hemsworth, anyway. So better to have these prosthetics so we just go full-on and have the maximum contrast between us two. But honestly, if I had been given the choice between those two parts, I would have always chosen Niki. Maybe because I grew up in Germany and he was always an icon to us. He's closer to me and my background and mentality than James Hunt. At the same time, he's very different than me—I'm a bit more diplomatic, I like to think.
What sort of training did you put into "Rush"?
Bruhl: I had to learn all sorts of things. First, to drive racecars. Then to get the accent right, which was really hard. And then I was lucky enough to spend a lot of time with Niki. If you play a real character who's famous and still alive, it makes things easier if you have the luck to have a good relationship with them. You get information you would never get anywhere else. Fortunately, Niki liked me and supported me all the way through. As I said before, he's very undiplomatic, and he would have told me if he didn't like the idea of me playing him or the performance. So I was very nervous to go to Vienna to meet him because he could have said, "You're an idiot." But that didn't happen.
You have two films at Toronto in which you play real people who are still alive. Have you done that before?
Bruhl: I did a Spanish movie and a German movie where I played real people, but both of were not alive. It's different to play two real, living people like Niki and Daniel. In "The Fifth Estate," I think it was easier for me than Benedict, because I had access to Daniel. I met him a couple of times. It's good for an actor to understand and trust the character that you play. Though it might be interesting if you dislike or don't understand the character you play, now that I think about it. But dealing with such a delicate subject like WikiLeaks, it helped to fully trust Daniel and believe in his integrity as an activist. I was always on his side, and I still am.
Did you have any perceptions about Niki or Daniel that changed after meeting them?
Bruhl: Not really. Peter Morgan had actually known Niki before, and you could tell from the script that he knew him pretty well. The language was so right, the staccato way of speaking, how he says it, was so much like Niki. So not much changed. In "The Fifth Estate," it was partly based on Daniel's own book, so everything felt quite authentic. So I pretty much had an idea of both characters, which matched after meeting them.