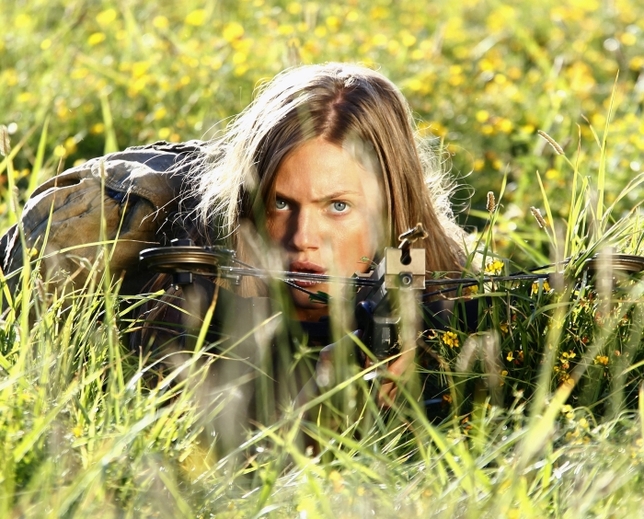 With her long blonde hair and light blue eyes, Tracy Spiridakos would look right at home in any chick flick or rom-com, sipping wine next to Mila Kunis and receiving bad relationship advice from Kristen Wiig. But more often than not, the young actress embraces her dark side when she appears onscreen, portraying characters like a murderous werewolf or a manic depressive mental patient. Her starring role in the upcoming NBC television series "Revolution" will be no different; as Charlie Matheson, Spiridakos will brave a post-apocalyptic world in search of her lost brother, kicking ass all along the way.
Created by Eric Kripke and produced by J.J. Abrams and Bryan Burk, "Revolution" takes place fifteen years after a disaster destroyed all of the world's technology, leaving the inhabitants to fend for themselves in an anarchistic free-for-all. Along with her family, Spiridakos's character fights brutal militias as she tries to save her kidnapped brother, played by Graham Rogers. And while Spiridakos may not look like the type to throw punches and fire a gun, she says that "Revolution" is her "dream role."
"I grew up with brothers, and we would play-fight a lot," says Spiridakos. "I've always been interested in martial arts."
That's not her only surprising hobby. In an interview with GQ in August, Spiridakos said that she loves to play video games, especially "Mortal Kombat" and "Fallout." When Back Stage asks her about it, Spiridakos admits that she enjoys a bit of Playstation after a day of work.
"I like spacing and going into a completely different world," she says. "Maybe because I'm so used to that type of fantasy sci-fi place. I don't think about the boundaries. I don't think, 'That's not possible.' I say, 'That could totally happen!'"
With "Revolution" set to premiere Sept. 17, Spiridakos took some time out to chat with Backstage about the show and how she prepared for her role.
You've been in quite a few sci-fi and supernatural television shows. Is that something that you're interested in, or is it just a coincidence?
Tracy Spiridakos: It's a bit of both. I definitely like sci-fi and that genre in general, and it just kind of worked out that way. My interest gets piqued. I'm interested in it, I'm curious about it, I want to know what happens with it. That's what I really loved about "Revolution." It's an interesting concept, and really allows you to get creative and allows your imagination to soar, so it's very interesting to be involved in.
What did you think when you first read the script?
Spiridakos: I thought it was badass. I was excited. By the time I was done reading the pilot, I finished the last page and I was like, "No!" I wanted to know what happened next, which is always a good sign. I just wanted desperately to be a part of it, and I was thinking it was such a long shot — no one really knew who I was. But I loved the part. It was my dream role. I was a very excited girl when I got that phone call.
What is your character, Charlie Matheson, like?
Spiridakos: Eric [Kripke] describes her as "Dorothy with a sword." She's learning about life. She's grown up in this world without [electrical] power, so that part doesn't really affect her as much, because that's all she's ever known. For her, it's more that she's growing up, and she's growing up fast because of circumstances that are landing in her lap. So she's becoming a woman. She's very vulnerable and trusts everybody, which is where the Dorothy comes into play. But you know, she's badass and she's a warrior, and she will fight and do everything she can to get her brother back.
Did this role hold any particular challenges for you?
Spiridakos: It's a good challenge all around. She [the character] has so much range within her — she's got her highs and her lows. She's like an onion: you keep peeling her, and there's more and more going on with her. It's challenging in a great way. I'm constantly discovering things about her. I guess that goes with a lot of roles, if you're lucky enough to have a character that you can jump into and discover more and more layers as you go forward. Overall, it's just been a great adventure to try and sort out who she is and learn more and more about her personality. It makes her more alive to me.
Does the show have a lot of action and fighting scenes?
Spiridakos: Loads of action, yes. Loads of fighting, loads of stunts. You know, there's heart in it as well, and character development, and other things that happen. But lots of sword play and cross bows, and tons of crazy stuff happening in every single episode. Every script that we get, we're like, "What? No way!" It's so exciting.
How did you prepare for that?
Spiridakos: We're working quite a bit, so as far as the training goes, it's kind of just during downtime. We've been doing some weapons training and then I've just been trying to keep up my endurance, so doing a lot of running and jumping. I'm trying to get my endurance up to par so I don't tire out when I'm in the middle of doing anything.
How does your role in "Revolution" compare to other roles that you've had?
Spiridakos: This is like a dream role for me. It's different, because I get to play and do all the adventure things that I love, but the character is very rich. I get to play in that world with drama and with all these intense emotions, which is always kind of fun to do for an actor. It's one of the best roles I've ever had, for sure.
Do you think you'll try other genres in the future, or do you want to stick with sci-fi?
Spiridakos: I want to dabble in everything, definitely. I want to challenge myself as an actor in different ways. But sci-fi is fun, and I'm having fun doing that.
What advice would you give to an aspiring actor?
Spiridakos: I would say don't ever stop. And train. I train every moment that I have, with different instructors, all the time. I like to challenge myself. And you know, I had my heart set to come into this, to get here. I think if you want it, just keep going for it and chasing your dream and writing your own stuff and getting involved in the industry however you can. Just never give up.
"Revolution" premieres Monday, Sept. 17 on NBC.