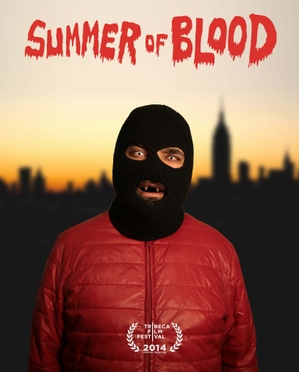 Nothing forces you to reevaluate yourself as a person quite like being transformed from a selfish, cynical New Yorker into a selfish, cynical vampire who now has the power to hypnotize people to get what he wants.
Erik Sparrow, played Onur Tukel (who's also the film's director) is an obnoxious, bearded Brooklynite who now has a little more than humor to his advantage. With his white vampiric eyes, he convinces his landlord to let him forever slide on his rent; convinces women to sleep with him; and feeds on people, making small talk with one of them as they slowly die. Combine all this with his impressive ability to write off everything that happens to him as a joke, and you've got a vampire unlike any other you've ever seen.
"This guy ridicules everything because he's afraid; at the end of the day he's afraid of commitment, he's afraid of responsibility, he's afraid to die," says Tukel. "All of these things intertwine and at the end of the day he has to choose between being selfish or selfless and to give."
A special kind of comedy, "Summer of Blood" manages to squeeze genuine themes of narcissism, relationships, aging, and commitment between spouting jugulars and interactions that prove how truly depraved but hilarious Erik can be.
Anna Margaret Hollyman ("White Reindeer") plays Tukel's girlfriend and when she proposes to him at the start of the film, she provides the catalyst for Erik's seriously delayed self-evaluation. He refuses her proposal and cites a "feminist" book she's reading as the reason for her brazenness.
Tukel's lightning quick wit and his stack of (usually self-deprecating) jokes bring a fun element to his character, and Tukel is as energetic in real life as he is playing Erik. Watching him and the other actors on screen gives the impression much of the script was ad-libbed, adding a solid air of belivability despite the film's subject matter.
"I told the actors when they got the script, 'Don't learn the dialogue verbatim. Learn the talking points. If there's funny jokes, we'll hit them,' but I said to keep it really loose," he explains. "We'd read the dialogue a bit before a scene and we'd just act it. I would say 80 percent of the script is there, but it's in our own words."
This fast and fluid method of playing was defining for the whole tone of the movie, including his directing style. Tukel says the actors somewhat all directed each other, giving pointers and tips on style, energy, and dialogue throughout the film's shoot, a lot of which is set on the streets of Bushwick, Brooklyn.
"Summer of Blood" was a true labor of love for everyone on the cast. Many of them including Hollyman, Alex Karppovsky, and Melodie Sisk, had met one way or another working on other projects, making for a trusting environment on set.
Tukel's advice for actors? "Produce. Find a little bit of money, find a script, and cast yourself in the lead… don't make it for a lot of money. If it's going to be your first movie you're going to make a lot of mistakes, don't risk a lot. Don't put a lot of pressure on yourself but don't be afraid either... and get the best sound guy you can get."
Don't forget to check out our Tribeca Film Festival coverage, coming to you all week!