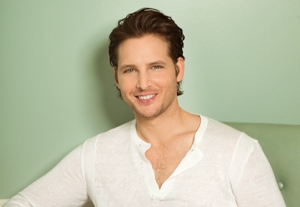 Not long ago, Peter Facinelli went to meet with "Training Day" director Antoine Fuqua on a new project. Though Facinelli has been in the business for more than 15 years and has played a wide variety of characters, he is probably best known as Dr. Carlisle Cullen, the adoptive father to a brood of gorgeous vampires in the "Twilight" film series. Carlisle is described as eternally young and so good-looking he practically makes nurses faint in his wake, and it's not hard to see why the actor who got his big break as the hotshot jock in "Can't Hardly Wait" was the perfect choice for the role.
But when Facinelli sat down with Fuqua and his producer, he made an offbeat suggestion. "I said, 'You know who I'd really love to play?' " he recalls. "They assumed I was talking about the lead role, for whom they were pursuing huge names." In actuality, the character he was interested in was a mentally slow man who kidnaps a child; the part was written as a heavyset, lumbering man. "The producer actually laughed," Facinelli says. "He thought I was joking. But I meant it. I've seen in every movie how that character is played by a large character guy with a shaved head and one tooth. I said, 'I want a crack at that.' So I grew a beard and messed up my hair and put myself on tape."
Plans for the movie ended up falling through, but Facinelli remains proud of the work he did auditioning for it. "I'm hoping I convinced them I could play that part," he says. "I've always been drawn to the more meaty characters. If they happen to be leading men, great. If not, I want to be the guy you walk away remembering."
Though only 36 years old, Facinelli has been in the business long enough to see his career run the gamut from teen heartthrob to action hero, without any label really sticking—a conscious choice on his part, he says. That career has been a saga marked by roles he almost didn't get, big breaks he almost missed out on, and characters he turned down to avoid being pigeonholed. Yet after all these years, it seems Facinelli is finally finding his place. In addition to the "Twilight" films, which have earned him millions of new fans, the actor continues his sublime portrayal of oblivious Dr. Fitch Cooper on Season 2 of the Showtime dark comedy "Nurse Jackie."
Eager to please yet utterly clueless how to do so, Cooper could be a one-note caricature, but Facinelli brings empathy to the role he describes as "a puppy jumping on legs in a room full of people who hate dogs." He isn't even sure whether Cooper is a good doctor. "Depends on the day of the week," he says with a laugh. "He'll either cure you of cancer or kill you with an ear infection." For those who associate the actor with brooding dramatic roles, his work as the goofy, awkward doctor constantly vying for Jackie's attention is nothing short of revelatory.
Asked if he feels that either his roles or his performances have improved in recent years, Facinelli says he has never considered age a factor: "I've always just kept moving forward and looking for something new. Whenever my agents say, 'What do you want to do next?,' I say, 'Anything I haven't done before.' "
An Education


Growing up in Queens, N.Y., Facinelli had the desire to be an actor from the moment he caught "Butch Cassidy and the Sundance Kid" on TV, but he had no idea how to go about it. Painfully shy, to the point that he couldn't stand in the lunch line at school—"I'd grab something at the pretzel cart in the back of the cafeteria and eat there"—it wasn't until he attended St. John's University that he dared to study acting. "I was thinking of going prelaw, and I noticed there was an Acting 101 class," he recalls. "Most kids were taking it because they thought it was like basket weaving—you could show up and just get an A. But I was really interested, and after that first class, I wanted to dedicate my life to it."
After his first year, Facinelli transferred to New York University's Tisch School of the Arts and immersed himself in acting. Students in the school study at various theaters and studios in the city, including the Atlantic Theater Company, where some of Facinelli's early teachers included William H. Macy and Felicity Huffman. "I highly doubt they would remember me," he says with a laugh. "It wasn't like anyone could look at me and say, 'That kid's going somewhere!' "
During his last year of school, he was able to land an agent at Writers and Artists in New York, based solely on a referral from a manager who taught his acting class. "I didn't care if it took until I was 60 years old; I was going to get a job acting. That was my goal, just to get a job," Facinelli recalls. As it turns out, things moved a bit more quickly. After auditioning for a full year without booking a single job, he landed the role of Lucifer in a small independent film directed by Rebecca Miller. Then, like all New York actors, he booked a guest spot on "Law & Order," and while he was shooting it, creator Dick Wolf tapped him to do a part on his short-lived show "The Wright Verdicts." After that, the roles started coming fast and furious, to the point where Facinelli had to leave school, 15 credits shy of graduating. "I ran into Dick Wolf at the SAG Awards," he says, "and told him, 'You're the reason I don't have my diploma, but you're also the reason I have my SAG card, so it's a good trade.' "
Several indie films followed, and Facinelli began to see the same actors—including Skeet Ulrich, Freddie Prinze Jr., James Marsden, and Ryan Phillippe—in the waiting rooms of his auditions. Then came his first big break in a studio feature, playing Mike Dexter in "Can't Hardly Wait." A big man on campus who dumps his girlfriend on the last day of high school, believing he can do better, Mike ends the film understanding the harsh reality of his future life. The role would finally propel Facinelli to a new level—and he almost turned it down.
"There was another film I wanted to do, a little indie called 'Blue Ridge Fall,' " he reveals. "I wasn't thinking business; I was thinking characters—although Mike ended up being a good character, having a nice little arc to him. If he had just been a jock all the way through, I probably would have passed; it would be like playing the villain in 'The Karate Kid.' " Fortunately, the other movie was pushed and Facinelli was able to do both. "I was lucky because that was a great opportunity for me," he says. "And the other movie, well, nobody saw."
After "Can't Hardly Wait," he was offered every teen movie role possible, he says—and he turned them all down. He passed on "She's All That" three times, much to the frustration of his representation. "I could have had a nice little career and been on the cover of Teen Beat," he says. "But I didn't want that. I felt like, 'If that's what people think I am, I've got to do something completely different.' So I shaved my head, grew a beard, put on 10 pounds of muscle, and did 'Supernova.' " Playing opposite James Spader in the sci-fi action project certainly showed another side of the actor. But Facinelli is brutally honest about the final product. "Had that movie worked, it would have been a great career move," he admits. "But it didn't."
One of the most coveted roles in young Hollywood came to him without an audition. "The Big Kahuna," based on Roger Rueff's play, focuses on two ethically dubious salesmen, played by Kevin Spacey and Danny DeVito. Thrown into the mix is their young underling, a naïve salesman whose religious beliefs end up helping to land a major client. "I didn't even read for that," Facinelli says. "My manager sent over my reel, which showed a nice versatility at that point, and the director said he never watched anyone else's."
Ironically, if he had read for the movie, he probably wouldn't have gotten it, he says: "I don't think I would have had that character fully developed. That's why sometimes the audition process is hard for me. Somewhere between getting the role and working on the movie, you develop and create the character. When you just have one day, you can only give them a taste of it." Only 24 at the time, Facinelli was intimidated by his co-stars, he says, but he was able to use it for the role: "Every night, I'd go home and wonder if I felt beat up as the character or as myself. I thought, 'Either I'm sucking and these guys are acting rings around me, or I'm so in the zone as the character, I'm doing well.' I couldn't tell."
Playing Doctor
After a turn as the villain's right-hand man in the 2002 action hit "The Scorpion King," Facinelli again wanted to try something new and turned down similar roles. The actor reveals that he never worried about saying no to work, and he only once took a job for money. It was early in his career, when he had been promised a part in the Bob Rafelson film "Blood and Wine," opposite Jack Nicholson. "Bob kept saying, 'You're my guy,' even though the studio wanted him to go with Stephen Dorff," Facinelli recalls. "But he said, 'I'm going to fight for you.' A couple days went by and I got an offer for another movie, but Bob said to turn it down. Two days later, Bob calls to say he fought for me, but he was overruled. I was so devastated that I lost not just one but two jobs in the same week, that I was offered something a week later and I took it. I just wanted to go to work."
That TV movie, "An Unfinished Affair," is where he met his wife, Jennie Garth, so he considers it "a good tradeoff." Still, he was unhappy. "It wasn't anybody's fault; it just wasn't something I was connected to," he explains. "After that, I told myself I don't care how much money they're paying me; if I'm not happy going to work, I'm not going. Since then, it has never been about the money. It's about whether I'm connected to the material, passionate about the story, and if I want to work with the people involved."
Facinelli soon began to find a good selection of roles on the small screen. He enjoyed the mix of comedy and action on the Fox series "Fastlane," but the show was canceled in its first season. He did an arc on "Six Feet Under" as a hotshot art student—but only after creator Alan Ball explained that the character would be more than just "Claire's boyfriend." And a recurring part on the FX hit "Damages" showed he could hold his own against a powerhouse like Glenn Close.
Then came "Nurse Jackie," another role Facinelli almost missed out on. Show creators Linda Wallen and Lix Brixius had worked with him the year prior on a pilot called "Insatiable," which wasn't picked up. They sent him the script for "Nurse Jackie," but his agents didn't pass it along, because he had told them he wouldn't do a series in New York. "I had a rule because my family is in L.A.," he says, referring to Garth and their three daughters. "But this was Showtime and only three months out of the year, so it was like shooting a movie." By the time he finally read—and loved—the script, he discovered there were five actors testing for it already.
"I emailed the writers and said I loved the script, and if the show went to air, I'd be happy to come in and do an arc," Facinelli says. "They tested their five guys, and none of them were the right fit, so they came back to me." He was so passionate about the role, he even offered to put himself on tape: "I knew the tone was so different from what's out there that I didn't want to get cast and show up on set and have people think they made a mistake." His tape was sent to Edie Falco, who signed off on him. "That made me feel great," he reveals. "Edie has passed on working with some people I think are really good, because she wants to be surrounded by quality actors. So I was like, 'That means me, because she picked me!' "
At the same time, Facinelli's big-screen profile had never been bigger, thanks to his role as a very different doctor in "Twilight." Once again, it was a part he almost dismissed. "My agent called and said, 'Do you want to do a vampire movie?' " he recalls. "I said no, then he said, 'Well, it's based on this book with a big fan base, and Catherine Hardwicke is directing.' Then I read it and I thought it was really cool, a throwback to the Bela Lugosi films, with a mysterious man at the center." His only concern was that he looked too young to have teenage children—a plot point in the books, as Carlisle was frozen in time at age 23. And at first the studio decided to go with someone about 10 years older than him, Facinelli says. "For whatever reason, he became unavailable and they opted to go the way it was written and came back to me."
While they were making the first movie, he adds, they had no idea it would become such a massive success: "Somewhere between the end of shooting and the release of the movie, it just exploded. Had there been a fan base like there is now from the start, we never would have been cast. Johnny Depp would be playing Edward."
Waiting...For Greenlighting


Having started in the business at a young age, Facinelli credits his family with keeping him grounded. "I met my wife when I was 22, and we had a baby when I was 23," he says. "When you have a child at that age, you're not going down the street and partying till the wee hours of the morning. I was rooted and grounded and I could focus on two things: my family and my work. It's what I'm still focused on today."
Facinelli recently wrote a TV movie for Hallmark for Garth to star in called "Mulligan," about an actor who hosts a popular kids show in a bunny costume and finds his priorities changing after meeting a struggling waitress. In addition, a script he wrote for himself to star in, "Loosies," has just been greenlighted; he hopes to start shooting in June. "At a certain point, you can sit back and be sent scripts to read," he says, "or I can attach myself to projects that I want to see get made. And it's more fun to be proactive."
Facinelli credits his father, who worked as a waiter in Manhattan, for his strong work ethic. "He would go to work at 9 a.m. in the morning and come home at 2 a.m. the next day. He worked 17-hour days, six days a week," the actor says. "And that work ethic has stayed with me. I feel so fortunate to be able to make a living off my art that I would never disrespect it."
Outtakes
- Other films include "Riding in Cars With Boys," "Finding Amanda," and "Foxfire" (with Angelina Jolie)
- Continues to take acting classes when time allows, often working with Chris Fields in Los Angeles: "I don't think you should ever get set in your ways. The death of an artist is to say, 'I know what I'm doing. I'm set.' "
- Jokes that he's come full circle, since he began his career in white makeup from head-to-toe to play Lucifer in "Angela" and now does the same as Carlisle in "Twilight"