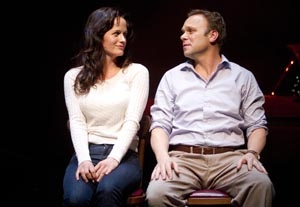 Elizabeth Reaser has had lots of fun appearing in the "Twilight" franchise. Three films in the series have been released, with one more in the hopper. Getting recognized on the street as Esme, the Cullen family's loving matriarch, is undoubtedly a trip. "It's wild to be part of something so big," Reaser admits. "But at the end of a day, being in a big vampire movie can't sustain a career. Has it led to more or better choices? I don't know. Maybe it's the reason I got to play this part."
The role in question is Li'l Bit, the narrator-protagonist of Paula Vogel's Pulitzer Prize­–winning "How I Learned to Drive," currently playing at Off-Broadway's Second Stage Theatre. She considers the part a career pinnacle. That's a nice tribute coming from a nominee for both an Independent Spirit Award (for "Sweet Land") and an Emmy (for "Grey's Anatomy").
"Drive" recounts the complex and evolving relationship between a girl (Reaser) and her uncle through marriage, Peck (Norbert Leo Butz). On the surface Peck is a pedophile and Li'l Bit a victim.
"This is a sexy, romantic love story," says Reaser. "I was shocked by that. There's abuse in that relationship, but there's also love. I don't have anyone to connect with in school, and my family is alien. I get something out of my relationship with Uncle Peck. The most important thing—the key—is for me to fall in love with Norbert. This is a great American play. I love the material and the idea of working with Norbert. It's all about him, and he's amazing."
The emotional exploration required is intense, heady, intimate, and "something I never get to do in a movie," says Reaser, adding she plays Li'l Bit at various ages and talks directly to the audience, which is also "very challenging."
Dry Patches Galore
A Bloomfield, Mich., native, Reaser always had her sights set on a stage career. Indeed, she went on to Juilliard to earn her undergraduate degree in drama. "It was terrifying," she recalls. "It was brutal, and I cried every day. There were favorites, and those who weren't. But ultimately it was a great experience. I was living a dream. I lived in New York and worked with special people and had teachers who believed in me."
By the time she left school Reaser had solid training but soon realized there was so much more to learn about acting that could only come with experience both on- and offstage. In addition, Reaser was totally unprepared for some of the more superficial aspects of the profession. "I had to learn how to do my hair and put on sexy outfits. That's a whole other game. I hate that stuff, and it's not my forte. That whole career thing is tricky. Some people go to parties, and it works for them. But that's not me. I feel doing good work will serve me best. So I keep focusing on the work, my character, and the scenes I'm in. That's what I hold on to."
Reaser's career trajectory has been gradual, with plenty of dry patches. Her first film, an indie, "The Believer," starred a then-unknown Ryan Gosling. Yet his talent was evident, and watching him served as an acting lesson, she recalls. "He was so present. He was not married to any idea of the character. He was in the moment. Trusting where you are is the most interesting thing, and it's enough. You don't have to conjure up some bullshit idea of what the story is about. I'm always re-learning that, especially when I'm in a play."
Television proved to be a learning curve as well. When Reaser moved on to TV she was struck by the high level of naturalistic acting some of the performers had mastered. It was also a style with which she felt very much at home. Indeed, she found it far less challenging than performing in the theater, where the actor has to maintain plausibility while being audible to the last row.
Television has also become a hub of top-notch writing. Reaser has little doubt that the small screen offers more opportunities for women than does film. She also contends that the same can be said for the stage, which has the added virtue of providing roles for mature female actors.
Looking back at her body of work, she says "Sweet Land" was an artistic high point. There may be others, but Reaser avoids viewing some of her filmed work, especially if the scenes are emotionally heavy. "If I'm freaked out or crying, I don't want to sit through it again," she notes. The role that brought her the largest audience is, of course, Esme in the "Twilight" flicks, though Reaser's introduction to the project was inauspicious.
"It was just an audition," she recalls. "I thought the idea of a family of vampires who are vegetarians was really cool. But I had never read the book, and I had no idea that it would be a big deal. I did not get a callback. I just got the job." Reaser believes her lack of anxiety about the whole project may have helped, though she was not stress-free. She was pumped up at the prospect of working with director Catherine Hardwicke, whose work she admired. "I'm sure I got the call for the role because some other actress got pregnant," Reaser adds modestly. "I probably got a lot of roles that way. I keep waiting for someone to get pregnant."
Reaser does not foresee a time when she will not be auditioning. The good parts are few, and the competition for them is fierce. "Auditioning is an art unto itself, and it's tricky. I find them difficult and so depressing. I prepare and put all my effort into them. Ninety-nine percent of the time you're told no, and it doesn't matter who you are."
At the moment things are going well, and her thoughts are focused on "How I Learned to Drive," with its unexpected and arguably politically incorrect elements. Whatever charges can be leveled against Uncle Peck, he has helped the young woman gain confidence and has inadvertently given her the tools "to reject him and survive," Reaser says. "This play illuminates something I knew nothing about."
"How I Learned to Drive" will play through March 11 at Second Stage Theatre, 305 W. 43rd St., NYC. (212) 246-4422 or www.2st.com.
Outtakes
Appeared on such TV shows as "The Good Wife, "The Ex List," "Saved," and "Law & Order: Criminal Intent"
Featured in the films "Young Adult," "The Art of Getting By," "Against the Current," and "The Family Stone," among others
Performed in regional theaters, including Williamstown Theatre Festival, La Jolla Playhouse, and Portland Center Stage