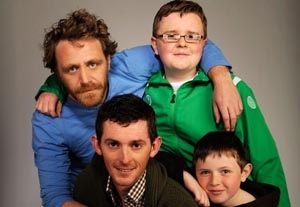 Paul Courtney got his first movie role by ditching class. A middle-school student from County Cork, Ireland, he was sitting at his desk when it was announced that a filmmaker visiting the school wanted to audition boys for a part in a movie. Figuring that an acting career had to be better than what he was currently enduring, he signed up.
"The next day, I was sent in, and they asked me if I could come back again in an hour," Courtney says. "I went back, and at the end of that they asked me to come back again the day after."
Courtney—red hair, freckles, spectacles and all—was the first of three untrained actors cast as siblings in "
My Brothers
," which made its world premiere at the just-wrapped-up Tribeca Film Festival. Courtney plays Paudy, the second in age of three siblings with an ailing father, and a comic counterweight to his dour older brother Noel. Director
Paul Fraser
, an Englishman working with an Irish cast and crew from a script by an Irish writer, knew he wanted authenticity from his young actors.
"The story is a road movie from
Cork
to
Ballybunion
," Fraser says. "So I was looking for three Cork kids. We did this open audition. We put stuff in the newspapers and on the Internet and on talk radio saying, 'Do you want to be in a film?'"
Timmy Creed, who plays Noel, heard about the open call after his sister read about it on Facebook.
"I went along with a friend of mine," Creed says. "I got called back. Then I didn't hear anything for about two months and I thought nothing of it. Then I got another callback, then a few more callbacks, and I started realizing that there was a chance that I might be able to get it. So then I had to put a bit more effort in it, you know."
According to Fraser, the decision to cast the inexperienced Creed was made after the director was able to see him interact with Courtney. Fraser had met with and considered professional actors for the part of Noel, but felt that the chemistry between the brothers was the most important concern.
"We made it a point of saying that you didn't have to have any experience," Fraser said. He and the casting director made eight trips to Cork in search of their three principals. The effort was worth it. "They were very natural in terms of what they were doing."
Now, with a first feature under their belts, both Creed and Courtney say they would like to see what other acting opportunities might be ahead of them. Creed would like to tackle "a completely different kind of character, have another go at something else." As for Courtney, his aspirations line up with what you'd expect from a young man who started acting so he wouldn't have to do his schoolwork—and what he's already proven that he's good at.
"I'd be more pushed toward funny, more than serious," he says. "I like messing around and being funny."