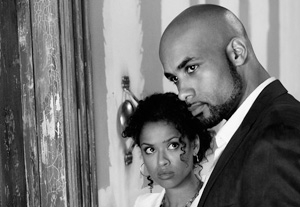 Two rising stars, Gugu Mbatha-Raw and Boris Kodjoe, can now be seen as Samantha and Steven Bloom, married ex-spies who come out of retirement, on "Undercovers," the new NBC show from TV hitmaker J.J. Abrams.
Mbatha-Raw has appeared in several British television series, including "Doctor Who" and "Spooks." But her biggest role so far hasn't been on the small screen; it was opposite Jude Law in a little Shakespeare play called "Hamlet," which had a successful run in London's West End followed by a 12-week stay on Broadway in fall 2009. A general meeting with a Warner Bros. casting director in New York ultimately landed Mbatha-Raw her first big-time TV role in the U.S., on "Undercovers."
Kodjoe was born in Austria and raised in Germany. From 2000 to 2004, he had a recurring role on the Showtime drama "Soul Food," and he recently starred in the films "Resident Evil: Afterlife" and "Surrogates." Even with his long résumé, however, when it came to high-profile roles, Kodjoe was always the best man and never the groom. His luck has changed.
Back Stage:
What was the audition process like for "Undercovers"?
Gugu Mbatha-Raw:
I didn't really know [what the project was at] the time. The script was top-secret and I just had the sides for the specific scenes. I flew out a couple of days later to have a work session with J.J. Abrams and then the testing process for a TV show, where you have to audition for Warner Bros. first, then the network, which was NBC. It was quite a lot of hoops to jump through. What I thought was the end of a job just melded into the beginning of another one.
Boris Kodjoe:
Everyone was tracking the project because it was J.J. Abrams' next baby, so to speak, and I was shooting a movie in Toronto with Milla Jovovich. I kept getting calls seeing if I could fly down and audition, but I never had the time to do that. I kept ignoring it because my thought was that so many times have I gone through the procedure of auditioning, and it's just me and somebody else, and I find out they loved me but they went another way. That traditionally meant they went with a white actor, and after a while you become resigned to the fact that certain projects—the high-profile ones—will probably not go your way.
Back Stage:
Obviously it worked out in your favor. What was the turning point?
Kodjoe:
The casting director called me personally and said, "Look, we know what you bring to the table, and we would like to really see you." That was a sign. I got on a plane and got down there, met J.J., and we did a work session, which went well. I did a camera test, and then he called me and asked if I wanted to be a part of this journey.
Back Stage:
What are your thoughts on the show casting two leads who are multicultural?
Kodjoe:
I think it's fantastic. It's sad that it's not the norm. It's an opportunity to make a point to say we're here to inspire people—especially other TV and movie network executives—to step it up and embrace what really should be normal.

Back Stage:
What was it like to work with J.J. Abrams?
Mbatha-Raw:
It was great to work with J.J. Abrams, who is an incredibly inspiring guy and very energetic. He gave me many words of encouragement during the work session, which really helped. It felt more like a workshop audition process, [even though] there were other actors going up for the same parts.

Back Stage:
How did you approach the roles?

Mbatha-Raw:
It was such a speedy process; I really wish I could say I did months and months of research, but I just didn't. There just wasn't the time. We had some rehearsals, and luckily we had the luxury of five weeks to shoot the pilot, which is unusual. Now that we're doing the series, we have nine days, so there was time to develop the characters a bit.
Kodjoe:
I get to play somebody who is so multileveled and multidimensional. There's so much to this guy. He's much more interesting, so it allows you to put some of your own stuff in there. The more you infuse your own personality, the more real it becomes, I believe.
Back Stage:
What has been the hardest moment shooting the series so far?
Kodjoe:
The toughest moment was realizing that
J.J. was intent on keeping me off-balance. It's great when a director challenges you to a point where you completely feel uncomfortable. As actors, we develop certain moves—go-to moves, if you will—areas that we feel comfortable when we act. Every time I did that, he would call me out on it and say, "No, I don't want you to take it right; I want you to take it left. I want you to step over here and do this."
Back Stage:
What was your toughest audition?
Mbatha-Raw:
I did another film, called "Fallout," which I ended up getting the job for and is one of the pieces of work I'm most proud of, and that was a tough audition process because I kept getting recalls, four or five different auditions. The closer you get, the more invested you get in the character, the more ownership you have over the role.
Back Stage:
What advice can you give to actors who want to jump into television?

Kodjoe:
Stay in school! Don't do it! What I usually say is: Live your life. And if [acting is] something that interests you, I would definitely explore, but I think the key is to keep real life a priority. I have actor friends who tell me they want to wait to have kids until their next movie comes out, because their career might skyrocket. That's the stupidest thing I've ever heard. You can't put your life on hold. You have to live your life. Everything else will fall into place.