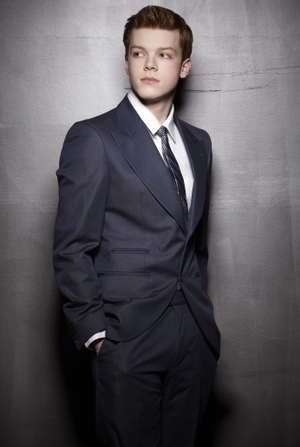 Cameron Monaghan, best known for his role of Ian Gallagher on Showtime's "Shameless," has been keeping quite busy as of late. The young actor just wrapped his first Sundance Film Fest where he starred in the acclaimed "Jamie Marks is Dead." He also has a role in the newly released "Mean Girls" meets "Twilight" flick "Vampire Academy," is back on the "Shameless" set after a brief absence, and is gearing up for the release of the film adaptation of Lois Lowry's book "The Giver," directed by Phillip Noyce. Monaghan will be playing Asher opposite the great Meryl Streep, Jeff Bridges, and Alexander Skarsgård.
While on set, Monaghan found a few minutes to sit down with Backstage to chat about his recent projects.
On "Vampire Academy" and "Jamie Marks is Dead."
The 20-year-old actor plays the lead in the Sundance select about a small town kid and what happens to him after the death of his classmate. Monaghan plays Adam, the cross-country running star who befriends the bullied Jamie Marks before his body is found by the river. When Jamie's ghost appears to Adam, the two form a close relationship that defies natural law.
To prepare for the role, Monaghan began working out to better understand his character and formed a real bond with his co-star to bring to their on-screen friendship that's lasted after the cameras shut off. "I got very heavily into running before the filming," he says. "And so much of that movie depends on the relationship between Adam and Jamie and how strong it is. I did not know the actor who played Jamie [Noah Silver] until two days before we started filming, so we spent all of our time together when we weren't filming."
His supporting role in "Vampire Academy" (which was cast by Backstage contributing editor Marci Liroff) has him playing the funny, outgoing but hopelessly "friend-zoned" Mason, in love with his best friend Rose. "He's not quite the same hunk that Dimitri, his mentor, is in the movie," says Monaghan. For the physically involved film that includes fight scenes, he did physical training to play the vampire from the young adult novels of the same title that inspired the movie.
About his role on "Shameless."
Having been on a set for the better part of four years has to change you as an actor. "In terms of the show 'Shameless,' we have the freedom to do pretty much anything—it's a requirement to go out of our comfort zone," he says. "Being in those wacky, out-there situations that I'm playing, with these heightened emotions and situations, has gotten me very comfortable with going to these places where I might not have been able to go when I was younger. It's given me a lot of freedom and trust in myself."
His time on the show also created an emotional attachment to his castmates that's not feigned for TV. "I really missed everybody," says Monaghan, referring to the time period his character was out of the Gallagher household. "I was away from set and I was looking at all the pictures on Twitter and Instagram—I was very jealous."
On juggling his busy schedule.
As an in-demand actor, one frequently has to make difficult decisions when it comes to choosing projects and maneuvering time commitments. "Thankfully I haven't had to choose between the two ["Shameless" and filming movies]," explains Monaghan. "I wasn't going to return for the first half of the season originally before I booked films—it just worked out while I was filming something, but it's definitely always a challenge to have to organize and schedule and try to work things out and...a lot of times you lose a role. But 'Shameless' is such an incredible opportunity and at the end of the day I'm so thankful for that, as frustrating as it could be."
On succeeding as an actor.
Always prepare. "The guy who spent days upon days thinking about his character and fleshing it out is always going to be better than that guy who just shows up," says Monaghan.
His other piece of advice? "Be truthful to yourself. Trust your instincts and be open to the advice and critiques of other people, but at the same time you have to believe that what you're doing is the right path...listen to critics because they have some basis a lot of the time, but you have to take them with a huge grain of salt."