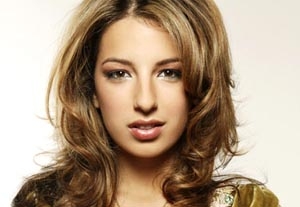 "I just want to make sure that everyone knows that it's okay and that life is so beautiful," says Vanessa Lengies. After spending time with her, you'll feel the same way.
A working actor for the past nine years, you may know Vanessa from her three seasons on the TV show "American Dreams," from the movie "Stick It," or from her current role as nurse Kelly Epson on TNT's "HawthoRNe," which returns later this month.
The only child of artist and musician parents, Vanessa has a ripe imagination and a childlike spirit. She has an extensive collection of finger puppets that she considers "friends," and an entire room in her house dedicated to "The Ball Pit"—which contains 10,000 multicolored balls to have jump around and have fun in.
Chosen as this week's Actor2Watch, Vanessa will be featured in a series of articles, fun facts, and social media tweets through this week for subscribers of
Girl2Watch.com
.
Actor2Watch
: What was your first real break as an actor?
Vanessa Lengies
: When I was younger, my dad was making a music video for a band in Montreal. I was goofing around and being a ham. An agent was there and she was telling me, "Hey, do you think you'd want to go out on auditions?" I was like, "Yeah, what's an audition? Sure, I'll do it."
Then I started doing voiceovers because I had this funny little voice. Then they were like, "Do you want to be in this show called 'Lassie'?" It was the Canadian version of "Lassie." I remember of that moment, I was so used to acting with my voice. Realizing that I could act with my whole body, and my eyes, and my voice and all of it together and dress up, which is one of my favorite things. I could do that, and this was my job and I could be weird. That was the big break.
Then when I got "American Dreams," they were going to film the show in Canada, but the executive producer had just had a son and he wanted to be in Los Angeles with him. He worked with NBC to get "American Dreams" filmed in California.
They asked me "Do you want to move from Montreal to California and be on this show?" I remember having to think about it because I was about to just go to college. Obviously, I didn't think about it too long, because it brought me here and "American Dreams" went for three years.
And I got to do all these movies in between. My whole plan in my head has always been if I go a year without acting, it's time to go home; it's time to go back to Montreal. But I've been here nine years. I've been so lucky.
A2W
: What kind of training do you get and who do you study with?
VL
: I've never been trained, and I don't study with anybody.


A2W
: What role do your agent and manager play in your career and how proactive are you in dealing with them?
VL
: I love playing characters, so I'm always telling my agents, "Don't worry if the character description is something you think I'm not. Let me try to be that person."
In Montreal, it was different because the acting pool was smaller, so they're trying to stretch their imagination and they let you play the character. Whereas here, I feel like a lot of the times they're looking for you to be already that kind of person or that kind of character.
So I'm always trying to tell my agents if it says something zany that you don't think fits with me, send it to me anyways because maybe I can do it. Maybe I can do it great.
I don't have a specific type of role that I aspire to play or aspire to act. I really like a challenge and I really like doing things that are different because if I had to do the same thing all the time, then I don't think I would be an actor.
A2W
: Do you have a worst auditions story or moment?
VL
: I read these hysterical sides for this pilot. I was like, "Oh, this is so funny." I had the perfect character in mind and I practiced.
I went in and I thought I killed it, and I was wondering why they weren't laughing. They looked at me and it was like pregnant awkward pause, and the suite casting director was like, "You know this is a drama, right?" I was like, "Oh. No. I didn't."
It was just this moment of, "What are we going to do now?" "I'm going to leave," and then I just left. I guess I missed the memo on that one.
A2W
: Any tips for novices?  Is there anything you wish someone told you when you first started out? 
VL
: That doing your best is all you need to do. Don't beat yourself up. Don't tell yourself it was awful, or it was amazing. I spend so much time beating myself about things; auditions and projects that I've worked on, and performances. I just wish somebody had said, "If you do your best, it's okay."
That's all you need to do is just your best. That's all you can do and, therefore, if you do your best, you can just let it go and walk away knowing that—and your best changes from day to day. It does. It depends on how you're feeling, and how your mindset is and where your energy is at. It's been such a great thing to become aware because it ends so much pointless suffering.
Also, if you want to do what you love, do it every day if somebody pays you or not. If you love doing something and that's what you want to do, do it every single day.