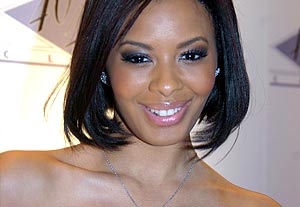 It may be tricky to rock a rhyme that's right on time, but how about starring in two reality series and starting your own business before you're thirty? Vanessa Simmons has accomplished just that with her second reality series on MTV,
Daddy's Girls
, and her thriving shoe and clothing line Pastry. Daughter of Joseph "Rev Run" Simmons, founding member of legendary group Run-DMC, Vanessa has inherited his amazing sense of rhythm, and is now seriously pursuing an acting career.
Chosen as this week's Girl2Watch, Vanessa will be featured in a series or articles, fun facts and social media tweets through this weekend for subscribers of Girl2Watch.com.
In this BackStage, Actor2Watch, exclusive, Vanessa shares her thoughts on her acting class and provides some advice for beginners.
ACTOR2WATCH:  Tell me about your acting class.
I'm studying with
Cameron Thor
, and I'm really serious about being an actress, and not just like people who want to be an actress to be famous. I've been acting since I was twelve, and it's been my passion and my craft, and I'm constantly developing it, and right now I'd have to say that's my obsession, to be a top-notch actress.
A2W:  What advice would you have actors just starting out?
Vanessa: If you're young, my biggest advice to you would be to stick strong to what you want to do. Because there are going to be people who are older like "Hey, I went to school for this, this is what I know. And I've been in the business for a long time, and tell you what to do." You have to stay strong in what you believe and what you know your business you be. Stay strong!