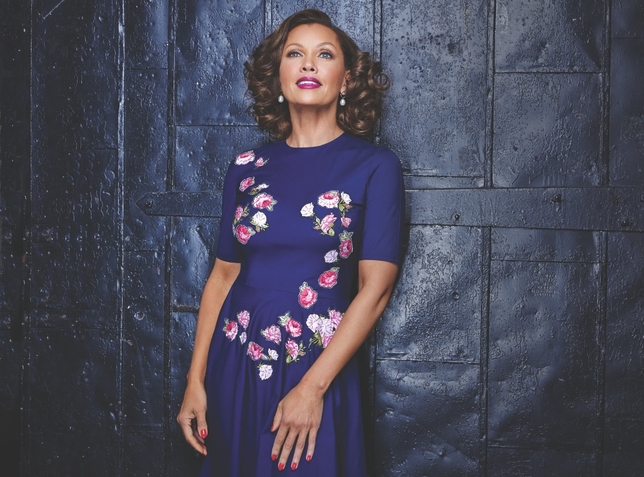 Vanessa Williams looks gorgeous—though saying so is akin to mentioning that the sun came up this morning. This is, after all, a woman who was crowned Miss America. But the fact bears mentioning because Williams, 50, is in the middle of tech week for the Broadway production of "The Trip to Bountiful," woke up before dawn to co-host "Live With Kelly and Michael" for the second morning in a row, and came straight from the studio to the Stephen Sondheim Theatre to pose for half an hour in heels.
The clock has not struck noon.
"My day hasn't even begun yet," she says as she settles down on a slatted bench in the lower lobby of the theater. Because of our proximity, we end up looking straight ahead as we talk, sometimes punctuating the conversation with quick sideways glances. I'm on the receiving end of one when I ask if she had to read for the role of Jessie Mae in the Horton Foote play.
"No, no," she says, with only a slight edge to her voice. "It's nice to have a Broadway track record and seven years on TV consistently."
As it happens, Williams received a call about the role just a week after the cancellation of her most recent TV show, ABC's supernatural drama "666 Park Avenue." Williams played the wife of the somewhat demonic apartment owner played by Terry O'Quinn, a role that required little of her talents other than her peerless ability to raise an eyebrow and dispense a withering putdown simultaneously. "The Trip to Bountiful" couldn't have come at a better time.
This marks only the second Broadway production of Foote's warhorse, best known today for an Oscar-winning turn from Geraldine Page in the 1985 film adaptation. Originally a television play that starred Lillian Gish—who took the property to Broadway for a short-lived production in 1953—"Bountiful" is one of Foote's most enduring works, about an elderly woman who escapes a stifling life with her son and daughter-in-law in Houston to return by bus to her hometown of Bountiful. In addition to luring Williams back to Broadway, "Bountiful" stars Cicely Tyson in her first Broadway role in 30 years, rising stage star Condola Rashad, and Oscar winner Cuba Gooding Jr., making his Broadway debut.
Talky, narcissistic, and addicted to Coca-Cola, Jessie Mae would not, at first glance, seem to be a role one would associate with Williams. She's made a name for herself with stylish, witty turns on TV in recent years and even in her last Broadway outing, 2010's "Sondheim on Sondheim." While Jessie Mae could easily become a one-dimensional dispenser of what director Michael Wilson calls "sassy comedy," in Williams' hands she transcends the broad strokes.
"It would be really easy to make her just a pain in the ass," Williams says. "But why is a person like this? Why does she act like this? I always try to make their frustrations and anger or retorts come from somewhere, so it's not just 'Oh, that's a fabulous line—how am I gonna deliver it?' That's when people find the performance compelling rather than 'Oh, here we go again, same old, same old.' "
Wilson says that what he finds remarkable about Williams is her "courageous" ability to not ask for sympathy from the audience. "She's going to play the character honestly and let the audience react as they may," he says. "And while the audience may be shocked by what she does, they don't hate the character—and that makes Horton's play ever so much more complex."
Williams finds it somewhat complex herself, especially the period- and character-specific dialogue, which she calls tricky. "It's repetitive at times, but it's not always the same," she says. "You can say 'again and again' in two sentences back to back, and your brain goes, Wait, I just said that. Jessie Mae is a talker, so there's a lot of dialogue to conquer. Getting it in your blood is the trick."
This is when Williams perks up, when the craft to which she's dedicated enters the conversation. She's been unfailingly polite if slightly reserved, but as talk turns to the technicalities of performing in this particular play as this particular character, we shift to face each other. Williams becomes animated and thoughtful when asked if doing her first straight play on Broadway brings its own set of challenges.
"I thought it was going to be a little comforting because it's 'just a play,' " she says, "but I'm so used to hearing the downbeat of the orchestra it's weird to have it go silent and getting into places without the music." She shrugs. "Once you get the movement down of the characters, it almost seems like choreography anyway."
Wilson referenced her dancer training when discussing her approach to crafting character, and Williams brings it up too, as something that's at the root of how she constructs a living, breathing person out of words on a page.
"What makes characters so interesting when you're an actor or a dancer is to watch and observe how people walk and move and speak," she says. "Are they cat-like? Are they walrus-like? Why does that person bother me and why do I think they are the way they are?"
That dedication to craft, one that would seemingly belie her usual glamazon characters, shines through in everything Williams says. If she's "a real knitting force within the company," as Wilson describes her, she's also someone who doesn't take work or opportunities for granted. Nor old friends.
"I always knew one of these days my friends would be in power," she says when the subject of her remarkable body of work from the last decade comes up. "When you're in high school, you say, 'One of these days, we'll all be boss.' And you get to your 50s and cops are younger than you but there's a certain sense of security and ownership you have at this stage of your life. And a lot of your friends you've grown up with and struggled with are in positions that are running companies and creating TV shows and really making things happen. Don't burn any bridges, because you never know!"
The time has finally come when Williams can put away her company manners and catch a minute or two of rest before tech rehearsal begins again. Earlier, she revealed a glimpse into why she's been such an uncomplaining workhorse all day when she said, "Good work is such an incredible payoff. And I know that I'll be working until the end, because good work excites me."