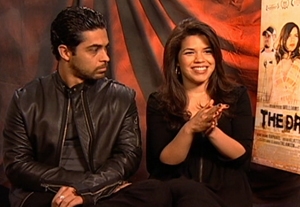 Check out our behind-the-scenes interviews with the cast of the film "The Dry Land," including America Ferrera and Wilmer Valderrama.
"The Dry Land" centers on the life of James(Ryan O'Nan), a soldier who returns from Iraq and faces new hardships as he tries to integrate back into his small Texas town. His wife (America Ferrera) and family try to help him, but the emotional scars of war run deep.
Only when James reconnects with an old buddy from the Army (Wilmer Valderrama), the bonds of friendship finally help him to begin the healing process.