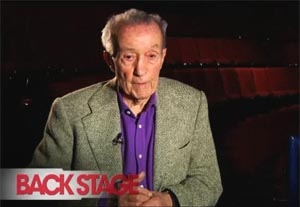 Recently, Back Stage sat down with Theodore Mann, Artistic Director of the Circle in the Square Theater School. 
Ted is the author of a new book about his experiences as co-founder of the famed New York theater: "
Journeys in the Night: Creating a New American Theatre with Circle in the Square
."  (Read an
excerpt from "Journey's in the Night" here
.)
Over the three videos, Ted covered a variety of topics. Part 1 focuses on the beginnings of Circle in the Square in 1951, its mission, early productions and legendary actors. Part 2 considers the Off-Broadway theater's move to Broadway, the cost of doing business today, and the evolution of theater. Part 3 explores Ted's own roots and artistic development.
Watch all three videos to get an insight on how this theater was critical to creating the kind of Off-Broadway performances we all see today.
See the bottom of the page for a special offer.
SPECIAL OFFER:
Order "Journeys in the Night" from
www.applausepub.com
and get 25% off, plus free shipping just for reading Back Stage.
Enter promo code
APPL1
at checkout. Free shipping is by least expensive shipping method, and applies to U.S. orders only.