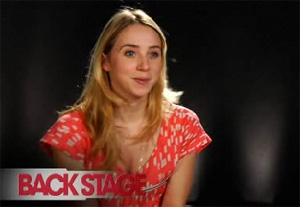 Actress Zoe Kazan, of the Broadway play "A Behanding in Spokane," and the new film "The Exploding Girl," talks to Back Stage about her craft.
Kazan has appeared in the films "The Savages," "Me and Orson Welles," "Revolutionary Road," and, most recently, "It's Complicated." On stage, she's appeared on Broadway in "Come Back, LIttle Sheba," and as Masha in Anton Chekhov's "The Seagull."
In Episode 1, Zoe talks about how she selects projects and prepares for roles.
Episode 2 has Zoe discussing her controversial grandfather, director Elia Kazan.
Lastly, Zoe explains how her fast-moving career has felt thus far.