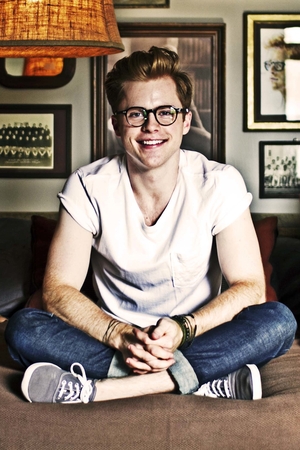 We get to watch our favorite celebrities on late-night talk shows, but what about hearing personal stories from the Broadway stars we admire most?
"The Graham Show," a new weekly web series, aims to bring the New York City theater world to young theater lovers everywhere through intimate interviews with some of Broadway's best. Host Graham Douglass talks with guests ranging from Nathan Lane to Adam Pascal to Julia Murney about their paths to success and advice they have for aspiring youths.
We chatted with host, creator, and producer Douglass about the show's inspiration, how he doesn't rely on a persona, and what it's like being a fan and a professional.
How did the idea for "The Graham Show" come about?
Graham Douglass: I grew up on a ranch in Texas in the middle of nowhere and dreamt of Broadway and New York City. That's when I said there has to be something created that bridges this gap between Broadway, the New York theater scene, and New York City itself, which is where so many young people want to be.
How is this show different from other talk shows?
Douglass: What sets me and the show apart is that I approach an interview differently. I'm not a comedian so my conversation is more on the side of seriousness, rather than a late-night talk show that's fun and fluffy. It's smart, sophisticated, and mature, but it's coming from a young person's perspective. It's important that the viewer has the ability to walk away feeling like they've gained something and haven't just been entertained.
What does a typical episode look like?
Douglass: The show is divided into segments, usually with a particular theme. The first two sections are about guest's early years and one or two of their big career highlights. The last segment we talk about their advice and suggestions to young people to become a part of the business.
Do you have a set of questions that you ask guests?
Graham: Yes, but the challenge is steering the conversation to the topics I believe will be most interesting to the viewers. Every personality is different. Sitting down with Nathan Lane is different than sitting down with Julia Murney. It's fun because you never know what you're going to get and it keeps you on your toes.
Do you adopt a persona when you interview?
Douglass: Not at all. I feel like a lot of personalities are personalities and I can't trust that, it's jarring to me. I don't have to create a persona to be different; I am different by nature. While I have my moments, that's not me and I'm not going to try to portray myself as something that I'm not.
Why are the episodes filmed in different parts of New York?
Douglass: I wanted to give a glimpse into New York and different places around the city. Not only is the show an homage to Broadway and the theater scene, it's a little nod to New York City as well. I've shot it at Joe's Pub and guests' apartments, Tom Schumacher's office at Disney. It goes back to what I would have wanted when I was a teenager living in Texas. I'd heard about these places and wondered what they actually looked like.
What kinds of viewer interaction will the show incorporate?
Douglass: There's going to be contests. Each guest uses one of "The Graham Show" mugs and at the end of the episode they autograph their mug and there will be a contest winner who will receive the mug. There's also a segment where I have viewer questions. I want the show to take the shape that the viewers want it to take. It's not my show, it's your show.
Are you producing the show alone or do you have a team?
Douglass: Pre-production, post-production, editing is all me, from start to finish. It's a lot of work but it's not bad work. We live in a world where the Internet allows us to produce a show with no budget.
Do you ever find yourself torn by being both a fan and a reporter?
Douglass: Of course I'll always be a fan, but I don't approach it as a fan. I approach it like a friendship, and I really want to get to know them. I don't find myself being nervous. If anything it's an unbelievable sense of excitement that I get to learn more about people I admire.
Who would be your "dream" guest?
Douglass: Allison Janney. People don't realize how much that woman works. She pops up in these little supporting roles in this movie and that movie. She is so brilliant.
'The Graham Show' premieres Sept. 28 at www.thegrahamshow.com. Watch a preview below.