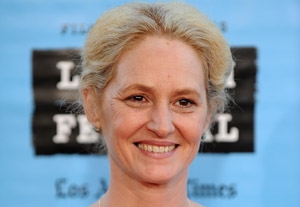 There's no question Melissa Leo is a busy woman. In addition to appearing on the HBO series "
Treme
," the Oscar nominee for "Frozen River" has no fewer than four films set for release in 2010. That includes "Welcome to the Rileys," which
premieres Friday, June 25
, at the L.A. Film Festival. Yet the actor has taken the time to call from the New York set of "Mildred Pierce" to talk about her role in the drama, in which she and James Gandolfini play parents grieving over the loss of their daughter. She'll even be flying in to participate in a Q&A with Gandolfini following the Friday screening because, in her words, "There's nothing I wouldn't do for this film."
On her role:
Leo plays Lois Riley, an agoraphobic who has sequestered herself in her Indiana home for eight years, following the death of her daughter. "My husband Doug, played by the great James Gandolfini, goes to a convention in New Orleans, and I get a phone call he's not coming home. Well, that finally gets me out of the house because I'm not ready to lose my husband." Once there, she meets Mallory, played by Kristen Stewart, the teenage stripper Doug has bonded with. "And with her help, Doug and I really learn to reconnect and how important we are in each other's lives. It's a beautiful, grown-up love story."
Director Jake Scott offered Leo the part without an audition, and the actor was intrigued by the opportunity to play someone different from her previous roles. "Lois Riley is not somebody we've really seen me play before; she is a very straight, privileged woman in deep pain. Okay, you've seen me play deep pain before, but who she is before her great disaster is a type of character who has not been entrusted to me before that phone call from Jake. I was thrilled at the opportunity to dive into something so different, with such confidence with Jake that I could do it."
On working with HBO:
 "Treme" and "Mildred Pierce" are productions for the cable network, and Leo is thrilled by the collaboration, noting, "I'm very pleased to be working in so many capacities with them right now. They're a smart company, and they're doing really great work." Having previously been a regular on the series "The Young Riders" and "Homicide: Life on the Street," Leo had mostly been doing film work in recent years but embraced the chance to return to the small screen. "I think television has such a power of getting into people's homes, and one of the things I did learn along the Oscar trail was that I'm known and respected within the industry, but my name doesn't really ring bells with the general public." When "Treme" creator David Simon called and offered her the role of attorney Toni Bernette, Leo happily accepted. "But honestly, I had no idea what a great, great, great—I'll say it again—great job it would be. Working for these people and being in New Orleans, doing something feeding the town, is extraordinary."
The show has already been picked up for a second season; no surprise, considering the strong critical and public reaction it's received. Still, Leo knows nothing is ever a sure thing. "You never know, especially when something has quality, I really begin to worry about its longevity," she says with a laugh.
On life after the Oscars:
Leo is the antithesis of an "overnight success," having built a career over the years with consistently strong work. So how did earning an Oscar nomination for "Frozen River" change things? "The offers are more substantial, both financially and in terms of the kind of roles I'm being considered for," she admits. "Not having to audition for everything is becoming more standard; there's a belief that if they want me, I can turn it in."
As for buzz that her "Rileys" performance might get her another invite to the ceremony, Leo modestly demurs. "I never know what to say to things like that. I'll just say that I would be happy to take the walk again."
"Welcome to the Rileys" plays at the L.A. Film Festival Fri., June 25, at 7:30 p.m. and Sun., June 27, at 4 p.m. Both screenings are at the Regal Cinemas L.A. Live Stadium 14. There will be a Q&A with Jake Scott, Melissa Leo, and Kristen Stewart following the Friday screening.