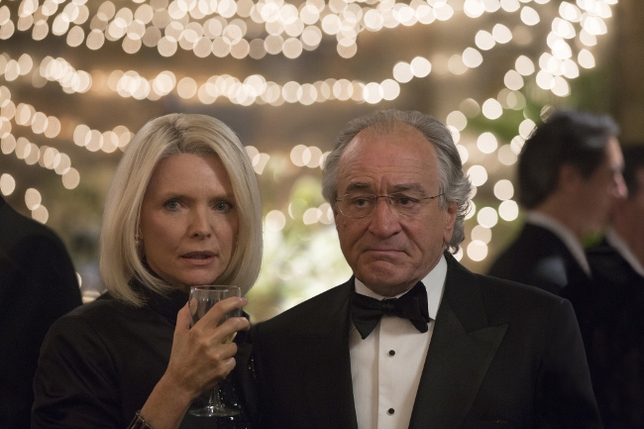 Barry Levinson knows how to work with actors. The Oscar-winning film and TV writer, director, and producer—whose career spans back to the early 1970s—has led Dustin Hoffman to a best actor Oscar for "Rain Man" in 1989 (and another nomination in 1998 for "Wag the Dog"); helped ignite the careers of a young Paul Reiser, Ellen Barkin, Kevin Bacon, and Mickey Rourke in 1982's "Diner," which earned him a best screenplay Oscar nom; earned "Bugsy" stars Warren Beatty, Harvey Keitel, and Ben Kingsley lead and supporting Oscar noms in 1992; and, more recently, guided Al Pacino to an Emmy win in 2010 for "You Don't Know Jack."
He's hoping to strike similar magic this awards season with his highly anticipated Bernie Madoff biopic "The Wizard of Lies." The HBO film stars frequent Levinson collaborator Robert De Niro as the notorious fraudster and Michelle Pfeiffer as his high school sweetheart and wife, Ruth, who in the aftermath of her husband's crimes was involuntarily thrust into the spotlight and subjected to venomous public scrutiny.
READ: Robert De Niro On Using Backstage to Launch Your Career
As we now know, Madoff's Ponzi scheme ultimately cost investors an estimated $65 billion in losses, making him the mastermind behind the biggest financial fraud in U.S. history. "The Wizard of Lies" details the behind-the-scenes legal dramas and familial deterioration (Madoff's brother and colleague, Peter, was sentenced to 10 years in prison, and Madoff's son Mark killed himself in 2010) that began after Madoff turned himself in to authorities in December 2008.
"I thought it would be a great story to tell," Levinson says to Backstage. "This man destroyed the lives of thousands of people—including his own family. That seems a worthwhile story to tell about a man's greed in modern times."
De Niro, previously of Levinson's "Wag the Dog," signed on to the project early. "He actually had been interested in it for a few years," Levinson says, but the film wasn't quite coming together. Then Levinson came on and brought his son, Sam, to help adapt Diana B. Henriques' 2011 nonfiction book of the same name, and that's when stars like Pfeiffer and Hank Azaria, who plays Madoff employee and collaborator Frank DiPascali, signed on. Levinson says he auditioned for supporting roles from there.
Whether the auditionee is one of the many acting greats he's worked with in the past or a Hollywood newcomer hoping for their big break, Levinson says he looks for the unexpected.
"You're looking for a shading to the work and [the way] they respond and talk that somehow keeps you interested," he says. A good audition will make you "always want to know more. That's when I think a performance excels. It's not just anger; there's something else to it. That's what the exceptional actors can do."
Such unpredictability attracted Levinson to Madoff in the first place. "Bernie Madoff is not a flashy character. He's very subdued. He's the opposite of what you would assume a hustler would be," he says. "In that quietness lies the mystery. [De Niro] can bring that forth. He's got a lot of the inner motors going. Bob can fascinate you even when he's saying nothing at all."
Considering actors like De Niro and his own decades-spanning career behind the camera, Levinson says that if there's a secret to career longevity, it's simply to trust yourself and not set out to orchestrate it inorganically.
"The only thing you can do is go by your natural instincts as to what you're interested in doing," he advises. "It's very hard to calculate what you think is going to work. It's an instinctual thing. I've not been great at calculating, 'This will be good for my career if I do this.' Sometimes it works, but there'd be nothing worse than spending a year and a half of your life on a project that you didn't particularly care about because you thought it was good for your career. You have to be challenged, and that's the only thing you can do as opposed to just going through the motions or just doing it for the paycheck."
Want to star in the next big TV movie? Check out Backstage's TV audition listings!