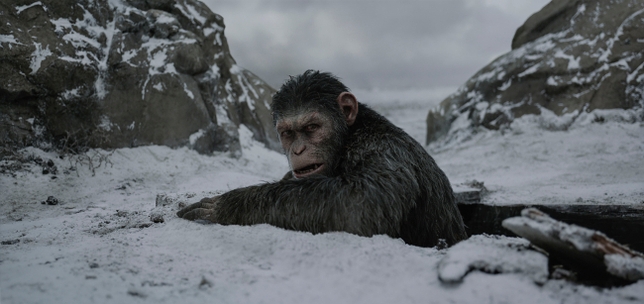 Matt Reeves is in the midst of a career high thanks to his "War for the Planet of the Apes" hitting theaters July 14 (his second film of the franchise after "Dawn of the Planet of the Apes") and his recent signing as writer-director of "The Batman" with Ben Affleck. We met with him July 12 at Time Inc.'s Lower Manhattan offices where he spoke on the secrets to performance-capture filmmaking and the one thing that really turns him off an actor.
Directing actors for performance-capture is the same as live-action.
"This is the one place where the CGI is actually at the service of performance. I was worried coming into 'Dawn' that it was going to be somehow a hindrance. My whole thing: I love working with actors.... [Directing is] all about creating an environment where actors can express themselves. And usually, C.G. movies are very restrictive that way. They're so expensive that you've got every shot planned out to the T, but with performance capture, improvisation is possible. You're able to search and try new things."
READ: How Debra Zane Cast Actors to Play Apes
Andy Serkis is more than just a performance-capture actor.
"There's something about knowing it's Andy [starring as Caesar] that makes you be really ambitious with what the character is going to go through because you know he's going to go there. People talk about him being the best performance-capture actor of all time, and that idea is actually meaningless because…what Andy is is one of the best actors in the world."
Reeves considers himself a 'performance director' looking for spontaneity.
"I think of the shooting period [as] a hunting and gathering period.... That's why I always like to write the story; I feel like I have to be inside of it. And I'm the first audience that's going to see this movie, and I see it on the set with the actors, and then we explore. And when something feels right, what I want is for something to be able to surprise me in a way that's still getting what I'm after. It's those happy accidents that reveal something and it's those little surprises that emotionally connect in a way that illuminates what you're after. You can't have everything so preplanned…because that's not going to be emotional."
The one thing Reeves needs from actors is a willingness to play along.
"I would say of all the things that bums me out, it's if somebody doesn't want to explore. That's a killjoy because the whole idea is to try things. I'm happy to throw something out, to change something in the moment. The process is part of the joy of the thing. And so I like when people are committed enough to not just show up, do their thing, and go, but to go on a search."
Want to hear more great advice from Matt Reeves? Watch the full video interview on our Facebook page.