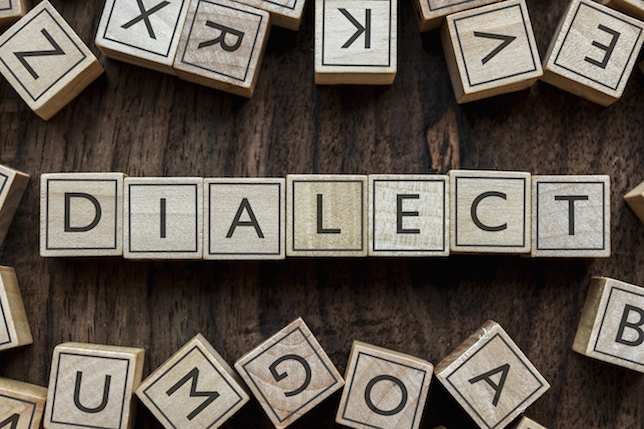 Leigh Dillon is a New York–based voice and dialect coach, but don't ask where she is from—she keeps her origins hush-hush for a reason.
"Actors always ask me, but I never tell them so if I tell you, the secret will be out!" she laughs.
That's because part of the mystique of her job is being able to recreate language in someone's mouth that does not betray the actual background of the person speaking. For many, it represents the essence of acting. And it is hard work.
"So many young people contact me who want to act and they think that if they study from someone who trained an actor that they like, that will do it for them," Dillon says. "Then they realize how much work is involved and… do I really need to complete that sentence?"
The real skill of her craft, she says, isn't one particular exercise or pulling from a sackful of tricks you heard Jake Gyllenhaal's dialect coach uses; it's dealing with each client individually.
READ: 6 Tips For Auditioning With a Dialect
"Even very well-known actors have told me going into projects, 'I have a terrible ear. I'm terrified. I don't hear it and don't know where to start.' I know that is just fear talking."
She frequently compares vocal training to sports, dance, or music—whatever the actor can relate to. "You can use other disciplines. I might say, 'You're making this staccato. Can you make it more legato?' Now, if they don't know music, that doesn't have meaning to them and I'll have to come up with something else."
Every actor is different, so she emphasizes learning the way it works best for them.
"People tend to excel more in some areas than others. When an actor will say, 'I don't like doing that,' I always say, 'Then that's what you need to do more of.' You need to go where you need to grow. Later, you can choose; but for now, do the work."
READ: Why Voice and Body Work Are the Keys to Booking More Roles
Although she has made it her mission for nearly 30 years to teach actors the ins-and-outs of dialects, Dillon confesses that for much of that time, she never identified as a coach, but as an actor herself. The shift to becoming a professional (self-admitted) dialect coach began during her senior year studying at a conservatory, when her own vocal instructor became ill, and asked Dillon to tutor newer students.
"I soon realized I was learning as much by teaching and coaching as I did as a student myself," she says. "I didn't want to let anyone down. I wanted these freshmen to do well."
After she graduated, her facility with accents got noticed by other actors, as well as directors, who would ask her to coach fellow castmates on British accents. She still identified as an actor, though; at one point, she even placed at ad in Backstage offering her coaching services for peanuts, just for the experience.
"I charged next to nothing because I was doing research. I told them, 'I will help you, but I will also be studying you.' "
Now, Dillon is chock full of anecdotes from her adventures in coaching—from being thrown off sets by directors to being begged by a director to come in during ADR to help actors re-make their performances in post-production. But because learning a dialect or accent is so individualized, Dillon is loath to pick a "harder" or "easier" accent to teach… or to unlearn, for that matter.
READ: Are You Having Trouble Landing an Accent?
"People ask that a lot, but I don't believe there's an answer to that question. It's just so individual, although one factor might be how much we hear [a particular accent]. That's how we learn things: through repetition and familiarity. The sounds that are very different from your own idiolect—although that's not a word I am fond of—can be the hardest to learn."
The real issue in dialect (in addition to budget, time, and the attention given to accents by a director or showrunner), is simply a question of putting in the time, assuming that's what the actor wants to do.
"If someone wants to learn something new, they apply themselves," Dillon says. "Then again, why would Arnold Schwarzenegger want to change his accent? It's his identity."
For acting advice, visit Backstage's YouTube channel!