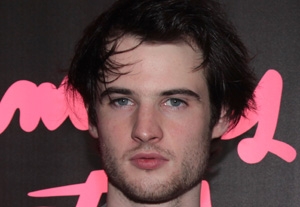 Tom Sturridge may fit right in the midst of his generation of dark-haired, handsome British actors, but he refuses to consider his colleagues as competition. "If a film is being made by an intelligent director, they're going to cast the right guy," says Sturridge. "I shouldn't be right for every role, because I'm not." Indeed, the actor says he thoroughly enjoyed himself during a two-year gap between roles. And he won't plot and struggle for his next role. "You can construct something and make decisions and do film after film to try and get to this place, and never get there," he says. "And you can do nothing, and then get a phone call randomly saying X has just seen you do an interview on the Internet and thinks you'd be perfect for this film, and suddenly you're in Brazil shooting the best film ever made. All of it is circumstance. The most important thing is, whatever you do decide to choose, take it seriously and do your best."
Sturridge knows a bit about the best. His pedigree includes his parents: director Charles Sturridge ("
Brideshead Revisited
"), and actor Phoebe Nicholls ("
Persuasion
"). Sturridge says his parents didn't bring their work home, and in his adolescence he became "quite clichéd in my rebellion against them." He first set foot in front of a camera at age 7 or 8 for a role in his father's "Gulliver's Travels," but the thought of acting didn't take hold until years later.
"Basically I was a very serious film fan. I watched a lot of cinema and contemporary and European film," says Sturridge. In particular, he was a fan of Hungarian filmmaker István Szabó. When Szabó was casting "
Being Julia
,"  he couldn't find a young actor to play Jeremy Irons' character's son. A friend of Sturridge's parents recommended young Tom for the role. "I really wanted to meet him," says Sturridge of the director. "So I went and met him by happenstance, and I got that job. And then went to do this film in Budapest and work with Annette Bening and with István, and it was just such a formative experience. I was living on my own for the first time, so kind of growing up, and working with someone who was—despite what people think of "Being Julia"—trying to make a piece of art, which was such an extraordinary thing to be a part of. And most specifically, the opportunity as a 17-year-old novice to work in collaboration with masters—masters of acting, like Annette, masters of directing, like István, cinematographers, writers—all of whom valued my opinion and, more than that, needed my contribution for their vision. I can't think of other situations in the world in which that kind of combination of master and apprentice is so tight."
Sturridge had no thoughts of technique when he began working with Bening. He recalls his first day consisted of a seven-page scene opposite her, just the two of them. As he now explains, "If I had this tomorrow, I would have done weeks of preparation—written pages of notes, had every line, ideas, thoughts, ways of playing with her—and been terrified. When I did it then, I learnt it, I sat with her, and I imagined this is what acting is. You're always acting with Annette Bening, and you're always doing a seven-page one-on-one scene. I just tried to respond honestly to what she said. I think there might have been a better way of approaching things, but they liked my naiveté, so I don't think [Szabó] wanted me to understand the camera or marks or whatever."
Waiting for 'Waiting'
That happenstance that Sturridge seems to embrace brought him to his current role, as Will in "
Waiting for Forever
,"  Will is a 25-year-old man emotionally stunted by the death of his parents when he was 9. Will lives as a street performer, traveling around the country while secretly shadowing his childhood friend Emma (
Rachel Bilson
), now a working actor.
Sturridge first discovered the script on a friend's floor, coincidentally in the locale where this Back Stage interview takes place. "I was sleeping on the floor, and there were a bunch of scripts lying around," the actor recalls. "It was one of those lazy days. I just read one of them and liked it, and I thought I could do it. And so I called up my agent [Hylda Queally at CAA] and said, 'You should try and get me seen for this, 'cause I reckon I could do it quite well.' " She complied, and he met with and read for the film's casting director,
John Papsidera
, as well as with Keach and with the film's producer Trevor Albert.
"The only thing I remember is being quite physically free and bold," the actor says of the reading. And of course he auditioned with an American accent. He professes not to be a mimic, but he says English culture is so infused with American media that those accents come naturally to him. "But firstly, having a different voice to my own is very important to me when doing any job," he says, having played a Russian-Jewish New York immigrant, a Northern Irishman, and a Manchester native. "I've only used my voice a couple of times, and it's when I feel most uncomfortable. I suppose that desire to change my voice is helpful with doing any accent."
Sturridge says he had no idea how the meeting for "Waiting for Forever" had gone. The offer came months later, when he was shooting another film. "I'm very bad at judging those situations," he says of meetings and auditions. "And to be honest, I try and treat it as me auditioning them, to keep my mind sane. You're just going to meet interesting people and having a conversation and seeing if you like each other." Otherwise, he says, worrying about what people think of you will destroy any pleasure in the process.
"Waiting for Forever" is in release this week. Next, you can catch Sturridge's work in the upcoming "
On the Road
," based on Jack Kerouac's book, directed by Walter Salles. And then? You can bet the actor isn't worrying, only perhaps waiting for that call on the best film ever made. But we know he won't have to wait for forever.