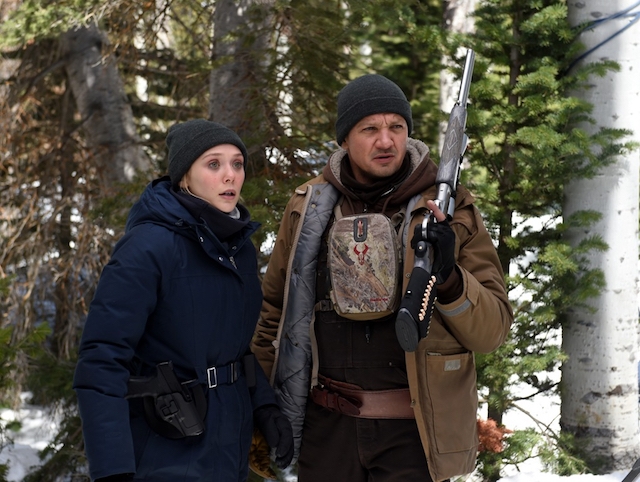 With "Wind River," Taylor Sheridan has become an actors' director. The Oscar-nominated screenwriter of "Hell or High Water" and "Sicario" makes his feature directorial debut with this Wind River Indian Reservation–set mystery-thriller, wherein two-time Oscar nominee Jeremy Renner gives "a clinic in acting" and indie starlet Elizabeth Olsen and an impressive ensemble round out the cast. Sheridan's secret to getting a sound performance from his performers? "I allow them to discover and explore," he says. It's the way he worked best as an actor on series like "Sons of Anarchy," where he played Deputy Chief David Hale for two seasons. Freedom to explore leads to in-the-moment discoveries of how to play the character.
"The thing is, the best idea you have before you start shooting is not the best idea [on set]; it's the launch pad where you start," Sheridan says. "An actor needs to feel really free, and they have to really trust you [as a director] and trust themselves in order to dig deep and to find that choice and that means of expression."
Part of what goes into building that environment is rehearsal—a lot of it. It's the time, Sheridan says, to "get all the bad actor out," to "try stupid things and smart things and peel back the layers.... If you can exhaust that exploration and then dig deeper, you start to really find what the character is trying to do or achieve or express. And that takes time."
"Wind River" has already earned Sheridan awards recognition earlier this year, when he won the Un Certain Regard directing prize at the Cannes Film Festival, but it took him a long time to get there. Just like the exploration he cherishes on set and in rehearsals, it took this native Texan years in Hollywood pursuing acting—and, yes, reading Backstage ("Those auditions, I went to a lot of them. I never got a thing.")—before finding his true calling behind the camera. He recalls working on "The Guardian" with Simon Baker in the early 2000s and learning how to tell stories from writer Anne McGrail, and later, on "Sons of Anarchy," learning from executive producer John Linson and writer Dave Erickson. "I would do something in an episode, make a choice, and I would see that choice manifest itself two or three episodes down the road into a storyline," he says. "That was really the birth of my understanding of storytelling."
He then spent as much time as he could on "Sons" hanging out in the writers' room. "It was an education. It was more fun and I was more curious to get into that room than I was to get back in the room that we were filming."
Fast-forward a decade and Sheridan is completing what he calls his trilogy of "the modern-day American frontier," with "Sicario," "Hell or High Water," and now "Wind River," which charts the efforts of FBI agent Jane Banner (Olsen) and reservation hunter and tracker Cory Lambert (Renner) to piece together a young Native American girl's tragic death in Wind River's unforgivingly wintry elements.
While his films have called on the talents of everyone from Jeff Bridges to Emily Blunt to Benicio Del Toro, he says his greatest pleasure in the audition room is to cast unknown actors "that I know in 10 years are going to be at the forefront of our business"; he cites Kelsey Asbille and Martin Sensmeier in his latest feature as such talents. "To have been the first to find them is luck and incredibly rewarding."
All actors, he says, should bring a "fearlessness" to the audition, which is what he saw in Asbille and Sensmeier. It's the one thing he looks for: "I would rather watch somebody fall on their ass in the audition than play it safe."
Want to star in a buzzy new film? Check out Backstage's film audition listings!