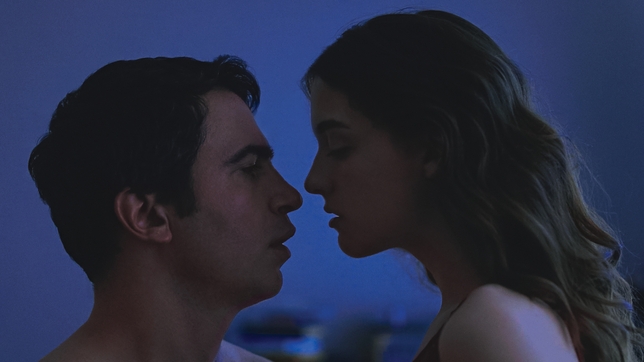 How did Quinn Shephard conceive, write, direct, and star in her first feature film—at the tender age of 20?
Now 22, the filmmaker rode into the 2017 Tribeca Film Festival on a wave of buzz and praise for "Blame," starring herself, Chris Messina, and Nadia Alexander, who won the prize for best actress in an American narrative film. Following the troubling relationship between a high school drama teacher (Messina) and social outcast (Shephard), and the subsequent vendetta from the school's wayward queen bee (Alexander), the film crosses the petty politics of "Mean Girls" with the portent of Arthur Miller's "The Crucible," a play Shephard works uncannily into the story.
A former child actor with big plans for continuing to work in front of and behind the camera, Shephard is overflowing with advice for early-career storytellers.
READ: 'Keep the Change,' 'The Divine Order' Win Honors at 16th Tribeca Film Festival
Your mother, Laurie Shephard, collaborated with you on "Blame" as co-producer and casting director. How did you two go about casting this ensemble?
"We did not see that many actors in person at all. My mom had done a huge amount of research in terms of narrowing down the actors we were going to look at. She had watched a lot of reels and self-tapes, had watched movies and brought me a short list of actors we were going to look at. We ended up seeing Sarah Mezzanotte, Nadia Alexander, Owen Campbell, and Luke Slattery all at the same time. They did a really long improv of this party scene as their audition, together, and it was really amazing seeing the entire cast together for the first time.
"My mom is a great casting director because she goes for the essence over the initial, stereotypical thing on the page. She was constantly bringing up people who were not necessarily the first person you think of, but once you hear it you can't unhear it."
And you always had Chris Messina in mind for the lead role?
"Yeah, absolutely. My mom had brought up him as an option years before and we had watched a bunch of his films and just fell in love with the idea of him playing Jeremy. He's the only actor who had the right emotionality for the role, and we never could picture anybody else after that. I'm glad that he did it because I think it would have been really jarring to us! We had no backup plan going in, basically Chris Messina or bust. He probably felt like, 'OK, I think I have to do this insane request and do this movie with this 20-year-old girl.' But I'm really grateful that he did."
What is it you look for in an audition?
"Coming to the table willing to play and be yourself. I'm not expecting people to come in with a finished product. I'm more excited to see an actor who comes in really eager and willing to play around, to do extensive improv, to try things, let's change lines—as opposed to somebody who comes in with a take that can't be flexible. All these actors I worked with were such open human beings and such hard workers, that that was a large reason why I cast them. I didn't just want to work with good actors, I wanted to work with good people. I could tell they all really wanted to be a part of the film and believed in it."
Did your actors ever help shape your writing these characters?
"When Nadia came in to read Melissa for the first time, she thought she was completely wrong for the role and argued with me about auditioning for it. We had seen her do one monologue online from a YoungArts showcase years before. She was so immediately intense...but she didn't see herself as the character on the page, the bitchy blonde cheerleader, more of the Regina George realm than the character ended up being.
"If I find an actor I think gets the essence of the role, it's not beyond the scope to do rewrites, which is what we did. We saw girls who were spot-on for the character but it didn't end up clicking for me emotionally. But when I saw Nadia read it, it felt like getting punched in the gut. It felt like a realization, that there was so much more to the character, that even though I'd been working on the script for years there were things I'd never explored. I went back, ripped out the script and started rewriting. I sent her a playlist and a bunch of reference films. We did this elaborate test where we did all her hair and makeup. It ended up being the best thing for the film because the character felt so true to the film now and I couldn't have imagined it any other way."
Backstage Guides: How to Audition
So how can young, aspiring filmmakers make a splash with their feature debut?
"I would say, don't make the stuff they want you to make, make the stuff you believe in.... We cast the actors we felt were going to be the truest versions of the characters. That's why the film is what it is. It could never have been that with a big executive producer breathing over our shoulder who was going to say, 'You have to cast this person who's really hot on Instagram right now.' I don't think we would have had success with the film. I'm a firm believer that there is still a life for auteur films that don't compromise on their artistic integrity. I'm really glad I didn't."
As a former child actor, what's your advice for young performers and their parents?
"Stay as far out of it as you can when you're not working. I had a really normal upbringing—not that I was like, 'I love high school.' I think you can see from my film that I didn't! But I feel like it's really important in your formative years to not be too ingrained in the industry. It's such a difficult world and it's so judgmental, there's so much pressure. And now with social media everyone's supposed to be a model when they're 13 years old. It's just weird and uncomfortable and I think as an actor I was removed from all of that by my family. I would highly encourage others to not let their kids get too wrapped up in that. You have to be a kid! Have a kid life, and experience things that make you a kid. How are you going to be an actor if you can't relate to what it's like to actually be a child?"
Ready to test those audition skills? Check out Backstage's film audition listings!