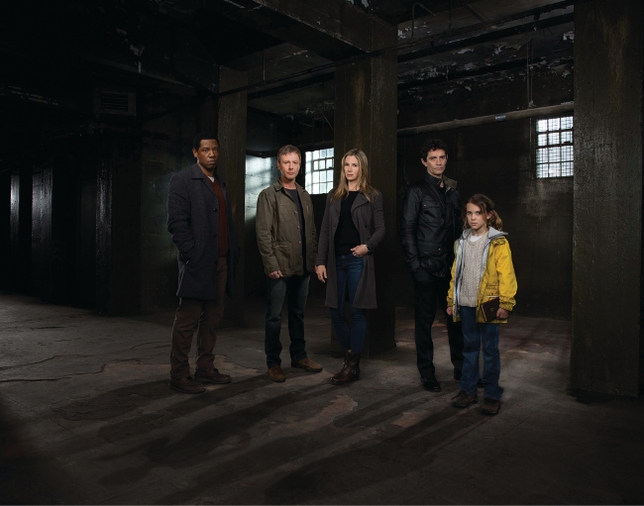 This year, several television shows, including "The Leftovers," "Crossbones," and "The Strain," have been dipping into the literary for source material. BBC America is jumping on the bandwagon with its late-summer release of "Intruders," based on the book by Michael Marshall and written and produced for the screen by "The X-Files" writer Glen Morgan.
The show has creepy and paranormal undertones that sit right in the backyard of the creative team, which also includes directors Eduardo Sanchez ("The Blair Witch Project") and Daniel Stamm ("13 Sins")—a nice horror-thriller complement to Morgan's renowned sci-fi experience. "Intruders" stars John Simm, Mira Sorvino, and James Frain, and focuses on a secret society searching for the ever-elusive blessing of immortality by taking up residence in the bodies of others.
"When you're trying to get a show off the ground it's often like, this talent is important to this company or that talent to that company," says Morgan. "You take that into consideration...and when they said, 'We think this can be greenlit if we cast John Simm,' and I'm like, 'I love John Simm!' I immediately raced down to Amoeba on Sunset Boulevard and got 'Life on Mars' and 'State of Play.' I wasn't just relieved, I was excited. He's just one of the best actors I've ever worked with."
But maybe it was the assuredness of the set and the story that kept Simms involved. From the get-go, Morgan knew what he wanted for the series: to " 'Harry Potter' this thing," sticking as closely to the book as possible instead of using it as a jumping-off point. While there are a few changes that had to be made in order to tell the story more successfully, visually speaking, Morgan says he respects any other writer's writing and wanted to honor Marshall's vision.
The show starts off with separate narratives, which gradually begin to unravel and become entangled in one another: a missing wife (Sorvino), an assassin (Frain), and a runaway child, played by actor Millie Bobby Brown. "I thought we were never going to find this kid," Morgan says. "To have a 9-year-old play a 63-year-old lunatic—that's near impossible." When executive producer Julie Gardner sent Morgan an email about making Brown an offer, Morgan thought it was crazy ("It's the first kid!") But after watching her audition, where in addition to a great performance, the British did a crystal-clear American accent, Morgan was sold on Brown, nothing the other actors played big roles in the development of their characters onscreen—Frain in particular.
"James does such fascinating work," says Morgan. "Once, he told me he was talking to his son and said, 'I have this part in this TV show,'—[his son is] 9 or 10—and his son asked if he was a good guy or a bad guy…and he's never been able to tell him he plays a good guy. This gives that character so much more depth. You see him shoot people in cold blood but as we arc it, you understand certain things about him."
Richard Shepherd, Frain's character, was portrayed much older in the book, but Frain gave such a great audition that Morgan decided to write the episodes—two with the help of his wife and his brother—with him as younger man.
"You just have to write what you believe," he says. "Cable can often be hard to really find the truth of the character's subject matter because you have all these other interests. That's why 'The Sopranos' and 'Breaking Bad' have become masterpieces—because they find the truth consistently. Find what's important to you or else it's just going to be like copying a book and it's going to be boring."
"Intruders" premieres Saturday, Aug. 23, on BBC America.
Inspired by this post? Check out our television audition listings!