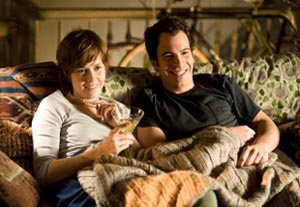 Chris Messina is one of those actors who continue to fall under the radar at least of mainstream audiences. Yet if you happened to catch him in such recent films as "Vicky Cristina Barcelona" and the little-seen but delightfully entertaining "Ira & Abby" or as Lauren Ambrose's love interest in the final season of "Six Feet Under," you can't help but notice that this guy is clearly talented and steadily adding impressive roles to his résumé. He can currently be seen in Nora Ephron's "Julie & Julia," in which he is cast as the supportive husband of Amy Adams' character, a young woman who commits to blogging for one year about cooking and obsessing over all 524 recipes from Julia Child's "Mastering the Art of French Cooking."
"It was a tremendous experience for me," says Messina of working on this high-profile project, which also stars Meryl Streep as the legendary Child. "I've been super lucky to have worked with some great people, like Amy Adams and Rebecca Hall ['Vicky Cristina']—people that want to get in there and get dirty and search around for what these scenes are about or what story we're telling. Both of those actors in particular, anything you threw at them they would take and just throw something back at you and surprise you."
Messina, likewise, surprised many filmgoers who saw him earlier this summer in the Sam Mendes–directed "Away We Go," in which the actor played the sympathetic husband of a woman (Melanie Lynskey) who recently suffered a miscarriage—the latest in a string. His captivating speech to John Krasinski is a high point in the film and left many wondering, "Who is this actor?"
Casting directors certainly know who Messina is by now. In the case of "Julie & Julia," Messina says, "I'm sure Francine Maisler, who cast me in [a small role in Ephron's] 'You've Got Mail' and had brought me in for other stuff, probably brought me up and talked to my agent and brought it to Nora, and Nora said, 'Yeah, sure' [to a meeting]. I flew from L.A. to New York to read. It went really well, and then I waited six weeks where they probably had offered it to a bunch of other people, and then they came back around."
Messina shares that auditions are not usually his strong suit. "I'm scared when people go, 'I love auditioning.' I hate it. I'm bad at it," he admits. "I got cast in a pilot for HBO that J.J. Abrams directed. It was probably the only pilot that HBO never picked up. It was a beautiful pilot, and J.J. did an amazing job. I was a playing a cancer doctor. I went to the second callback for a test, and I did a terrible, terrible audition. Awful. Embarrassing. And J.J. Abrams called me up two days later, and he said, 'You got the part.' Then he said, 'I just want to say that was the worst audition I have ever seen.' And it takes people like that to see through a five-minute audition. To see somebody nervous in front of a test. To maybe go to the DVDs and watch some of your movies. Or just to see an essence in a room," as was the case of Woody Allen casting him in "Vicky Cristina."
Messina's confidence is fortunately much stronger when it comes to preparing for a role once he has booked it. He credits his years spent honing his skills in New York, most notably his studies at the Actors Studio and the Actors Center. He describes the latter as "an amazing school where you get all the grad-school teachers—the NYU, Yale, and Juilliard teachers—for scene study class, movement, voice, Shakespeare, Chekhov. I found a lot of great teachers, one in particular: Ron Van Lieu. I think he's at Yale now. He was at NYU Grad. He taught guys like Billy Crudup and Stephen Spinella. Amazing man. It was there that I finally started booking plays. Because before that, the NYU, Juilliard, Yale kids were beating me out. They were in these programs, playing these great roles, and I had no shot against them. But meeting with Ron—and Earle Gister is another one—that opened a huge door for me."
Also formative were Messina's years spent on New York stages. "I had a great theater career," he says. "I did one on Broadway ['Salome' with Al Pacino], and then most of it was Off-Broadway. But I did plays everywhere. I did plays up in the Bronx, down in the Lower East Side. And I got to work with great people, like Caryl Churchill. I worked with all these great young playwrights at the time, like Jessica Goldberg. I did three of her plays in New York. And I had a great career, although I could never pay a bill."
Tired of poverty and yearning for more high-status work, Messina headed to Los Angeles three and a half years ago to pursue on-camera work. So far, the Long Island native has no regrets about his hiatus from the stage. He says, "When I got west and started to do more films, I really fell in love with this medium of storytelling. Now, that doesn't mean that I'll never do a play. I love theater, and I think it's incredibly difficult. But right now that muscle is probably pretty weak. I would be very nervous to do a play right now, where I used to do back-to-back plays. I used to three, four, five plays a year."
Lately, Messina has been busy with back-to-back films. Upcoming projects include "Monogamy" with Rashida Jones, directed by Dana Adam Shapiro (co-director of the documentary "Murderball"); "Greenberg" opposite Ben Stiller; and "An Invisible Sign" with Jessica Alba.
While not complaining about his recent good fortune, Messina says there's much more he hopes to tackle as an actor. "I've been lucky, but I have yet to touch what I'm capable of. I've played a lot of nice guys, you know? And they're great parts, and I'm thankful for them, and I've learned a lot from those parts, but there's a lot more I want to do," says the actor, citing such icons as Robert De Niro, Al Pacino, and Dustin Hoffman as the kinds of actors who inspired him to get into his profession and who did the kinds of films in the 1970s and early '80s that Messina hopes he, too, can find someday. "They don't make 'Serpico' now. It's hard to find 'Kramer vs. Kramer.' So we keep searching and digging."
By "we" Messina is referring to his manager Jon Rubinstein, whom the actor credits with helping him have a clear perspective on his career and his goals. "He's not the guy that's just trying to shove you in a TV show or shove you a certain movie to make you and him a lot of money," explains Messina. "He really wants to be a part of something completely different that I don't see a lot of with my friends and their managers. The relationship we have [involves us] talking about, 'Where have I come from? Where am I now? Where am I going to? What are the goals? What's next?' It's important to have somebody, whether it be your manager or somebody else, to have that dialogue with about the future—and not the future of just business, business, business, but, What am I trying to
tell
here? What do I want to be a part of? What do I want to leave behind? And how do I do it?"