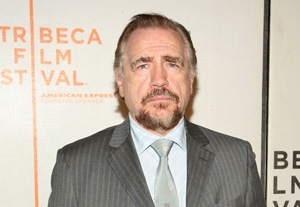 Thanks to the volcanic ash that disrupted international air travel, Brian Cox is (at the time of this interview) unable to fly to the States for the premiere of his latest film, "A Good Heart." It's a quirky flick about an aging, misanthropic bar owner (Cox) and his strained relationship with a benign, homeless recluse (Paul Dano), whom he's training in the art of bartending. Cox is disappointed not to be in New York for the opening, but being stranded in Belgrade, Serbia, where he's currently shooting "Coriolanus" isn't all bad. For starters, he's got a juicy role, playing Menenius, friend and adviser to the titular military leader. But even more exciting is the chance to work with Ralph Fiennes, who is not only starring in the title role but directing. Cox says, "It's great to have a director who understands nuance and texture." Cox believes that Fiennes has those skills precisely because he's an actor and is delighted to see him "make that transition from actor to first-class film director. Most actors are cannon fodder to the big moviemaking machine."
Cox is perhaps best known for his recent spate of movie and TV roles in such projects as "Deadwood," the second "X-Men" movie, and "Adaptation," but he has dozens of other stage and screen credits. He has been in the business for nearly 50 years and is a man of strong convictions. Consider this: He's interested in only those projects that embody a vision, "even if it's a warped vision," and characters who are subtle, "not just linear—wham, bam, thank you, ma'am,' " he says. "You go to 'Avatar,' and it's really a simplistic story with no depth of performance apart from the blue people. It's entertaining, but it doesn't require you to think about man and his relationship to his element. That's missing in a lot of work."
Cox further contends that acting is a dying art. The cult of celebrity has interfered, and as a result there's not enough emphasis on "process but rather [on] the things that process can bring, like adulation," he asserts. "Also, these young guys in Hollywood have no life experience to bring to their work. If you have no life, you have no weight. I think this problem is a little more prevalent in the States than in the U.K. At least we have a respect for craft."
Still, he admires the States' egalitarianism. It's an open society, says the Dundee, Scotland, native. There is class consciousness in America, but it's not as marked as it is in Britain, where being Scottish is yet another barrier. Cox sees America as more homogenous, "though you have to play by the rules," he says. "It's a very work-oriented society. In the U.K. you're told what to do, and you resent it. So it's all about work denial." Cox does not think it's a fluke that America has "a proper film industry and unions, whereas in England, there's still an amateur element. It's difficult to get things going."
A Sacred Ritual
Cox launched his career when he was 15 years old as a stage manager at the Dundee Repertory Theatre. He says his Scottish burr was so thick it was difficult for those outside of his immediate community to understand him. Getting rid of his heavy accent was a central reason he went to study at the London Academy of Music and Dramatic Art. "I had to learn to speak," he says.
Among the fortunate few, Cox has worked fairly steadily. "I moved ahead quickly, and then it slowed down." Still, he's kept at it and marvels that many actors have disappeared, even those who've had illustrious careers.  "Gene Hackman hasn't made a movie in 10 years," he says. "It may be choice and circumstance. There comes a point when you just may not want to do it anymore. I might get to that point."
At an early age, Cox had an epiphany about the nature of acting. When he questioned his own motivation for wanting to act, he realized it was not to boost his vanity. The joy came from the pleasure his performances brought others, he says. He felt acting played a social and "healing" role.
"You see actors trying to make sense of their lives, worrying about whether they're masculine or demeaning themselves," he explains. "They're embarrassed by what they do. Brando and Spencer Tracy had those feelings. They didn't understand the profound nature of what they were doing.
"I see myself as a storyteller, and I think there's a clear primeval, sacred nature in storytelling," he continues. "When you're a storyteller, you're doing something on behalf of others, and there's a sacrificial element in it. An actor is like the storyteller sitting around the campfire. I come out of that tradition."
Ducking and Weaving
Cox's acting method depends on the project; each one carries its own rules, he says. If the writing is good, your job is largely to be its vehicle, he adds, citing "The Good Heart" as a case in point. Simply on the basis of reading the script, Cox was able to simultaneously conceive his character externally and internally. "I imagined Jacques had been a road manager of a heavy-metal group," he says. "He had strange hair and wore a strange coat. He's had a miserable love life, and now he's looking mortality in the face." The major challenge was keeping the humor implicit, not explicit. Less challenging was speaking in an American accent—"I've done it many times," he says. Shooting in Iceland (as opposed to the States) made it a little more difficult, but it helped that the other actors were American.
Asked how he would redo his career if he could, Cox is amused at the very concept of having that much choice. "We're not in charge," he says. "We're not pro-active, we're reactive. It's not what you'd do, but how you handle the punches, how you duck and weave."
Outtakes
- Earned an Emmy Award for his performance in the TV miniseries "Nuremberg"
- Received two Olivier Awards and three SAG nominations
- Played the first Hannibal Lecter, in the film "Manhunter"
- Was featured in "Troy," "The Bourne Supremacy," and "The Bourne Identity"
- Appeared on Broadway in Tom Stoppard's "Rock 'n' Roll," as a replacement in Yasmina Reza's "Art," and in the 1985 revival of "Strange Interlude"