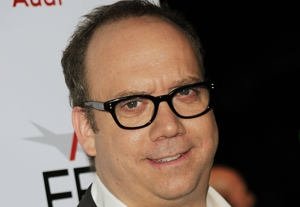 Even before his breakthrough role in Alexander Payne's "Sideways," the industry had caught on to Paul Giamatti. Whether irritating Howard Stern in "Private Parts" or taking crankiness to new heights in "American Splendor," Giamatti was recognized as an actor's actor, reliably turning in scene-stealing performances in a vast range of movies.
He continues the trend of playing lovable misanthropes in "Barney's Version," based on the novel by Canadian author Mordecai Richler. The film spans several decades in the life of TV producer Barney Panofsky as he recounts such events as his multiple marriages and his friendship with the alcoholic Boogie (Scott Speedman), whom Barney may or may not have murdered. Back Stage spoke with Giamatti, who, as always, was self-deprecating to the point of self-abuse.

Aging Onscreen
Giamatti admits the biggest challenge of taking on the role was playing a man in three decades of his life. "I was worried about bad old-age makeup and the bad old-age acting," he says. "That shaking, old-man acting was what I was worried about. But even when I was at drama school in my early 20s, if there was an old guy in a play, I had the role. The old guy in the Chekhov play with the blanket over his knees? That was always me. So I had practice playing old." Giamatti also goes through a series of hairpieces in the movie. "I wear a lot of wigs in this," he says. "It was kind of disconcerting. They said to me, 'The good thing is when you get to be 65, we'll just use your real hair for this.' That's kind of sad." Still, Giamatti says playing older wasn't too difficult; it was aging down that he worried about most. "Going backwards is harder than going forwards for me," he says. "The character is also more repressed and bound up; he's harder to access emotionally. I worried about that part the most; and when I see the movie, I see myself worrying about it."

Staying True to the Novel
Giamatti says he tried not to get "too involved" in the book when playing Barney. "Because the script is very different, I had to put the book aside," he says. "I read it through lightly once and then again after I finished. I would go back for certain scenes to see if there was something more I could bring to the movie. But I had to play the character in the script, not the book. Still, it's a great book." The actor admits being surprised the producers would think of him to play Richler's protagonist. "When I first met these guys, I said, 'You realize I'm not Canadian? Aren't you worried some weird American character actor is going to screw up this Canadian national treasure?' Ultimately, I had to let go of that and not worry about it too much. Part of it is that the script is so well written; I just had to stay out of the way of it."
Working with a Legend
Barney's talkative, ex-cop father is played by Dustin Hoffman, and Barney's son is played by Hoffman's son, Jake. "To me, that seemed like all those looks skipped a generation," Giamatti says with a laugh. Barney's father, as played by Hoffman, is a raconteur, constantly telling stories and embracing life with zest. "He's an entertaining guy; he's not unlike the guy in the movie in some ways," Giamatti reveals about Hoffman. "I never knew if he was doing some old-school Method thing with me where he was telling dirty jokes to be like the character. He sees it as part of his job to keep up the energy on the set, and it's wonderful. So that wedding scene, between takes, he would grab a microphone and do a whole shtick. And it kept everybody alive."
Playing Drunk
Between "Sideways" and "Barney's Version," Giamatti has mastered the art of inebriation. "Playing drunk is really fun, it's great," he admits. "But it's a case-by-case thing. The guy in 'Sideways' is an alcoholic, as is Barney, but they're different kinds of drunks. And some of it needs to be funny, which is a tricky thing. Barney is drunk all the time, really; he's just more drunk at certain times. One of the main things I figured out was the key to playing drunk is you're desperately doing everything you can to appear not drunk." Giamatti says drunkenness is one of his specialties. "It's funny, I've played a lot of drunks. Again, at drama school, if there was a drunk—especially a drunk old guy—I was absolutely a shoo-in for that part."