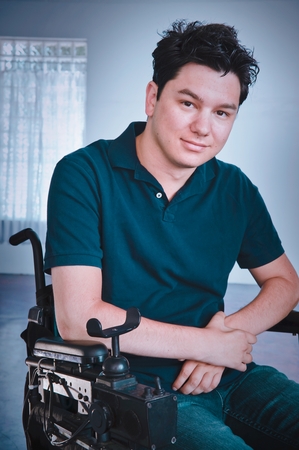 Zack Weinstein wanted to be an actor since he was four. He was majoring in theater at Skidmore College when an accident changed his life. During a canoe trip with fellow camp counselors the summer after his freshman year, he broke his neck when a friend flipped him over his shoulders. "I have no memory of the accident actually happening," says Weinstein. Following the accident, the active dancer/singer/actor found himself a quadriplegic in a wheelchair. He could easily have given up on his acting dream with the added hurdles this presented, but he says, "If anything, it made my desire stronger." After a year off school, he returned, completed his degree, and moved to Los Angeles to pursue acting.
Weinstein has guest-starred on hit shows like "Criminal Minds," "NCIS," and "Glee." He describes himself as "a typical L.A. actor," but in addition to acting, Weinstein also works hard giving back. He works with IMPWD through SAG, which helps raise awareness about performers with disabilities and provides disabled actors with more opportunities. And now some of that good will is coming back to him. Weinstein was honored with the Christopher and Dana Reeve Foundation Acting Scholarship at the Media Access Awards on Wednesday.
Did you apply for the scholarship or was it a surprise?
Weinstein: It was a complete surprise. I've been at the Media Access Awards the last two years, so I've been there for other people who've received the award, but I didn't even know they were considering giving it to me this year.
You've been an ambassador for the Christopher and Dana Reeve Foundation prior to this. How did you start doing that?
Weinstein: I wanted to be involved with the Christopher Reeve Foundation because I knew about the good work that they did. A family friend knew somebody who worked high up in the organization and connected me with some of the people who worked there.
What does being an ambassador entail?
Weinstein: It means that I'm able to go to different events on behalf of the Reeve Foundation and also that I take it upon myself as a responsibility to speak about them in the public eye anytime I can, to raise awareness about their existence and what they do for people living with paralysis. I've also had a few occasions to speak with families who've had somebody who's just been recently injured. To speak with them about what life is going to be like and give them information and hope about how things are going to proceed from there on out.
Does being in a wheelchair make it harder to get auditions?
Weinstein: I meet resistance to getting out there for getting auditions for parts that aren't necessarily written for somebody in a wheelchair, but I've also had casting directors and directors who are wonderful about that in the other direction. Like the great thing about the "Criminal Minds" [job was] that Scott David brought me in for the part and the part has nothing to do with being in a wheelchair. It was just a smart-ass kid in the classroom.
What has it taught you as an actor?
Weinstein: When I go into auditions, it's just about me doing the work. The driving impulse behind what you do has to be the passion for the work. If you truly have a desire to do the work then you'll feel better about the work that you do and that will come through to people. The best advice that you hear over and over again is to make your own work and so I'm actually going to use a lot of the money from the scholarship to make a web series or a short film with some friends of mine.
So the scholarship doesn't have to be used for school, as long as it furthers your career?
Weinstein: They don't have any specific parameters about how it can be used. They just hope that you use it in an effective way to further your career, which is amazing. I'm honored because it shows that these are people who believe in me and believe in my ability to do something in this industry. [The scholarship is] really like a vote of confidence for me. I've had some success that I'm really proud of in this industry, and I'm just like any other actor in this town, I'm working really hard to continue to build on it.