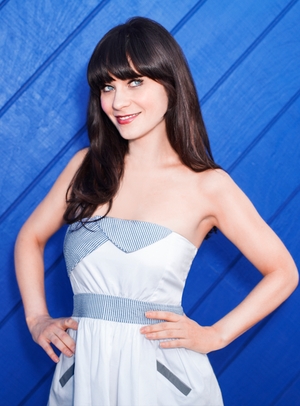 Let's get one thing straight. Zooey Deschanel and Jessica Day are not the same person.
Sure, Deschanel skyrocketed into the collective consciousness with her star-making turn as the "adorkable" title star on Fox's "New Girl," about a 30-something single woman living in L.A. with three male roommates. But while "adorkable" has become synonymous with Deschanel for many media outlets, she carefully skirts any comparison to her onscreen character.
"I don't approach acting that way," she says, when asked if she relates to Jess. "It's not about your experiences. It's more about sensibility and what you find funny. It's fiction. It's not me. I'm an actor. I wouldn't want to play myself because that would be terrible. I'd never get away."

However, it's hard to get away from all the attention that "New Girl" has brought her, and even though she loves to perform, that doesn't mean she likes all eyes on her.
"It's hard to explain," she says. "I get embarrassed a lot of times getting attention, but I like being onstage. Do you know what I mean? If I'm in a crowd of people and they're all looking at me, I will feel embarrassed. It's a strange dichotomy."
Deschanel still gets embarrassed. She's hesitant to share her acting strengths, as she was "raised to be modest." She speaks assuredly yet self-consciously, careful to choose each word for the perfect sound bite. And though her humble nature is refreshing, her "New Girl" co-star Jake Johnson is quick to applaud Deschanel's career savvy.
"Zooey is an unbelievably talented actress, like truly one of our great actors," he says. "She's really smart. Let's not forget there's not a lot of luck involved in what she's doing. She created this…. She kind of raises the game for all of us."
From all accounts, it's a fun game. Deschanel refers to the show's set as "the lab" because the cast is encouraged to improvise. One of her favorite moments from the show's second season, currently airing, is the scene when Jess fills in for her best friend at a modeling gig, allowing her to show off her physical-comedy chops.
"I have like a lifetime of practicing walking into walls and stuff like that," she jokes, then says more seriously, "I like acting with no lines because all of a sudden you're able to express things without always worrying about the text. It's great to have a great text, but there's a lot of stuff you can't say in words, and I think there's something really nice about good physical moments."
She adds that her years of dance training make her suited to physical comedy, for which "you actually weirdly have to be really coordinated," and she says she admired pratfall pros like John Ritter while growing up. Now Deschanel finds herself the inspiration for many young women.
"I don't want to be afraid to be unattractive," she says, adding that she meets a lot of fans with bangs and dark-rimmed glasses. "I don't want to be afraid to be vulnerable in situations. This is a character that's messy. It's nice to see someone who's not perfect. There's nothing about this character that is perfect. And I feel very honored to portray her."
While emerging talents admire her success, Deschanel discourages copycats.
"Do it your own way," she says. "The business is changing, and there are different ways people can come into making a name for themselves. Take every opportunity that you can get behind, and then when you get the big opportunities, take advantage. Be prepared, and give it your all. If people just want to be famous, that's just not enough to get you up at 4 in the morning to go to work. You have to love what you're doing. And if you love what you're doing, put your all into it."