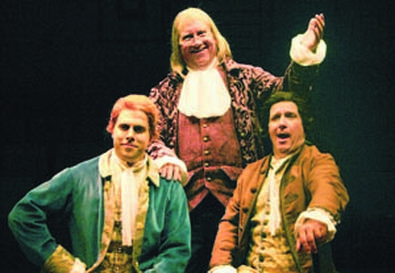 There is a particular pleasure in seeing a time-honored show realized with respect for its essentials while avoiding prefabrication. Case in point: Glendale Centre Theatre's solid revival of Sherman Edwards and Peter Stone's musical about the events leading up to the Declaration of Independence.
Working with, rather than against, the in-the-round venue, director-choreographer Todd Nielsen shows considerable ingenuity in how he handles Edwards' idiomatic songs and Stone's superb libretto, from the first aisle-delivered rant by John Adams (Peter Husmann) onward. As the various delegates assembled around the arena burst into "Sit Down, John," attendees may feel like fly-on-the-wall witnesses to the first Continental Congress, exactly how this unconventional musical's path to July 4, 1776, unfolds.
The large cast, resplendent in lush period wear by designer Angela Wood and Glendale Costumes, is full-voiced and generally convincing, although some are decades younger than the roles they play, lending a faintly collegiate note on occasion. Still, Husmann inhabits Adams with equal acid and sincerity, embracing the much-mentioned obnoxious, dislikable qualities with a wit that recalls Harry Shearer. If the prerecorded score—expertly overseen by music director Steven Applegate—occasionally causes Husmann to scramble for meter, he interacts wonderfully with Victoria Strong's unforced, dulcet-voiced Abigail in an utterly correct portrayal.
John Butz dares an almost offhanded approach to Benjamin Franklin, which pays ripe dividends in his numbers and the escalating debates, while Jeff Drushal makes a tickling, resonant Thomas Jefferson, hilarious with Husmann, Butz, Nathan Armstrong's Robert Livingston, and Patrick McMahon's Roger Sherman in "But, Mr. Adams." Jason W. Webb gives antagonist John Dickinson a wry intensity that belies his years, chillingly confident leading the conservative factions in "Cool, Cool Considerate Men."
Michaelia Leigh's charmingly unaffected Martha Jefferson turns "He Plays the Violin" into one showstopper, and Joey Zangardi's savage attack and blues-tinged belt as Edward Rutledge makes "Molasses to Rum" another. Only breath issues, from racing up and down the aisles, keep Bryan Vickery's antic Richard Henry Lee from galloping away with the house. George Champion's stalwart John Hancock, Andrew Wade's sweet-toned Courier, Mario DiGregorio's raucous Thomas McKean, and Dan Woodruff's assured Stephen Hopkins are standouts in the traditional sense; Scott Strauss' grave Caesar Rodney, Peter Miller's eager Andrew McNair, and Clay Dzygun's atypical James Wilson are imaginative against-type casting; and so goes an admirably invested roster. If this production seems less a high-end community theater outing and more a first-rate regional reading than the venerable venue sometimes enjoys, it's largely due to the fervent commitment on display.

Presented by and at the Glendale Centre Theatre, 324 N. Orange St., Glendale. June 23–Aug. 13. Thu.–Fri., 8 p.m. Sat., 3 & 8 p.m. (Also Sun., 3 p.m., July 10 & 17.) (818) 244-8481. www.glendalecentretheatre.com.