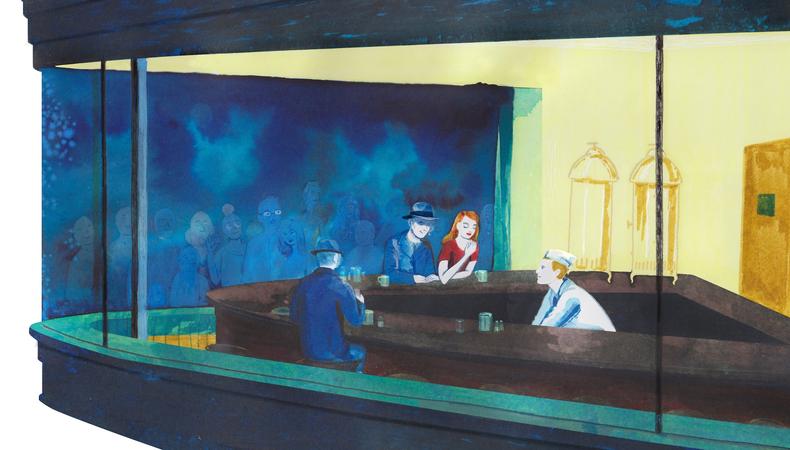 Lynne Carole works in casting, but when she's placing talent, it's not for the types of projects you typically associate with casting directors. Through her company The Lynne Experience, she finds actors and models for events, immersive experiences, commercials, and more—like those occasions when brands employ actors to draw in consumers with an activity or performance. She works with clients all over the country to find performers for experiential events to "bring a brand to life." Carole says the talent who work these jobs make them memorable for audiences and consumers, and it's a different way for actors to get noticed that can lead to more work. It's a way to get a paycheck between bigger or more long-term jobs while still using, practicing, and expanding your skills. Plus, you never know who could be watching.
What skills are required to perform in an experiential event?
Beyond being someone who is able to act, they have to be really good at improv or have an affinity for speaking to people and have no inhibition. Those are the people who do well in experiential because they're not afraid to talk to you, they're not afraid to engage with you. But we do find that a lot of times the client will ask for improv actors because, generally, they can come up with some interesting material on the fly.
What is the casting process like?
Generally, a client will reach out to us. It could be the brand directly, [but] a lot of times it's through a marketing firm. When you're trying to promote a film or television show live, that's also experiential. First, we put up a posting on Backstage and we put it through our own database of actors, then we go through the pictures and see who has the look we're thinking might fit this, just like any casting. Then we look at their videos, and if we don't see what we think is a good fit but we still think they might have the right look, we'll ask them to submit to us either with an impromptu script that the marketing company may have provided or [we'll] just give them a situation and ask them to come up with how they would play that out. Then they send us a 60-second clip to submit to the client. The client reviews what they see, and if they like them, they will go ahead and interview them, usually by Skype.
Where do you look for talent?
If I'm in Chicago, I'll call Second City. Even in New York, when I need really good talent, I've reached out to UCB, and they've been very helpful because they know who their good improv people are. If I don't have what I need, I will find it, whether it's using a casting site or contacting schools or theater groups. Like any good casting director, I look under every rock until I find the right fit.
What makes your job similar to and different from a more traditional casting director?
It's not different in the sense that casting requires the expertise to know who's going to make a good fit and who's going to impress the client. I still use my experience to know who's qualified and how to screen candidates. It is similar, but they're not appearing in film or TV, they're doing this live. There may not be an audition because the client's not necessarily located in the market in which they're hiring the actors. So the difference may be that, generally, if there is an audition-based casting, it's going to be through Skype or FaceTime.
What are some challenges that come with this type of casting?
Actors don't understand that they can do this line of work; they don't even know it exists. So the first challenge is getting actors and models to know that you don't necessarily have to go out and waitress and do side gigs, because this is what I would consider somewhat of a side gig, yet you're using your talent. You're still being an actor, still being a model; it's your look and your presence and your personality that's bringing this brand to life, whether it's in media or on social media or in movies. Another challenge is having them commit, because certainly if you're going to get a film offer or something larger, you're going to go do that project because that's bigger. Sometimes the challenge can be if you're doing an event and it's winter and it's outdoors, not everyone is excited about working outside. The challenges are finding reliable people that are excited about doing this and understanding that they're not compromising themselves as an actor; they're really practicing their skills, but live. It may not be a theater, but consider it a theater of consumers.
What can actors learn from this type of experience?
They can learn to be comfortable and practice their improv, because they have to think fast, work on the fly, and be able to come up with ways to perform the art of persuasion and create an interest for people. With a script, you've got your lines. You do a couple of lines per day and they can stop and go. This is live, just like theater; there is no going back, so everything you do can affect the person in front of you. Everything that you say is affecting the client because you are the face of the brand. It certainly builds up your public speaking skills, it works on your improv skills, and it's also practicing your acting craft because you're still using that skill to get people to be interested in the product that you're representing.
What advice do you have for someone trying to add to their skills this way?
If you submit your headshot, make sure that they know you are willing to do live events, because we don't know that. A lot of times, we don't know what your interests are, so we have to know that you're interested—and certainly if you're taking improv class or comedy or anything that can showcase your personality, we want to know about that because that sways me to want to cast someone who's already comfortable getting in front of a crowd. Be dependable. If you commit to something, again, I do understand, a film comes, I get it, but just don't not contact us and think, This is more important, therefore you should know. You still have to treat this like any other career or job. Also, just shine. No matter what you're doing, whether it's live or a commercial or a film, you are always being watched, and one thing can lead to another. Sometimes it can happen where a client will be out there and see you and if they really like you and see something special, it has led to where they wanted to film them. It could be for a spot in a commercial—not necessarily a principal, but maybe they want to do a commercial. So one thing leads to another. Never turn your back or close your eyes to something that could lead to another opportunity.