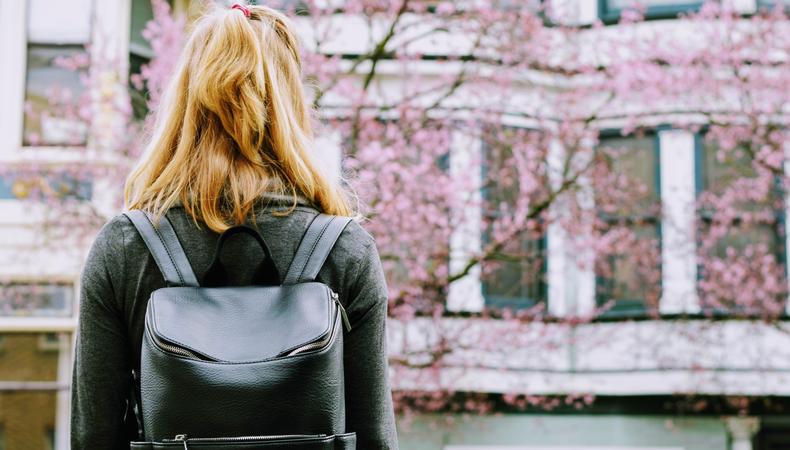 The college section of Backstage's Call Sheet entertainment industry database contains over 400 top colleges and universities. The college directory can be searched by programs/majors, degrees, locations, and keywords. The database includes colleges offering degrees in film, theater, dance, music, and acting.
The following tips will help you get the most out of the valuable information you'll find in Call Sheet's database of colleges:
Step One: Choose a major or field of study.
All of the listings in the database highlight the key film, theater, and performing arts programs the universities offer. So once you've selected the types of programs/majors you're interested in, look through the list to find a school that appeals to you. Many schools have a list a mile long of potential majors and minors, and within their general set of programs there may even be more focused fields of study or sets of classes highlighting specialties within the arts.
If you're not seeing your specialty listed, contact the college and see if it offers additional concentrations or emphasis in different areas within its listed programs. For instance, oftentimes a theater design major will find there's a costuming emphasis available within their school's theater program that better suits his or her intended career path. Think of what interests you and will hold your attention and wonder for the duration of your college years.
Many students will adjust their majors or start new ones within their college careers, but some programs require a four-year commitment, so remember that when choosing your major. Minors can also help supplement a degree that may not be arts-focused. Are your parents pressuring you to get an accounting degree you can fall back on, but your dream is to star in "Othello"? Minors in theater, film studies and dance are often offered to those wanting to shine on a bigger stage while majoring in something else.
Step Two: Consider the different types of degrees.
Each listing in the database highlights what degree type/certificate the institution offers. Fine arts departments often offer various types of bachelor's degrees. Two-year institutions (typically conservatories or junior/community colleges) offer varying Associate of Arts (AA) degrees that allow students to transfer to a four-year university. A Bachelor of Science (BS) degree is geared toward those wanting to go into education fields such as teaching, or business-related fields such as administration. A Bachelor of Arts (BA) degree is a general liberal arts education with the option of additional emphasis/concentrations to focus the degree on a specific area while still giving the student a broad class selection in the other areas of the major. While a Bachelor of Fine Arts (BFA) undergrad degree or Master of Fine Arts (MFA) graduate degree is highly specialized, with the most focused programs. Often, a BFA or MFA program will have additional admissions requirements such as an audition, portfolio review, or interview. These degrees will also require the most commitment, as most BFA and MFA programs are situated within conservatories or highly demanding, and competitive, departments.
Step Three: Choose a location.
In-state tuition can be awfully appealing with the skyrocketing cost of education, but location during your college stay can play a huge role after you graduate. Internships, connections, and outside opportunities are all things to consider when you're deciding which schools to check out. If you want to be the next Spielberg, it's best to start shaking the right hands early in your career. A Midwestern school may have a renowned program, but perhaps not as many outside opportunities. Finding the right balance between training and location can be a tough decision with so many noncoastal schools pumping out recognizable alumni. Consider what's important to you in a college experience and what you want to get out of your degree, and go from there.
Step Four: Check the schools' websites.
To obtain more information on the schools, visit the website noted in their listings. One aspect you may want to closely consider is the stats on tuition and financial aid. College costs are continuing to rise, and loans are turning into lifelong burdens for today's students, so always consider the cost of attending a college. Will you be living on campus? Eating on campus? Books? Transportation? Also take into account the city where your college is located, as New York and Los Angeles have higher costs of living. Check to make sure the school offers scholarships and financial aid as those that normally do will have their average scholarship package listed on their website to give you a better idea of how much of the bill you'll be footing.
Step Five: Go on a tour.
Make a list of your top five schools and try to visit as many as possible. Call the number in the listing to schedule a tour; you'll get the full experience with a person who knows the campus and can give you access to classrooms, staff, and the dorms. Tours are usually offered year-round and are often accommodated with a little prior notice. Take the opportunity to linger after the tour and explore on your own. Walk around with the students and wander off-campus to the surrounding areas and see if it's a place where you can thrive. If you're unable to visit, do endless research on the area to see if you can really spend years living there.