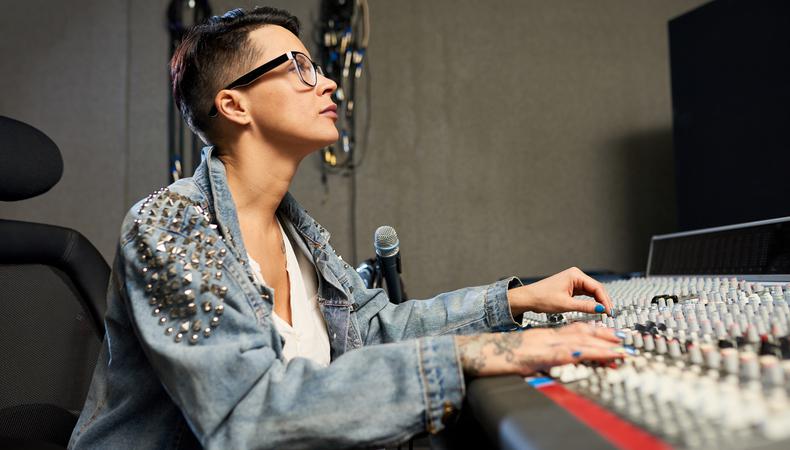 From the clanging of swords during an epic fight to an alien's scream ricocheting through space, sound design is a crucial process in transporting viewers into the world they see on screen—and making it sound believable. It's this process of creating sound tracks and sound SFX—recording, generating, acquiring, and manipulating audio—that encompasses the work of a sound designer.
It's a job that's both technical and creative, requiring a deep knowledge of recording, mixing, and special effects techniques, a mastery of sound software and hardware, and the inventiveness to create unique, interesting sounds. As such, formal training is often necessary for landing work. But if it's on-screen sound design you're interested in, finding the right training can be difficult considering it's such a wide-ranging specialization—film sore to video games, and everything in between—and many schools consider it a part of their broader audio production or sound engineering programs. If you're interested in sound design specifically, we've put together a guide to top training courses to make it easy to find exactly what you're looking for and get the education you need.
What sets Savannah College of Art and Design's sound design program apart is the resources and facilities at its students' disposal. The school has invested over $1 million into custom-built suites intended to simulate the professional environments sound designers work in. Students also have the opportunity to gain hands-on sound management and live recording experience at any of the school's performance spaces around Savannah, GA.
The degree goes in-depth on a number of programs and offers tools and software use outside the classroom, including two 5.1 mix stages with Pro Tools HDX configurations, one D-Command, and one D-Control console; Pro Tools HD Native Rigs with artist mixers; and classroom workstations with Pro Tools 10/11 and Waves Gold. SCAD also offers the most advanced Pro Tools and Sibelius certification levels to ensure all students graduate with a deep and solid knowledge of the software they'll use in their professional careers. SCAD also allows students to pick the sound design specializations they're most interested in, whether it's experimental sound art or audio for video games.
"It's my job to listen critically," says Todd Beyer, founder of Fader King Studios, "Whether it's composing music, scoring, doing post-production audio.... the SCAD education gives you the technical knowledge to walk into those rooms with the confidence and fundamental understanding that opens up a lot of new pathways for what you can achieve."
Degree: Bachelor of Fine Arts, Masters of Fine Arts, or Master of Arts in Sound Design
Tuition: $37,575 (undergraduate); $38,475 (graduate)
Notable Alumni: Ian Chase ("The Witcher," "The Irishman," "The Dark Crystal: Age of Resistance"), Brent Kiser ("Honey Boy," "Bless This Mess"), Todd Beyer
"Through experience, SCAD students learn about the importance of workflows, process, and innovation. They develop a deep understanding of how to work together towards shared artistic goals. Industry leaders who are hiring, reach out to SCAD faculty on a regular basis."
Run out of multi-studio production facility Blackbird Studios in Nashville, TN, The Blackbird Academy is a professional sound engineering school that promises graduates will gain both technical skills and hands-on experience with top names in the industry. Classes are taught in-studio over 24 weeks, with each class meeting five days a week for up to 40 hours; basically, The Blackbird Academy considers this program your full-time job.If you're extremely passionate and committed to sound design and engineering, this was made for you.
In the studio, groups of students learn about specific elements of sound design, like pre-production, overdubbing, and mixing. Outside of the studio, they get to utilize isolation booths, 30 individual Pro Tools stations, and the Universal Audio Apollo interface. The Blackbird Studio also provides access to labs and equipment so students have consistent and customizable access to resources. Classes are taught by industry professionals and are often housed off-site at music venues, factories, or even other studios.
"Industry professionals are constantly popping in and out, utilizing and appreciating everything that Blackbird has to offer," says Blackbird Academy graduate Connor Johnson. "The entire studio, from microphones to outboard gear to all of the studio rooms, is available for the academy. This school is the real-world experience [and] provides tremendous support for their soon-to-be graduates, [helping] them land internship/work opportunities all over the globe."
Degree: Studio or Live Sound Engineering Diploma
Tuition: $23,100
Notable Alumni: Rachel Rozzi (live sound technician for The Rolling Stones, Justin Timberlake, Florida Georgia Line), Michael Freeman, Amy Peters, David Loy (audio engineer for Kane Brown, Blake Shelton)
Middle Tennessee University isn't humble about being the largest audio production degree program in the world; it prides itself on its production facilities, including five recording studios of various sizes, an audio post-production lab, a "live sound café," an electronic music lab, and a mastering lab, all of which allow students to apply techniques and tools learned in class, like large-format recording and finding music samples. Middle Tennessee University is also more than its buildings, offering a curriculum that combines both audio theory and application. It also allows students to focus on sound design as a specialization, offering more opportunity to dive deep into software and processes.
"I remember vividly that some of my favorite professors were adamant about assignments being done perfectly," says Chris Nelson, MTSU '99. "What I later realized is that in an industry as competitive as ours, where literally hundreds of graduates are competing for a single job, presenting your work and yourself as professionally as possible is critically important. It was excellent preparation for entering the real world."
Degree: Bachelor of Science in Audio Production
Tuition: $23,100
Notable Alumni: Tay Keith, Chris James, Chris Nelson, Brian Wright
Alumni of the Conservatory of Recording Arts and Sciences (CRAS) often find themselves accepting Grammys for their work, and the school certainly lives up to its successful reputation. What accounts for the prosperity of its students is CRAS' unique approach to teaching. Rather than being a traditionally structured program, the school focuses heavily on placing students in internships and helping them network with world-class professionals to gain hands-on experience and be prepared for post-graduation.
CRAS also offers students industry-standard recording consoles, even going so far as to give them a package upon acceptance that includes a laptop and microphone. Students have access to all 13 studios across two campuses 24/7—whenever inspiration strikes. Small class sizes with knowledgeable, experienced faculty means every student gets the attention they need. CRAS also brings in industry speakers to discuss careers in related fields and beyond.
"I could record and make good tracks before CRAS, but they taught me how/why the gear worked how it did and made things make more sense," says a 2002 graduate. CRAS will teach you how audio and [gear] work first, then give you hands-on [experience] in every aspect of audio. [The all-around education] makes you a Swiss Army engineer and helps ensure you can always handle a gig in any line of audio."
Degree: Diploma, certifications
Tuition: Can be estimated online
Notable Alumni: Chris Kasych (Grammy-winning sound engineer), Ike Shultz ("Are You the One?" Emmy-nominated sound engineer), Zeph Sowers (sound engineer for Santigold, Kelis, the Yeah Yeah Yeahs)
For those looking for a complete sound design education without having to physically show up, Berklee College of Music offers online certificate programs, and graduate and undergraduate-level, 12-week courses. Certificate programs include Live Sound Production, LogicPro, Mixing, Mastering, and Production for Visual Media, (among many others). Graduate courses include Audio/Music Production for Visual Media and undergraduates can take Pro Tools 101, Mixing and Mastering, Audio Mastering Techniques, Live Sound Mixing and Recording, Orchestration, Film Scoring 101, or Audio Post-Production for Film and TV.
According to a Music Production student, "This course is incredible. It really brings the student much closer to a good headstart by teaching the fundamental information about the [digital audio workstation] and the fundamentals of sound."
Degree: Advanced Professional Certificate
Tuition: Cost is based on program
Notable Alumni: Ben Wisch (Grammy-winning recording engineer), Benny Faccone (Grammy-winning recording engineer), Eugene Gearty ("The Irishman," "Mary Poppins Returns," "Boardwalk Empire"), Sally Browder
This story originally appeared in the May 27 issue of Backstage Magazine. Subscribe here.
For more on how to get work on a film crew, visit Backstage's crew hub!