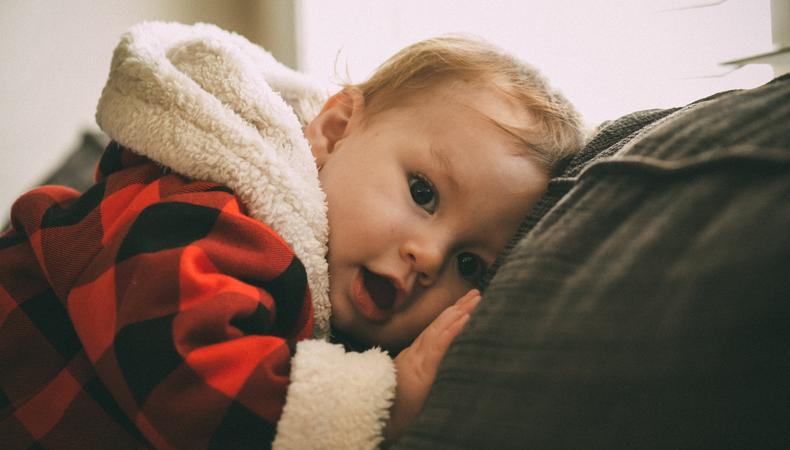 You're at home and covered in baby food when you notice the time and realize you have a casting call in less than two hours. Time is of the essence! You've got to get baby and you to that casting pronto.
When the cost of a nursery, a childminder, a nanny, or other childcare is too high, fear not. It's acceptable to take your little one with you to your audition and enroll the support of an able-bodied friend or an otherwise unsuspecting casting assistant or auditionee.
Having taken my little one (now a fun and fearsome all singing and opinionated toddler) to dozens of auditions since he was barely 3 months old, I've definitely earned the badge of "pro-auditionee with a baby or toddler." Perhaps I have a manageable one. Perhaps. Regardless, here are some helpful tips for bringing a baby to your audition that I've learned over the past 18 months.
1. Allow ample time.
Time flies like the wind so be early, and I don't mean early for you. I mean early for you both. If your casting is at 2:30 p.m. and you'd normally allow a bonus 15–30 minutes, then allow 45 extra minutes for you and your baby and aim to arrive at 1:45 p.m. This is to account for delays, snack pit stops, tantrums, and the like. Trust me, you always need it! If by some miracle traveling goes smashingly, and you do arrive early, it'll give you a chance to check their nappy, get yourself a drink, and relax before the casting mayhem.
2. Pack extra treats in your bag.
Bring more milk or snacks than you expect to use. Baby supplies are everything. Don't be caught without something to appease them if your casting goes over. I once unexpectedly had to wait for over an hour for a casting (they were terribly apologetic) and I wasn't the only one in the room with a young toddler. By the time I was seen, he was completely spent, I didn't have his dummy with me (thinking he wouldn't be sleeping anytime soon), and I definitely didn't have enough snacks. Don't get caught out like I did.

3. Manage milk time.
Nothing puts baby to sleep better than breastfeeding or the bottle. I used to find a handy trick was to park near to the casting, typically by an outside park or square if the weather was good, and feed my baby before going in. If you're lucky like I've been with mine, they get blissed out on milk and go to sleep. I would finish his feed 15 minutes before the casting, pop him back in the pram, and then use that extra time to walk him around the block to get him to sleep. The great news with that is if they do start snoozing, you've likely got at least 30 minutes before they'll get restless again and this is your magic window to get in, audition, and get back out.
READ: How to Audition
4. Sufficiently prep for the casting suite itself.
Here's where your proper parent preparation comes in. Chances are you've auditioned before at the studio where your audition is. If not, have a look online and see if you can tell how it looks, both to get an idea of how to get into it and of what the room is like. London is a sea of stairs so lifts can be few and far between and this is pretty standard in and around the UK. But don't worry! There's typically a helpful actor willing to carry your pram upstairs alongside you.
5. Find a friendly face in the waiting room.
It's incredible how lovely and personable actors are so you need not fear asking them to look after your child while you go into the casting. I've done it so many times. Just pick the friendliest faced actor nearby, smile and ask politely. Everyone is so willing to help, and generally, half the room are parents themselves, though maybe that's just my age group. Early 20-year-olds at a casting might be a little different. Sometimes you can swap. You mind another parent's child, then they can mind yours when you go in. I once came out of the casting room to find the lovely lady minding my baby boy sitting with him on her lap, and he was smiling away and had about three other actors around him! Babies are so smooth. They know how to work it for the room.
6. Toddler amusement.
Once they're a bit older, another option is to bring an iPad or tablet along to keep them distracted or perhaps paper and pencils, or even their favorite toy. If you choose to go down the technology route, I recommend you leave using the iPad until you're just about to go in so you know you'll get maximum interest in it while you're in there, and less chance of them getting bored and wanting a new activity. Also make sure the agreeable baby-minder knows how to make it start again in case your little one's chubby fingers hit the screen and stop the episode.
Of course you can also find a babysitter instead of bringing your child along to an audition. If you audition quite regularly, or it's often for studios where you have to trek a fair way, it might be worth researching local freelance childminders that you can use whose services are only for a few hours at a time. Typically you'll still need three hours minimum because you have to drop them off and pick them up, plus travel and audition time, but it'll take the pressure off you getting them into the casting suite or studio. Ask your local mom friends for recommendations. It's surprising just how varied the care is that's available in your local area, and organizations like Parents and Carers in Performing Arts can help with that too. Sitters.co.uk is also an incredible site for short term babysitting. All the sitters are carefully vetted and many have children themselves or degrees in child-minding. The first time I used them I was terrified about leaving my baby with a complete stranger, but they were exceptional and that same lady came to look after our son multiple times after that.
There are some amazing (mainly mom) groups on Facebook that have been created by actors to encourage shared help too. Don't be afraid to tap into them for help or assistance. You get to help them and they can help you. The other way local Facebook groups are useful is because you can reach out for local recommendations on great babysitters. We have the most wonderful young childminder who is our regular sitter now as a result of asking our local community.
Lastly, you can always phone a friend. If you don't feel brave enough to use a stranger just yet, you can always ask another actor if they'll mind your baby while you are at the casting and you can pay them instead. I've done this multiple times when it's been a higher stakes audition, or where I've booked a voiceover gig I knew would only take an hour. I've offered to pay friends a few hours fee and buy them coffee, and they've hung in town at a local park or cafe and entertained my little one. It's worked well because it's cheaper than a 3–4 hour visit from a sitter and you're doing your acting friend a favor by offering them some money.
With these tips for making it through an audition with your bundle of joy, or some quick win options for paying as little as possible for help, you'll be able to head to your audition stress-free!
The views expressed in this article are solely that of the individual(s) providing them,
and do not necessarily reflect the opinions of Backstage or its staff.