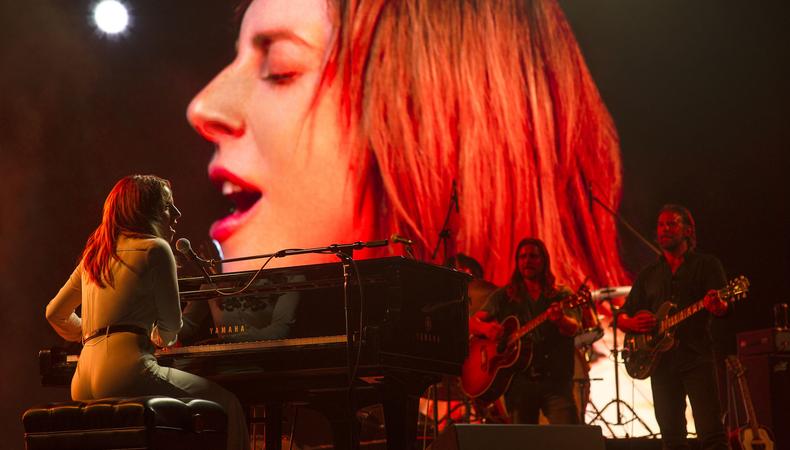 After seeing "A Star Is Born," all we could think about was our next shot at belting out those hits. And it got us wondering: what other film songs are we forgetting? If you're seeking new audition material, take a cue from the recent box office hit. From triumphant power ballads to soft guitar solos, here are eight original film songs casting directors will love.
"Is That Alright?" ("A Star Is Born," 2018)
Let's just get this one out of the way. If you have the pipes to support this massive Lady Gaga–sung ballad, go for it! The quiet verses will put your audience on the edge of their seats, just waiting for you to nail the chorus. The best part: If you don't want to sing it a cappella, all you need is a skilled piano player, which most musical theater auditions will provide.
"Lost Stars" ("Begin Again," 2013)
From "Once" creator John Carney, this musical film is full of potential audition songs sung by its stars Adam Levine and Keira Knightley. Its best known—the Oscar-nominated "Lost Stars"—was written by Gregg Alexander (frontman of the New Radicals) and Danielle Brisebois. If you have a range similar to Levine's, the song's slow start and intense build makes it a great audition choice. The recorded version starts on guitar, but a piano cover would be an impressive move, and a way to showcase that special skills section on your rèsumè.
"Never Enough" ("The Greatest Showman," 2017)
Few songs have become as instantly memorable as this one from "The Greatest Showman." The original movie musical tells the story of P.T. Barnum and in a show-stopping scene, Jenny Lind (played by Rebecca Ferguson but voiced by Loren Allred) makes her mark with "Never Enough"—a power ballad to end all power ballads. While you might think others would jump at the chance to sing this at an audition, the build-up at the end (octave-change included!) requires some incredibly skilled breathing technique, so only the best should attempt it.
"Fare Thee Well" ("Inside Llewyn Davis," 2013)
Directed by the Coen Brothers, this 2013 Oscar Isaac–led film follows a folk singer in the 1960s—so of course, there's some beautiful original music. Consider a guitar cover of "Fare Thee Well," originally sung by Isaac and Marcus Mumford if you're auditioning for a rock musical like "Jesus Christ Superstar" or even "Spring Awakening." The slow song calls for the ability to hold long and deep notes, showing serious breath technique and control.
READ: Singing? How to Transition From Chest Voice to Head Voice
"How Far I'll Go" ("Moana," 2016)
Disney does a lot of things well, and making a triumphant power ballad is certainly one of them. This one, penned by none other than Lin-Manuel Miranda (We don't really need to list his credits anymore, do we? OK, fine. He did "Hamilton."), was Oscar-nominated for best original song and sung by Auli'i Cravalho. If the audition allows, try this one on guitar or ukulele. It'll make for a personal touch that casting directors are sure to remember.
"Audition (The Fools Who Dream)" ("La La Land," 2016)
Come on, it's literally in the song title. From Damien Chazelle's masterful, almost–best picture winner comes this very meta audition song about having a dream and going to great lengths—whatever they may be—to achieve it. This one is for softer singers, like Emma Stone, who can deliver huge notes when you least expect it.
"I See the Light" ("Tangled," 2010)
While this best original song nominee from Disney's Rapunzel story is meant to be a duet, a few edits can make "I See the Light" a magical audition song. If you're performing Rapunzel's part (originally sung by the formidable Mandy Moore), change Flynn's lyrics around to keep coming from Rapunzel's perspective. This way, you're given the chance to show a different key range (meant for two people)—which is sure to impress. Not to mention: It's pretty hard to go wrong with eight-time Oscar winner Alan Menken's music.
"As I Am" ("The Big Gay Musical," 2009)
Sometimes the not-so-obvious choice makes the best audition song. This indie film about two actors who star in an Off-Broadway musical and realize the show mirrors their lives became a hit in 2010. In a turning-point number, we hear "As I Am," a song about accepting everyone for who they are and who they love. It's a tune that—if sung with gusto—can move even the toughest CD.
Check out Backstage's auditions for musicals!