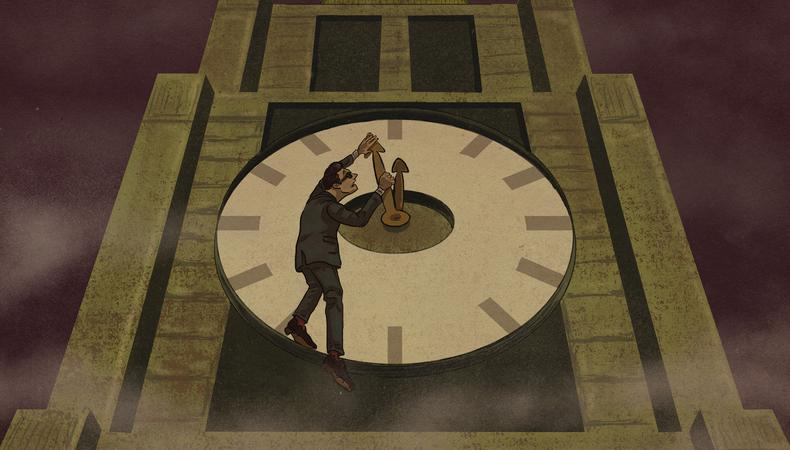 I am a creature of habit. Repeating the same actions over and over has made me healthy and successful. That's why at the start of every year, I always create a list of personal and professional resolutions. I've been doing this since college, and I have no intention of stopping now.
Choosing my resolutions allows me to evaluate the past and plan for the future. It's a simple but effective routine that helps me course correct and improve my life. And thanks to the good people at Backstage, I have a public venue to publish my goals, which is an extra incentive to stay the course!
I suggest you create your own list, too. To help you get in the right frame of mine, I now present my professional resolutions for 2019:
READ: The 1 Thing NOT to Do as You Enter the New Year
1) It's my fault they kicked me out of anger management class, and in the new year, I will find a suitable replacement, possibly transcendental meditation or some other nonsense. My goal is to find a method that helps me deal with the insane ups and downs of the entertainment industry.
2) I will stop keeping a voodoo priestess on my personal payroll. I met her during a trip to New Orleans, and she talked a good game—but those dolls never work. No matter how many pins I stick in them, the casting directors who are on my enemies list never feel any pain.
3) I will stop keeping an enemies list.
4) No matter what it takes, I will learn to control my laughter when a 40-year-old actor tells me he can still play late-20s.
5) I will stop fantasizing about building a trapdoor in my office for all the annoying clients who rub me the wrong way. Based on the figures that contractor quoted me, it's just too damn expensive. Instead, I will learn to be more tolerant of others and their needs.
6) I will stop whining about the death of workshops. And no, it's not the money. I've actually met some terrific actors at those workshops, actors I never would have met otherwise. And on that same note, I will remember to send gift baskets to those casting assistants who are incarcerated at San Quentin State Prison for participating in workshops. I'm sure some tasty muffins will lift their spirits!
7) When a larger agency steals one of my clients, I will not go to war with them; slashing their tires and threatening their homes doesn't accomplish anything. Instead, I will work harder to service my rising stars so they don't feel the need to jump ship when one of those Joe Slick agents comes calling.
8) I will stop pitting assistant against assistant at my office. Sure, those Thunderdome-style death matches are fun to watch, but I'm pretty sure they're illegal, and I really should be training those kids for a future in the agency business. (Part of me thinks I am!)
9) I will stop boasting about how I've never, ever acted inappropriately toward any woman in this business. Yes, it's a fact, but announcing it every hour might make me look guilty.
2019 has arrived, pilot season is about to begin, and I want all of you to join me on my healthy list train to happiness and prosperity.
Happy New Year, everyone!